Is 'SNL' on Tonight? Season 46, Episode 4 Host, Musical Guest
Another week on the books, and finally, it's time for some good old weekend rest and relaxation.
Saturday Night Live can help with that. There's a fresh episode of NBC's iconic sketch-comedy show that's set to air, giving way to yet another moment for viewers to chill out on the couch and get in a few laughs after a week full of fussy news—and there's sure to be plenty of moments mocking just that throughout the episode.
So let's get straight to it. All the info you need to know ahead of SNL's fourth episode of Season 46 is gathered right here in one place for you below.
Who is hosting SNL?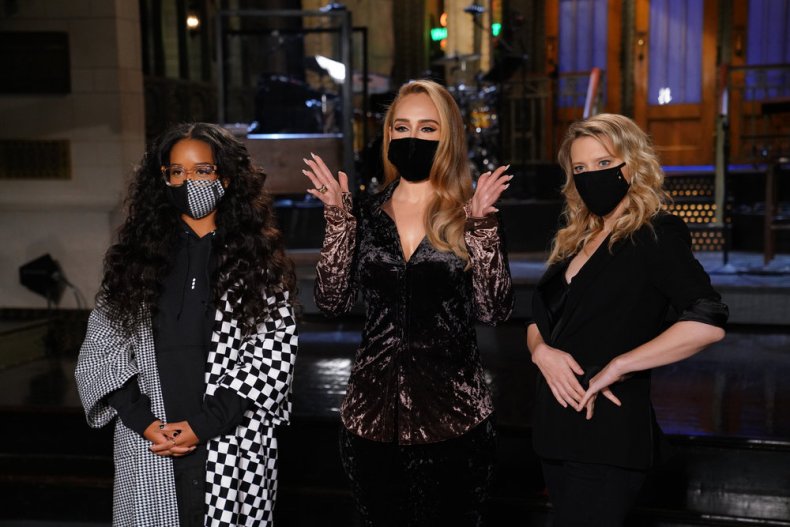 Adele will be rolling deep in the duties of SNL host for the very first time. It's been a long time coming for the British singer and her fans, who have long known just how funny she is thanks to her many dancing moments, silly faces and wisecracks often delivered on her Instagram.
While this marks Adele's first time hosting, it certainly isn't her first appearance on SNL. She served as the musical guest back in 2008 and performed hit songs "Chasing Pavement" and "Cold Shoulder" off of her chart-topping album 19.
Nonetheless, Adele is stoked for her chance to host SNL, although she is "absolutely terrified!"
"My first ever hosting gig and for SNL of all things!!!! I've always wanted to do it as a stand alone moment, so that I could roll up my sleeves and fully throw myself into it, but the time has never been right. But if there was ever a time for any of us to jump head first into the deep end with our eyes closed and hope for the best it's 2020 right?" Adele wrote in an Instagram post on October 18.
She added: "It'll be almost 12 years to the day that I first appeared on the show, during an election...which went on to break my career in America, so it feels full circle and I just couldn't possibly say no!"
Who is performing?
We've got another first-timer on SNL this week. R&B singer H.E.R. is set to take over the Studio 8H stage, marking her very first appearance on the show. The Grammy winner's arrival to SNL comes on the heels of her latest single, "Damage." More than likely, viewers will get to hear that tune live on SNL and possibly another song from her forthcoming album.
Will there be an SNL debate?
The odds for another SNL debate certainly seem high, considering President Donald Trump and his Democratic opponent, former Vice President Joe Biden, had their second and final go at it on Thursday. SNL hasn't released any promo of Alec Baldwin or Jim Carrey all dressed up as their respective Trump and Biden characters, but we can't imagine SNL would pass up the opportunity to poke fun at the 2020 presidential race with the election so close.
When does SNL air?
You can watch Adele and the SNL gang on NBC on Saturday at 11:30 p.m. ET.
Can SNL be live-streamed?
No TV? No problem. You can stream SNL on any smart device on NBC's website or app with a cable provider login. Viewers with pay-for services like Hulu +Live, YouTube TV and Sling TV can also catch SNL in real-time.
If you're only interested in the best sketches and skits of the night, check SNL's YouTube channel after the show airs. There you'll find plenty of highlights and clips. As always, you can keep up with all the SNL social media chatter by following the hashtag, #SNL.