Who's on 'SNL' Tonight? John Krasinski Hosts, Machine Gun Kelly Performs
Saturday Night Live is set to return with Season 46, and John Krasinski will finally get his moment to host the NBC sketch comedy series.
The Office alum was scheduled to make his SNL debut as host during the March 28, 2020 episode, and Dua Lipa was supposed to perform. However, the spread of the new coronavirus in the U.S. put a halt to that. SNL, along with dozens of other shows, suspended filming just days before Krasinski was slated to appear.
The show did eventually return. A few SNL at Home episodes featured the cast and a string of celebrity guests appearing in sketches that they filmed in their own homes. Then in October the SNL officially returned to its home studio inside New York City's Rockefeller Center and filmed under strict COVID-19 protocols in front of a small, socially distanced and masked live audience.
Now the show is back with the second half of Season 46, and it is making good on its promise to bring Krasinski into the fold. Like earlier episodes of the season, SNL will return with a small, socially distanced audience, and all of NBC's COVID-19 guidelines—like routine coronavirus testing and wearing masks—have remained in place.
We've rounded up everything you need to know to watch Krasinski's SNL debut below.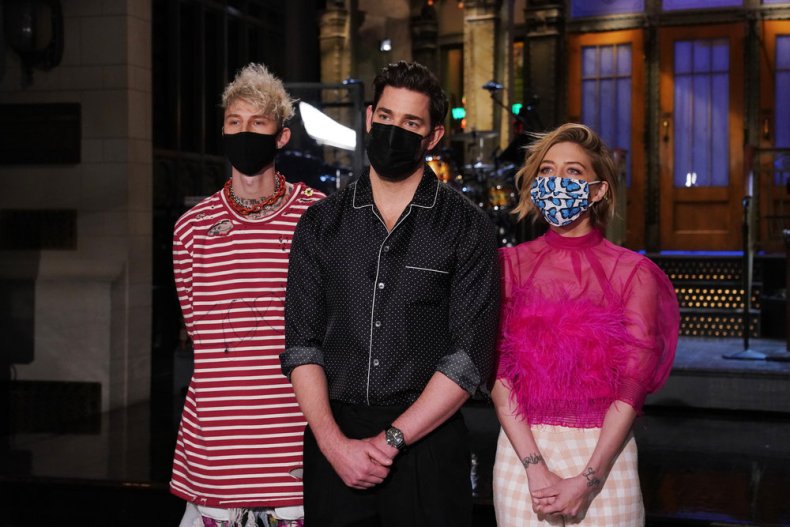 Who is performing?
Krasinski isn't the only one making his debut on SNL this week. Machine Gun Kelly will also hit the SNL stage for the first time on Saturday. The rapper is pumped for his performance.
"I remember when I was a kid watching @nbcsnl every weekend with my aunt and my dad, since they aren't here to see this moment, I'm going to perform the song I wrote for them on the show, hopefully, I'll feel them there," Kelly tweeted on Wednesday.
If Kelly's tweet is any indication, he'll be performing songs off his 2020 album Tickets to My Downfall, including his heartfelt anthem, "Lonely."
When will SNL air?
The show returns with Season 46 on NBC on Saturday at 11:30 p.m. ET.
Can SNL be live-streamed?
No TV? No problem. Viewers can live stream SNL on any smart device through NBC's website and app. However, they'll need a cable provider login to access the stream. Those with pay-for streaming services like Hulu +Live, Sling TV and YouTube TV can also tune into the show through their subscriptions.
If you're only interested in catching the best clips of the night, sketches from the episode will be available on SNL's YouTube channel after the show. If it's all the SNL banter you're after, you can follow along with all the conversations surrounding the show on social media by following the hashtag, #SNL.