Is 'SNL' on Tonight? Season 46, Episode 11 Host, Musical Guest
Dan Levy is set to make his debut on Saturday Night Live. Levy will take over SNL's famous Studio 8H set inside of New York's Rockefeller Center as show host on Saturday.
The last time a Levy was on SNL, it was Levy's father, Eugene Levy, who appeared in a cameo on an episode that aired in 1985. The actor never actually hosted the show, but Eugene was thrilled to learn that his son was up for the gig when SNL announced Season 46's winter lineup of hosts in January.
"That's my boy!!" he tweeted following SNL's announcement.
Dan Levy's appearance comes on the heels of the 2021 Golden Globe nominations announcements on Wednesday. Schitt's Creek, created by and starring Levy and his father, was nominated in just about every Golden Globe category for which it was eligible. In addition to a best musical or comedy nomination, Dan Levy snagged best supporting actor in a series nomination for his role as David Rose on the sixth and final season of the show while his TV sister Annie Murphy, who played Alexis Rose, picked up a best supporting actress nomination. Catherine O'Hara and Eugene Levy, who played the Moira and Johnny Rose kids, scored best actress and best actor nominations, respectively.
It's anyone's guess what Dan Levy has in store for viewers for Saturday's show, but if his work as creator and star of Schitt's Creek is any indication, it should be funny.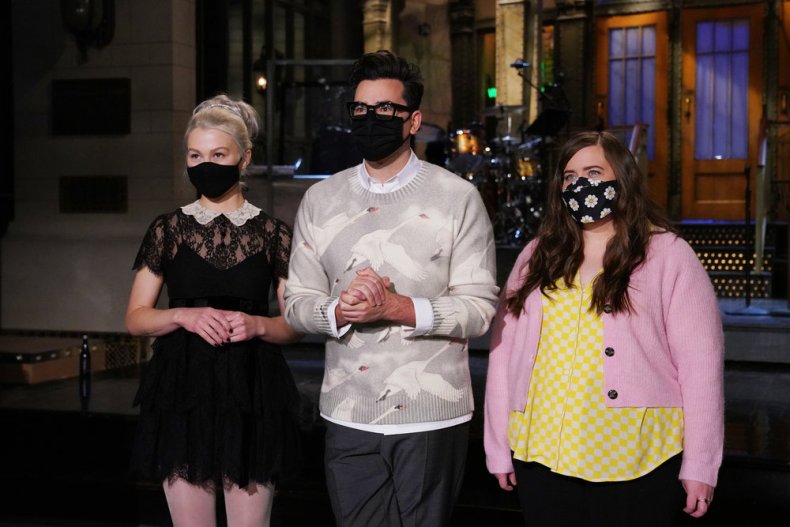 See below for more information on the upcoming episode of Saturday Night Live.
Who is performing?
Another first-timer is expected to hit the SNL stage on Saturday: singer Phoebe Bridgers. The singer will likely perform tracks from her 2020 album Punisher, which is in the running for four Grammys at the upcoming 2021 awards show.
When will SNL air?
Dan Levy will kick off the 11th episode of Season 46 on NBC on Saturday at 11:30 p.m. ET.
Can SNL be live-streamed?
Viewers without access to television can tune into SNL on any smart device by streaming the episode through NBC's website or app. A cable provider login is needed to access the stream. As for those with pay-for services like Sling TV, YouTube TV and Hulu +Live, they can catch the show in real-time through their subscriptions.
For those only interested in catching the clips, all the sketches of the night will be available on SNL's YouTube channel shortly after the show airs. As always, folks can join in on all the SNL commentary by following the hashtag, #SNL, on social media.