Is 'SNL' on Tonight? Season 46, Episode 15 Host, Musical Guest
Maya Rudolph is making her way back to Saturday Night Live.
The actor is set to host SNL when Season 46 returns with its 15th episode on Saturday after having been on hiatus for a month.
There's no telling what Rudolph will have up her sleeve for her hosting night considering the 48-year-old has plenty of SNL gems to pull out the bag if she chooses to. During Rudolph's time as a member of the SNL cast from 2000 to 2007, she portrayed dozens of hilarious characters in a number of skits and sketches. Nobody could quite pull off a Tina Marie impersonation like Rudolph, and who could forget when she posed as Beyoncé alongside a Jay-Z-impersonating Jay Pharaoh in the 2012 sketch "Celebrities Visit Jay Z and Beyoncé to See Their New Baby," which aired during Rudolph's first time hosting SNL in 2012.
While her upcoming appearance will mark only the second time of Rudolph's hosting SNL since her departure, she has made plenty of cameos on the sketch comedy show over the years. More recently, she cracked viewers' sides with her impression of Vice President Kamala Harris during the 2020 election while Jim Carrey signed on as SNL's resident President Joe Biden.
With Rudolph set to host the show this weekend, it seems likely that fans will get a presidential bit and perhaps even a surprise appearance from Rudolph's political playmate Carrey.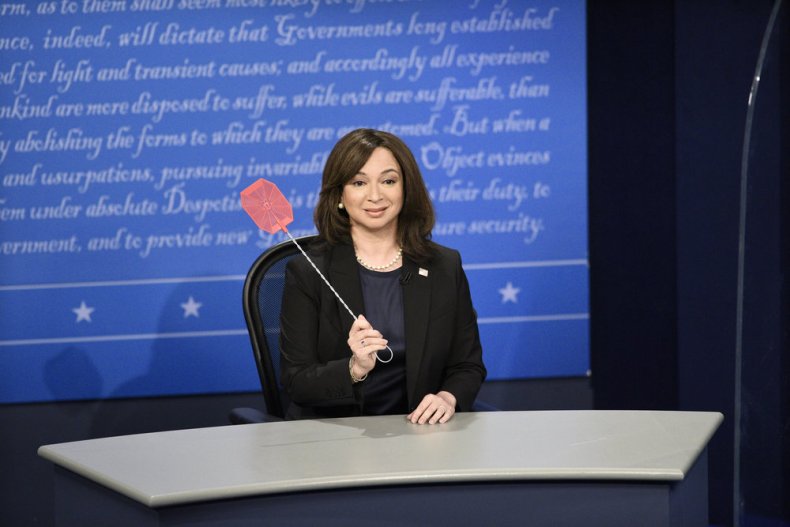 See more info for the upcoming episode of SNL below.
Who is performing?
Rudolph may be back at the famous Studio 8H where SNL is filmed in New York City for the umpteenth time, but the performer for the night is an SNL newbie.
Jack Harlow is expected to hit the stage following the highly successful release of his 2020 debut album That's What They All Say, featuring his Billboard chart topper, "Whats Poppin.'"
When does SNL air?
SNL kicks off on NBC on Saturday at 11:30 p.m. EDT.
Can SNL be live-streamed?
No need to worry about missing SNL if you don't have access to television. The show can be live-streamed from NBC's website and app on any smart device. However, you'll need a cable provider login to access the stream. Folks with streaming subscriptions to services like Hulu +Live, Sling TV and YouTube TV can watch the show in real time through those platforms as well.
If the best sketches of the night is all that you're after, check SNL's YouTube following the show. Clips and highlights from the episode will be there. And to keep up with all the SNL banter, follow the hashtag, #SNL, on social media.