Is 'SNL' on Tonight? Season 46, Episode 17 Host, Musical Guest
Carey Mulligan is set to make her Saturday Night Live debut.
The award-winning actress is scheduled to host the upcoming Season 46 episode of SNL on Saturday, marking her first time at the famous Studio 8H set inside of Net York City's Rockefeller Center.
Mulligan's appearance arrives in advance of the 93rd annual Academy Awards, airing on ABC on April 25. The 35-year-old actor is among the leading ladies nominated in the Oscar's best actress category for her role in Emerald Fennell's critically acclaimed film, Promising Young Woman, which picked up a best picture nomination as well. Mulligan was recently nominated for best actress for the film at the 2021 Golden Globes but was lost to Andra Day, who took home the award for her work in the movie, The United States vs. Billie Holiday.
SNL has never been known to tease any spoilers about any host's performance, but it wouldn't be too off course for fans to expect Mulligan and the SNL cast to really bring the drama in a couple of sketches. Mulligan and SNL cast member Kenan Thompson already poked some fun at the actor's penchant for dramatic roles in the promo video for this week's episode (above).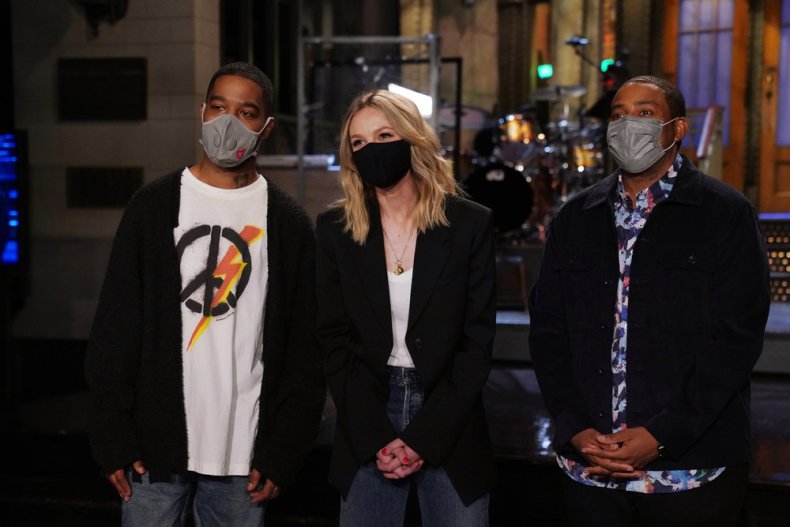 But there's plenty more to look forward to on SNL beyond just Mulligan's hosting debut. Read on for more info on the upcoming episode of SNL below.
Who is performing?
Kid Cudi was thrilled to announce that he'll be the performer of the week when SNL first dropped the host and performer lineup in March. The rapper shared his excitement with a series of tweets, including one in which he revealed that he's always wanted to perform on the show.
"If u know me, u know snl is a huge dream of mine. This is huge. Cannot friggin wait!" he wrote in March.
Cudi's performance comes following the release of his seventh studio album, Man On The Moon III: The Chosen, which released back in December 2020.
When does SNL air?
Mulligan and Cudi will appear on SNL when it airs on NBC during it's usual times slot at 11:30 p.m. ET.
Can SNL be live-streamed?
Yes! If you don't have access to television, you can still tune into Mulligan and Cudi's SNL debut by watching the show via live stream on NBC's website and app—of course, you'll need a cable provider login to access the stream through those channels. Those with subscription services like Hulu +Live, YouTube TV and Sling TV can also catch the show in real-time on those platforms.
Only interested in the best sketches and skits of the night? No problem, SNL's YouTube has you covered. All the best moments, including sketches that didn't make the show, will be avaliable for view shortly after the show airs. And, as always, if you want to join in all the SNL banter, you can do so by following the social media hashtag, #SNL.