'Saturday Night Live' Season 43 With Tina Fey: Everything to Know Before Show Airs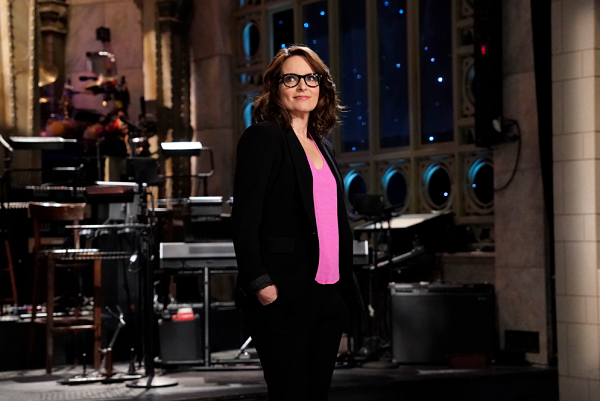 It's been nearly three years since Tina Fey graced the set of Saturday Night Live, but she'll finally make her grand return to the very place that launched her comedic career when she hosts the sketch comedy show for the sixth time.
Saturday marks the final episode of Season 43, so it's only right that the show sees the return of one of its most influential former cast members.
Fey's history with SNL is a long one. She started working for the show as a staff writer in 1997 after meeting SNL creator Lorne Michaels. Her first sketch, a satirical Sally Jessy Raphael skit, was performed by none other than Chris Farley, and Fey went on to write a number of parodies including sketches mocking ABC's The View and the famous "Sully and Denise" sketch with Rachel Dratch. By 1999, Fey took on the role of SNL's head writer—the first woman to hold the job—after Adam McKay stepped down.
Although she appeared as an extra on the show in 1998, it wasn't until 2000 when Fey finally began performing sketches on SNL regularly, which eventually led to her casting on SNL's "Weekend Update" alongside Jimmy Fallon. When Fallon left in 2004, Fey's best friend Amy Poehler came on, resulting in some of the segment's best reviews from critics.
By the time Fey left the show in 2006 in exchange for her own series 30 Rock, Fey and the SNL staff had racked up a few awards, including the 2002 Emmy for Outstanding Writing for a Variety, Music or Comedy Program.
With such SNL accomplishments already under her belt, it's a sure bet Fey's return to the show on Saturday will be a big hit.
In addition to Fey, rapper Nicki Minaj will hit the SNL stage for the fourth time with her first performance on the show since 2014.
The SNL Season 43 finale will air during the show's usual timeslot at 11:30 p.m. on NBC. Folks without access to TV can still tune in via live stream on NBC's website, while those with Hulu can watch the show live on there. If show highlights are all that's on the menu, then fans can feast on the best clips of the episode on SNL's YouTube. And, as always, viewers can stay locked into all the SNL banter by following the hashtag #SNL on social media.