'Saturday Night Live' Turns 40, and Everyone Shows Up to Celebrate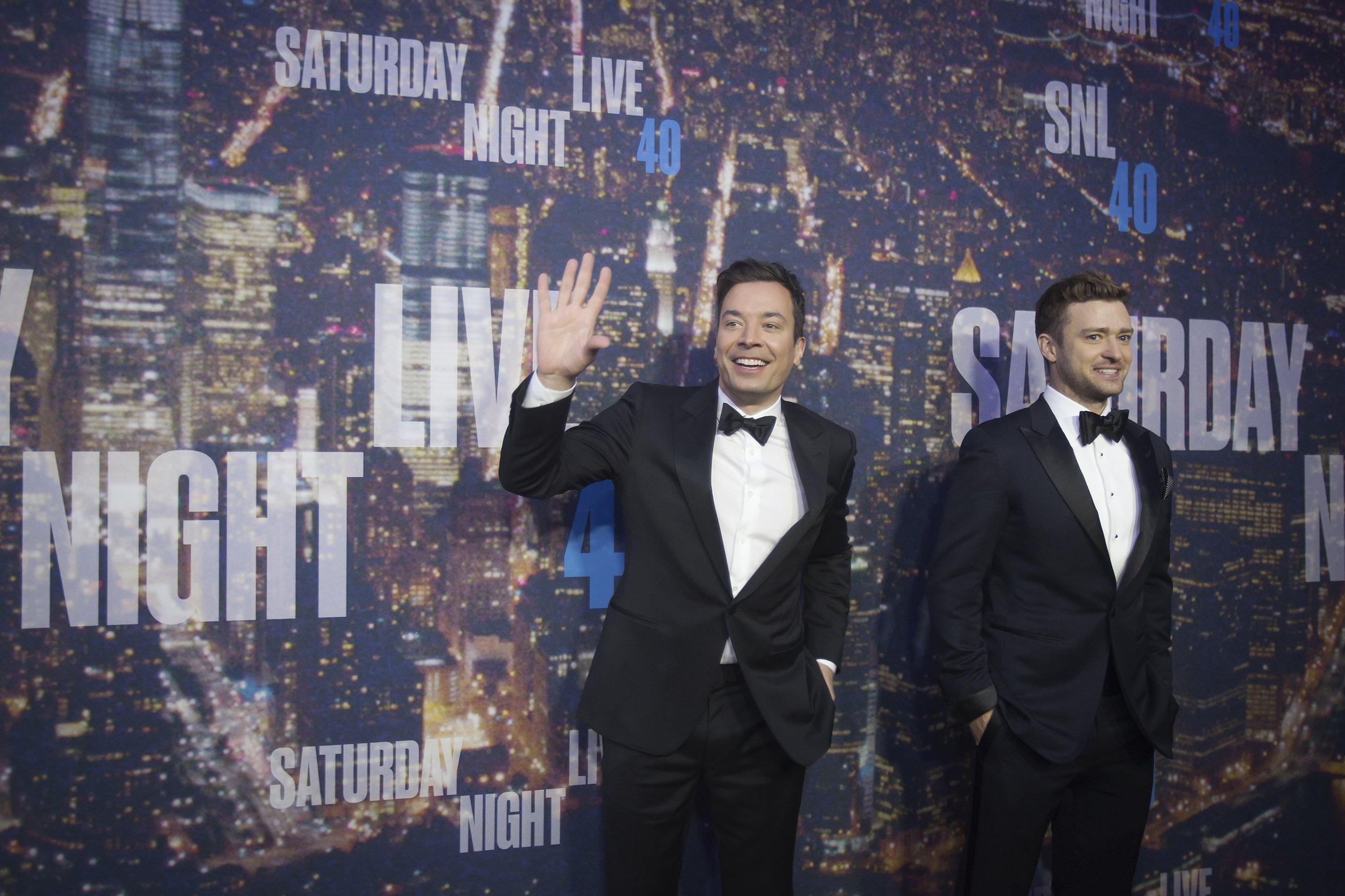 Dozens of current and former Saturday Night Live cast members, hosts and special guests convened on Rockefeller Center Sunday for a live 40th anniversary special that hit on every iconic SNL moment from "Bass-o-matic" to "Celebrity Jeopardy."
NBC had been trumpeting SNL40 for weeks, and the A-list roster of participants made for high expectations: Alec Baldwin, Billy Crystal, Robert De Niro, John Goodman, Chris Rock and Jerry Seinfeld among them. The show also included musical performances from Paul McCartney, Miley Cyrus, Kanye West and Paul Simon; and additional cameos by Tom Hanks, Jack Nicholson, Bradley Cooper, Peyton Manning, Derek Jeter, Edward Norton, Michael Douglas, James Franco, Larry David, Christopher Walken, Betty White and others.
At three and a half hours, SNL40 had time for a bit of everything: an opening musical medley by Jimmy Fallon and Justin Timberlake; a monologue from SNL veteran Steve Martin, who has hosted 15 times and joked that the special was "like an enormous high school reunion...a high school that is almost all white"; and a series of tributes to SNL themes like politics, professional sports and New York City. A handful of SNL icons also received special tributes, including Chevy Chase, Eddie Murphy and Tracy Morgan.
The skits, cameos and montages were almost too many to mention, so here are five great moments from SNL40:
"CELEBRITY JEOPARDY"
A "Celebrity Jeopardy" skit was inevitable, and inevitably entertaining. Will Ferrell returned as Alex Trebek, and Darrell Hammond took up his infamous Sean Connery role. Also appearing was Norm MacDonald as Burt Reynolds, Jim Carrey as Matthew McConoughey (as seen in his Lincoln commercials), Taran Killam as Christof Waltz and Kate McKinnon as the ever-posing Justin Bieber.
Best moment: A quick and perfect Bill Cosby joke, where Keenan Thompson did an impression of Cosby offering a video "potent potables" clue before Trebek cuts him off
SNL AUDITIONS
One of the special's early high points was a clip reel of cast auditions, plus a few from comedians who never made it on the show. Improv geniuses doing their thing is always compelling, but it was particularly cool to see which ideas made it from initial auditions to the final shows. Among them: Dana Carvey's "
The Lady I Know
" (a.k.a., "Choppin' Broccoli"), Kristen Wiig's "Target Lady," Carvey's "Church Lady" and Chris Kattan's "Mr. Peepers." The reel also included dozens of now-famous
SNL
impressions.
Best moment
: Jim Carrey doing a "post-nuclear Elvis" impression (basically just an Elvis impression with his arms stuck in his sleeves up to his wrists)
"WEEKEND UPDATE"
In its rightful place about halfway through the show,
SNL40
gave a nod to the history of "Weekend Update" with a segment hosted by former "Update" anchors Tina Fey, Amy Poehler and Jane Curtin. Guest appearances included Emma Stone paying tribute to Gilda Radner, Bill Hader reprising his Stefan role with Edward Norton and Seth Myers, and Melissa McCarthy doing a version of Chris Farley's
motivational speaker
.
Best moment
: Curtin on the current media landscape: "I used to be the only pretty blonde reading the fake news. Now there's a whole network for that." (Fox News)
MUSICAL COMEDY
Martin Short and Maya Rudolph-as-Beyoncé took the stage for a tribute to musical sketches. Special appearances included: Fred Armisen and Kristen Wiig as Garth and Kat, Will Ferrell and Ana Gasteyer as
Marty & Bobbi Culp
, Dana Carvey's "
Choppin' Broccoli
" again, Adam Sandler as "Opera Man," Keenan Thompson doing "What Up With That," Steve Martin doing "King Tut" and Bill Murray singing "Love Theme From Jaws" as
"Nick the Lounge Singer
."
Best moment
: Dan Aykroyd and Jim Belushi closing out the segment with a
Blues Brothers
performance
QUESTIONS FROM THE AUDIENCE
Jerry Seinfeld took questions from the crowd, which consisted almost entirely of cast members, comedians, actors and other celebrities. Michael Douglas asked why he had only hosted one time. ("Charles Barkley hosted three times and he can't even act.") James Franco asked if everyone got his email. ("No that question was for everybody. Did y'all get my emails?") Seinfeld also took questions from Larry David, Ellen Cleghorne, Dakota Johnson, Tim Meadows, Bob Odenkirk (once an SNL writer) and Sarah Palin. Yes, Sarah Palin.
Best moment: Larry David and Seinfeld joking about the serendipity of creating Seinfeld. David: "You could never do that now." Seinfeld: "It's like we had the last two tickets before Disneyland burned down."
From a 2015 vantage point, it can be easy to forget the cultural impact Saturday Night Live has had over its 40-year run. The television marketplace is more crowded than ever now, and the news and cultural commentary more immediate. There are Saturdays when SNL is still on point, still a barometer of national conversation any other comedy shows (save maybe The Daily Show) would be hard-pressed to match. But there are also Saturdays when the very idea of live weekly sketch comedy feels anachronistic. As Louis C.K. joked on SNL40: "The sketches are nice, but they're long.... They're pretty long. In 40 years there's actually been 17 sketches on this show."
SNL's ratings highlight that struggle: According to an analysis done by The Wrap, the show commanded a peak 13.5 household rating its in fifth season, 1978-79. Today, SNL gets one-third that number; its season-to-date ratings average is 2.7. To be sure, SNL does a tidy humor business online, where single-sketch videos like "Dick in a Box" receive millions of views. NBC understands that. After all, the show just launched a new video app.
Live sketch comedy is a relentless format: like stand-up on steroids, it's high-risk, high-reward, and the reigning opinion that post-2005 SNL lost its luster is a testament to that challenge. The current cast faces a wide range of obstacles: How do you honor a television institution, champion an increasingly dated format, appeal to a wide and outrage-ready audience and keep up with a culture moving at the speed of Twitter? If SNL40 was meant to leave us with anything, it's that the show's fate is in the hands of the same people it has always been: some of the greatest comedians of our time.