Is 'SNL' on Tonight? Watch Daniel Craig Host 'Saturday Night Live'
James Bond may be delaying his return to theaters but that doesn't mean Daniel Craig is postponing any of his scheduled engagements this weekend. The actor and 007 star is still set to host tonight's Saturday Night Live, even though his new movie as the iconic secret agent won't actually hit the big screen until this fall.
The premiere date for No Time to Die, the fifth and likely final James Bond film with Craig at the center, was recently rescheduled in light of the coronavirus' potential effect on the global box office. On Wednesday, the studios and producers behind the blockbuster announced that the film was being pushed from an April release to a November one. (No Time to Die is currently set to debut in the U.K. on November 12, and the U.S. on November 25.) Craig's upcoming appearance on SNL was, naturally, intended to promote his latest turn as the debonair spy.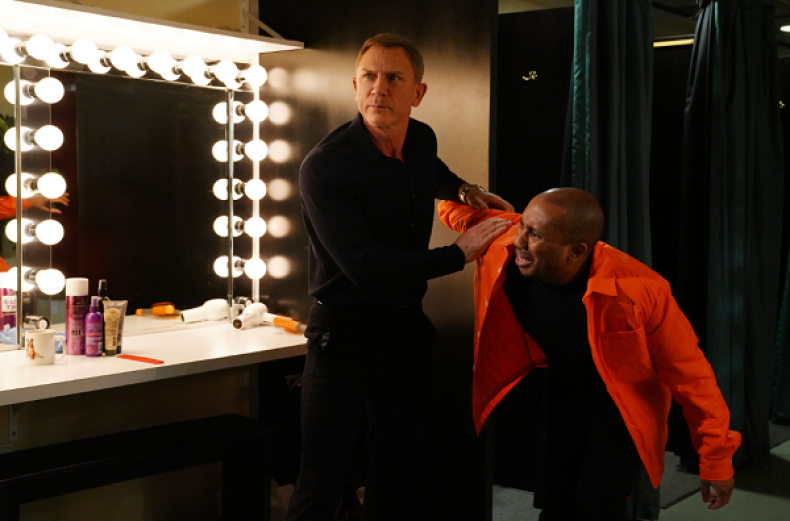 While fans will have to wait longer than expected to see Craig back in action as Bond, they can at least rely on some 007-themed parodies on SNL. There's no telling what Craig and the cast actually have in store for his hosting gig on Saturday, but if history is any indication, there will be at least one nod to Bond before the show ends.
When Craig first hosted SNL in 2012, he appeared in "Bond Girls," a hilarious sketch that imagines a bunch of made-up Bond flicks featuring some unexpected female costars. Have you ever wondered what Annie Hall-era Diane Keaton would be like in a Bond film? Or '80s Ellen DeGeneres, when she was best known as a standup comedian? Well, watch "Bond Girls" and you won't have to wonder any longer.
It wouldn't be surprising to see the SNL cast once again take a few jabs at the Bond persona—or make light of the fact that Craig's hosting the show eight months too early for his new movie.
Read on to find out more details about the upcoming installment of SNL below.
Who is performing?
The Weeknd is set to make his third musical guest appearance on SNL. His return to the famous Studio 8H—where SNL is filmed inside of New York's Rockefeller Center—comes in anticipation of his upcoming fourth studio album, After Hours, which is set to release on March 20, 2020.
Can SNL be live-streamed?
No need to worry if you don't have access to television, you can still view SNL via live stream on any smart device through NBC's website or app. Hulu subscribers with +Live service can also catch the episode in real time on that platform. The same goes for those with YouTube TV.
All of the show's highlights will also be available for viewing on SNL's YouTube channel shortly after the episode airs. And fans can keep up with all of the SNL banter by following the hashtag #SNL on social media.
As always, SNL begins at 11:30 p.m. ET sharp.