Black Moon Solar Eclipse: How and When to Watch Live Online
A partial solar eclipse is due to take place over parts of South America and Antarctica this weekend, and there will be coverage online for those who want to follow the event if they can't see it in person.
The partial solar eclipse is due to occur on Saturday, April 30, just before and during sunset, according to NASA. During the event, the moon will pass in front of the sun, blocking some of its light from reaching Earth. Sometimes solar eclipses can block out the sun entirely, but this one will only cover a part of it. It will be the first solar eclipse of the year.
As of Thursday, Newsweek could find two planned YouTube live streams dedicated to the upcoming eclipse but could not verify their quality. One is due to be hosted on YouTube by India-based space channel Gyaan ki gareebi Live here, though it is unclear if this will be live footage of the event or statistical and illustrative coverage.
Newsweek has contacted the channel owner for comment.
Another live video will be hosted by time zone and space information company Time and Date here, while the company will also be hosting live blog coverage.
This solar eclipse is also notable because it coincides with a new moon, which is when the moon and the sun are positioned in such a way that the moon is temporarily invisible because its shadowed side points toward the Earth.
What's more, this particular new moon is what's sometimes known as a "black moon" according to The Old Farmer's Almanac—a term that refers to the second new moon in a month. The first new mon of this month occurred on April 1.
That's one definition. The Old Farmer's Almanac adds that a black moon may also refer to when there are no new moons in a month; Every new moon, since they are dark or black; Or the third new moon when there are four in a season.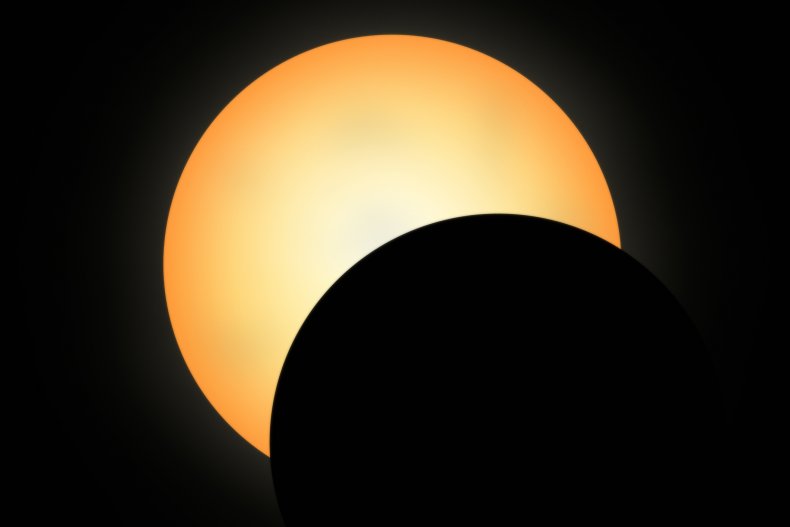 Going by the first definition, Saturday's black moon will be slightly rare as such events are thought to occur once every two years or so.
Saturday's solar eclipse will be visible from Chile, Argentina, most of Uruguay, western Paraguay, southwestern Bolivia, southeastern Peru, and a small area of southwestern Brazil, according to NASA. The event will also be visible in parts of the northwestern coast of Antarctica and the Falkland Islands.
For anyone who will be able to see the eclipse in person, NASA stated that it is never safe to look directly at the sun without a safe solar filter even if the sun is partly or mostly obscured. The space agency added people must wear solar viewing or eclipse glasses in order to face the sun during an eclipse, which are not the same as regular sunglasses. Regular sunglasses are not safe for viewing a solar eclipse.