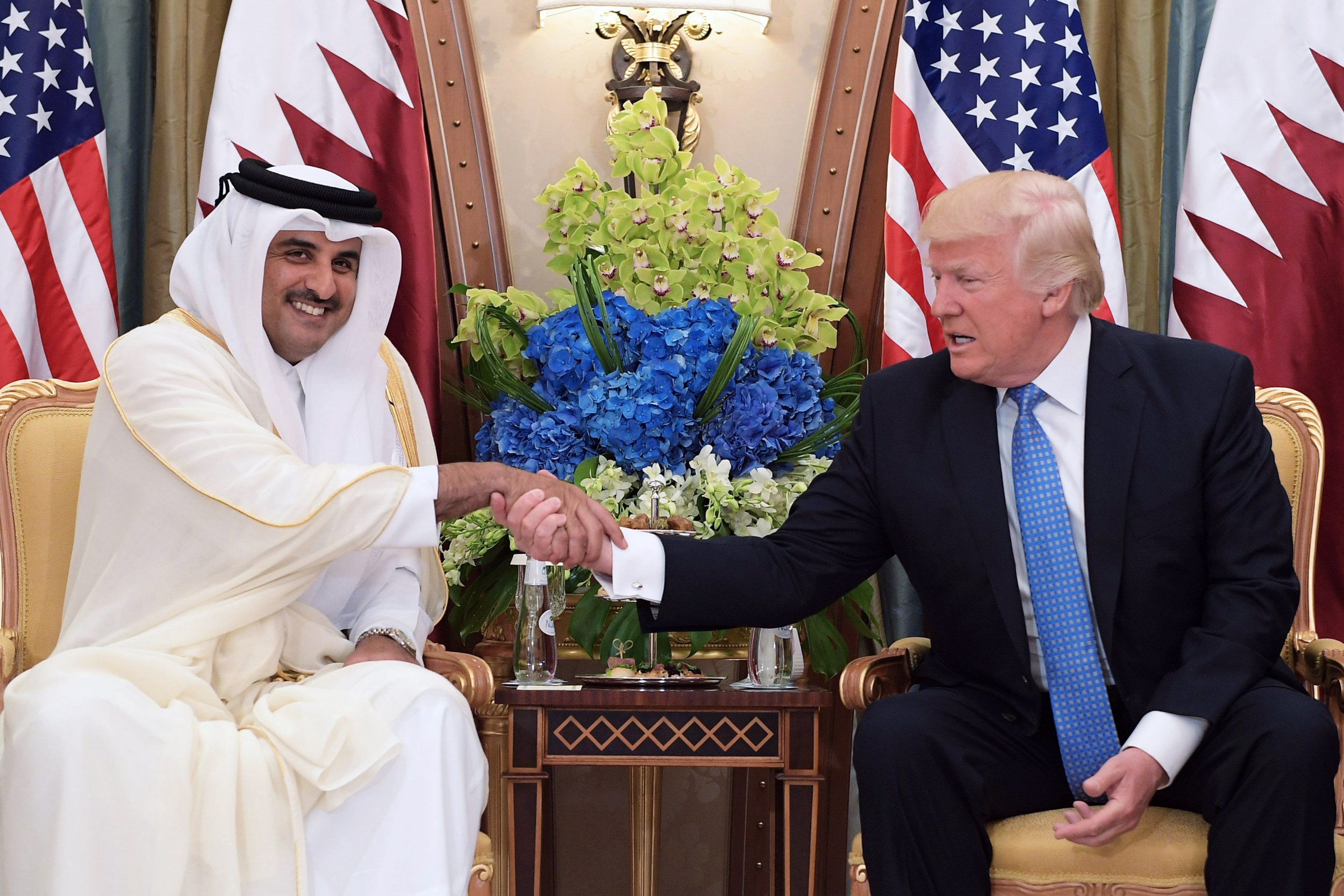 Saudi Arabia and the United Arab Emirates have blocked Qatari media outlets, including Al Jazeera, after Qatar's Emir, Sheikh Tamim bin Hamad al-Thani, was quoted in state media attacking U.S. foreign policy, praising Iran and vowing to withdraw its diplomatic representation from several Middle Eastern countries, including Saudi Arabia.
In the comments, which appeared on the Qatari state-run news agency, Qatar News Agency, Al-Thani said relations with Israel were "good," and that Iran—the main rival to Saudi Arabia in the region — was a "stability guarantor" in the Middle East.
This despite the small, gas-rich country being a backer of Palestinian militant group Hamas —which has fought three wars since 2006 with Israel—and Sunni rebels in Syria that are fighting the Iranian backed Bashar al-Assad..
Qatar, ruled by a Sunni monarchy, denied that Al-Thani made the comments, arguing that its state media outlet was targeted by hackers. It launched an investigation into the alleged hack on Wednesday, claiming that it was subject to a four-hour "shameful cybercrime." It said the perpetrators would be "traced and prosecuted."
Read more: Hackers Posted Fake Comments by Emir Attacking U.S. Foreign Policy, says Qatar
In a statement, the country's foreign ministry said: "QNA's website was hacked at 12:14am on Wednesday morning, with hackers publishing false statements attributed to HH the Emir Tamim bin Hamad Al-Thani."
"The official further said that it is clear this shameful cybercrime was instigated and perpetrated with malicious intent," it said in a statement.
Doha condemned continued coverage of al-Thani's comments. It said it was "surprised by the stance of some media outlets and TV channels."
Bahrain and Egypt also appeared to move to block access to Al-Jazeera, the Qatari-owned television station.
Qatar is part of the six-nation Gulf Cooperation Council alongside its Sunni-ruled neighbors, Saudi Arabia, the UAE, Bahrain, Oman and Kuwait, but has fallen foul of its allies in recent years over support for the Muslim Brotherhood and Islamist groups in Syria.
Three years ago, Gulf nations Saudi Arabia, UAE and Bahrain withdrew their ambassadors from Qatar over its concerns about its support for the Muslim Brotherhood in Egypt. The fact that the UAE and Saudi Arabia have blocked Qatari media despite the denial from Doha suggests that the relationship between Qatar and its Gulf neighbors remains fractious.