Saudi Arabia and UAE Close Airspace to Qatari Flights As Gulf Diplomatic Standoff Deepens
Dozens of Qatar Airways flights have been cancelled after Saudi Arabia and the United Arab Emirates (UAE) have closed their airspace to Qatari planes amid a diplomatic standoff in the Gulf.
Saudi Arabia, the UAE and regional allies Egypt and Bahrain said Tuesday they would each be closing their airspace to Qatari planes indefinitely. Flight monitoring websites have shown the profound impact on air traffic over the Gulf as air craft out of Doha are unable to fly over Saudi, their much larger western neighbour.
A flight between Doha to the Omani capital Muscat now has to fly into Iranian airspace to avoid The UAE which juts out to the Persian Gulf, adding an extra hour onto a normal 1 hour and 40 minute flight time.
Saudi local press reported transport authorities in the Gulf monarchy had rescinded Qatar Airway's license to operate there. All of the airline's offices have also been closed in the kingdom, according to Al-Jazeera.
Read more: Why Have Saudi Arabia, Egypt and Others Cut Off Diplomatic Ties With Qatar?
Qatar Airways said in a statement that all its flights to the Kingdom of Saudi Arabia, UAE, Kingdom of Bahrain and Egypt were cancelled until further notice. More than 25 flights from Dubai to Doha were also cancelled.
Three chartered flights departing Jeddah connecting passengers to Doha via Muscat have also been arranged, Qatar Airways said.
Mounting tensions between Qatar and its neighbors boiled over Monday as Saudi Arabia, Egypt, the UAE and Bahrain all their cut diplomatic ties with the gas rich Gulf nation. Yemen and Libya's eastern-based government also severed relations..
In the wake of the announcement, further tit-for-tat measures have been put in place by Qatar's rivals. Aluminium exports from Qatar have been blocked by the UAE and Saudi Arabia's central bank has recommended the wholesaling of Qatari Riyals at local banks, according to Reuters.
Qatari nationals in Bahrain, Saudi Arabia and the UAE have been given two weeks to leave, while in Qatar itself—a peninsula that relies heavily on food imports—panic buying has been reported.
Reuters reported residents had been had been stockpiling food. "People have stormed into the supermarket hoarding food, especially imported ones," one Doha resident, Eva Tobaji said. "It's chaos - I've never seen anything like this before."
The cutting of all transport ties by Saudi, the Emirates and Bahrain are expected to have a knock-on effect on Qatar's economy and hamper preparations for the football World Cup, due to take place in the country in 2022.
In May, Saudi Arabia blocked access to Qatari news networks, including Al-Jazeera, after they broadcast comments purportedly by Qatari Emir Sheikh Tamim bin Hamad al-Thani criticizing Saudi Arabia.
The comments said that there was "no wisdom" in harboring hostility towards Iran, a regional rival of the Arab Gulf states, and said Qatar's ties to Israel were "good."
Authorities in Doha claimed that the comments were fake, and had been posted by hackers.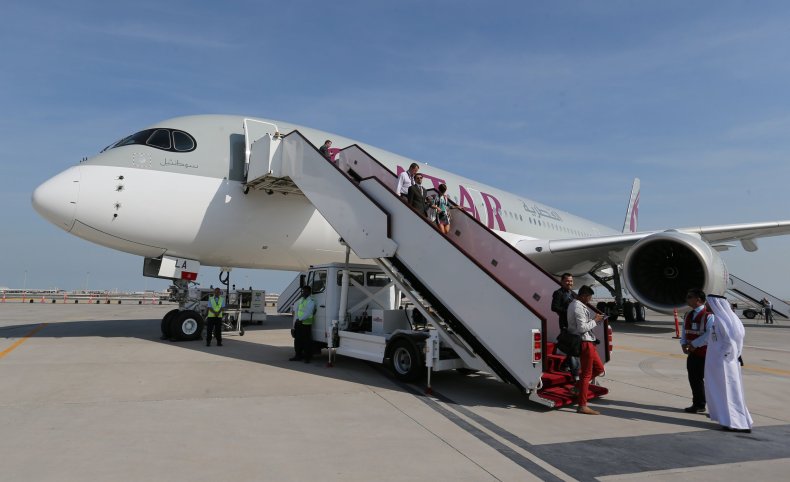 Subsequently, the countries involved in the new dispute now claim they are ceasing diplomatic ties with Qatar because of its support for terrorism, including the Islamic State (ISIS.) Qatar has also accused Saudi Arabia of backing the militant group.
In the wake of the 2011 revolts in the Middle East, Qatar and Saudi Arabia backed rival proxies. Doha has been a longstanding supporter of groups aligned with the Muslim Brotherhood an Islamist movement now banned in Egypt, Saudi Arabia and other Gulf nations.
The Financial Times reported the Saudis had been angered by a deal brokered by Doha for the safe return of members of the ruling al-Thani family kidnapped in December 2016 while they were hunting in Iraq.
Iraqi officials confirmed following the release that over the course of the year-long negotiations for the group's return, Iran, Qatar and the Lebanese Shi'ite militant group Hezbollah had become involved in the talks.
In return for the Qataris' freedom, Sunni fighters besieging Shi'ite cities in Syria agreed to allow thousands of residents to be safely evacuated, the Guardian reported. A multi-million-dollar ransom was also reportedly been paid for their return.
Kuwait, Turkey and Iran have urged restraint in the current situation. Qatar has said it would be open to mediation spearheaded by Kuwait.