Updated | Saudi Arabia claimed Monday to have detained three members of Iran's elite Islamic Revolutionary Guards Corps who allegedly were attempting an attack on one of its offshore oil sites.
Saudi Arabia's navy said that last Friday it intercepted three vessels approaching its offshore Marjan oil field at high speeds, capturing one after firing what it referred to as warning shots. A day after the incident, Iran accused Saudi Arabian border guards of opening fire on Iranian fishermen in the area, killing one of them, and denied Monday that any military personnel were involved. Saudi Arabia's claim is likely to escalate tensions between the rival Persian Gulf powers at a point where relations are already at an all-time low.
Related: Saudi Arabia gives Pakistan one choice: 'Are you with us or with Qatar?'
"This was one of three vessels which were intercepted by Saudi forces. It was captured with the three men on board; the other two escaped,"read the statement, issued by the ministry's Center for International Communications and cited by Reuters.
"The three captured members of the Iranian Revolutionary Guard are now being questioned by Saudi authorities," it continued.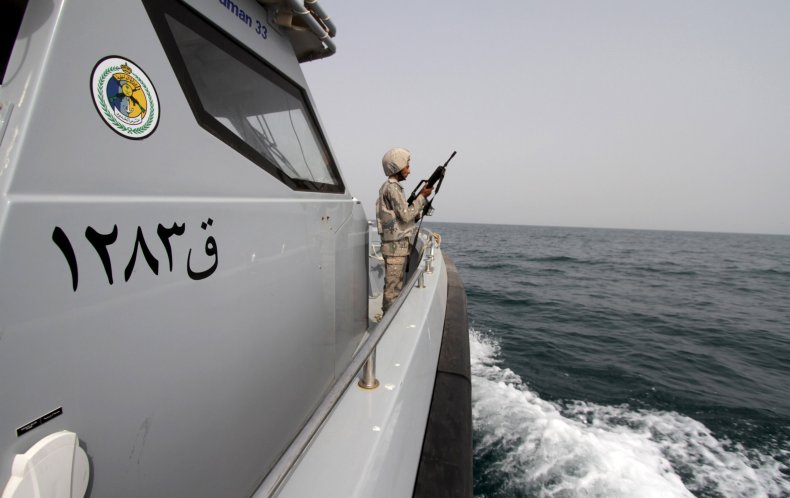 After capturing one of "three small boats, bearing red and white flags," the vessel was discovered to be "loaded with weapons for subversive purpose," according to the government-run Saudi Press Agency. The account seems to contradict the one put forth Saturday by the Iranian Interior Ministry, which claimed that the boats belonged to Iranian fishermen who may have drifted off course due to inclement weather. Majid Aqababai, the ministry's director of border affairs, said Saudi Arabia's coast guard began shooting the fishermen before verifying they had crossed the international maritime boundary and that an investigation was being conducted into what actually occurred Friday.
"We are pursuing this matter to determine if the Iranian boats had crossed the Saudi border or not, but the action of the Saudis does not comply with humanitarian and navigational principles," Aqababai said, according to Iran's semi-official Tasnim News Agency.
The outlet mentioned the claims that three members of the Islamic Revolutionary Guards Corps had been arrested, attributing them to Saudi Arabia's Al Arabiya news outlet, but maintained that Friday's incident involved fishermen. Aqababai officially denied Monday the involvement of Iran's Revolutionary Guards in the incident, saying the incident was all about the fishermen, according to BBC News Persian's Jamshid Barzegar.
Iran and Saudi Arabia regularly accuse one another of destabilizing the region via their support for opposing political and military movements abroad, including warring factions in Syria and Yemen. While many of the two countries' battles play out through proxy warfare, both Iran and Saudi Arabia have become directly involved in foreign conflicts.
For the first time since the Syrian conflict began, in 2011, Iran launched missiles directly toward positions held by the Islamic State militant group (ISIS) in Syria. Iran, along with Russia, supports Syrian President Bashar al-Assad against various insurgent and jihadist groups attempting to overthrow his government. Saudi Arabia, which has supported various rebel groups, also has punished fellow oil-rich monarchy Qatar for allegedly backing ultraconservative Sunni Muslim groups such as al-Qaeda and maintaining relations with Iran, a majority-Shiite Muslim nation that often supports Shiite Muslim movements abroad. Saudi Arabia was joined by Bahrain, Egypt and the United Arab Emirates earlier this month in severing relations with Qatar.
Saudi Arabia is deeply involved in battling Yemen's Ansar Allah, a militant group, also known as the Houthis, that represents Yemen's Zaidi Shiite Muslim minority. The group came to power amid protests against then-President Abed Rabbo Hadi, who is backed by Saudi Arabia and took power after his predecessor was forced to resign amid mass demonstrations in 2011. The Houthis entered the capital and took control in 2014, forcing Hadi to flee to the southern city of Aden. Since then, Saudi Arabia has attempted to dislodge the group, which it accuses Iran of providing arms to, through a massive military campaign.
This article has been updated to include an official denial of the Islamic Revolutionary Guard Corps' involvement by Majid Aqababai, director general for Iran's border affairs.