Coca-Cola Ad Featuring Saudi Arabian Women Driving Enrages Many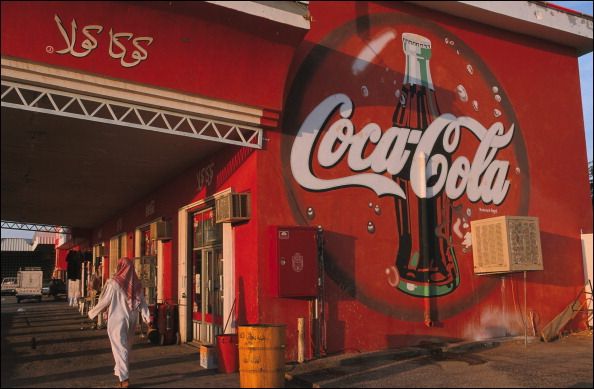 Oppressed women finally got the right to drive in Saudi Arabia — and Coca-Cola is calling shotgun.
The beverage giant was under fire this week after releasing a politically insensitive ad that suggested that Coke was in the front seat for change in the repressive Middle Eastern kingdom, which announced only this September that women could get behind the wheel.
The ad started off well enough, with a doting Saudi father smiling as he hands his daughter the keys to his luxury car. The teen initially struggles to maneuver the vehicle, but the father remains reasonably calm — a universal image of passenger-seat anxiety.
And then the ad goes off the rails.
The dad opens a bottle of Coke, and the daughter takes several vigorous gulps. Suddenly, she's driving like she invented the automobile itself, speeding down the desert highway with confidence as an upbeat song plays in the background.
"Change Has a Taste," the cutline reads.
Critics were quick and harsh, saying Coke was making light of the repression of women in the conservative Muslim country.
"These companies think it is OK to take something and make it a brand. And not just anything, women in Saudi Arabia have been and still are fighting patriarchal oppression on a daily basis," Amina Awartani, a student activist from Qatar, told Newsweek.
"They not only include themselves in a struggle they have nothing to do with, but they're literally using it to their own advantage so that they can make money," she continued.
The backlash recalls Pepsi's equally criticized ad in April that featured Kendall Jenner offering a police officer a Pepsi in the middle of a standoff between cops and protesters. Critics accused Pepsi of exploiting legitimate issues on both sides to sell sugar water.
Saudi Arabia's crown prince has announced that his country will shift toward a more moderate form of Islam as it works to reshuffle its economy and bring in more foreign investment. But at the same time the prince has led a swift crackdown against his political opponents, jailing 11 princes in the name of anti-corruption.
Still, representatives of Coca Cola argue that the advertisement was an attempt to celebrate women's empowerment in a changing nation.
"Coca-Cola is continuing its legacy of celebrating positive social and cultural change in its advertising campaigns by releasing a topical and timely ad in the Middle East," Omar Bennis, the company's representative in the Middle East, told Newsweek. "The campaign touches on the brand's values surrounding diversity and inclusion and aligns with Coca-Cola's commitment to enable the economic empowerment of women."
Meanwhile, some social media users defended Coca Cola's choice.
"It shows another side of Saudi Arabia, and it touches on an issue that has been on people's minds for a long time," Abdalaziz Avil, a Muslim social media user in Sweden, told Newsweek. "Of course, [it] took advantage of this controversial issue, but it works because it brings a lot people's attention to it."
Coca Cola owns half of the Saudi Arabia-based Aujan Industries, one of the largest beverage companies in the Middle East. The Coke ad appears to be timed to the opening of a new bottling plant in the kingdom.