Saudi Arabia's Government Might Be Getting Help From Social Media Giants to Shut Down Dissent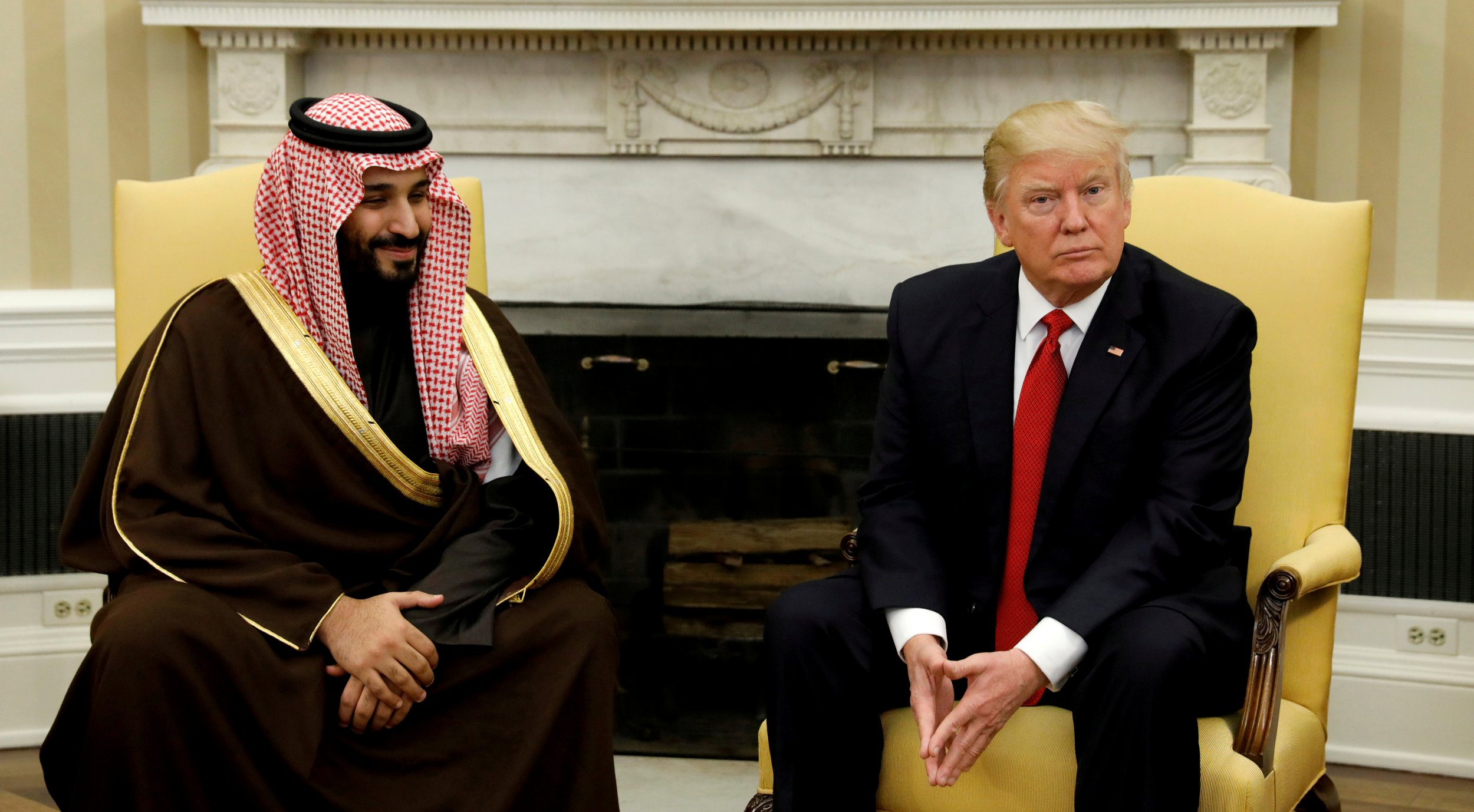 Omar Abdulaziz, a Saudi dissident who was granted political asylum in Canada, wants to know why his viral hashtag disappeared from Twitter.
The 27-year-old political science student has more than 270,000 followers on Twitter. But some of his Arabic-language hashtags disappeared as soon as they started going viral, he said. Especially the ones criticizing Saudi Arabia and its crown prince, Mohammad Bin Salman.
"I created this hashtag about a man who is very close to the Saudi crown prince Mohammed bin Salman; his name is Turki Al-Sheikh. This man has been spending lots of money, millions, on very stupid events and concerts in Saudi Arabia," Abdulaziz told Newsweek.
Al-Sheikh is president of the Saudi sports federation and is in charge of organizing many high-profile sporting events in Saudi Arabia. The hashtag roughly translated to #StopalSheikFromWastingTheNationsMoney.
"It had 6,000 tweets in less than 15 minutes," Abdulaziz said. "But then suddenly it was deleted from trends, like it was nothing."
Social media users in Saudi Arabia took to Twitter to ask why the company had removed the hashtag right after it caught fire—but apparently never got an answer.
Abdulaziz is one of several Saudi dissidents and critics who say their social media posts opposing the Arab nation's leadership have vanished or been targeted by hackers advocating for the Saudi royal family.
It's unclear what role tech companies play in these scenarios. Some experts say it's possible Saudi hackers are infiltrating social media platforms, or that social network companies are being pressured to comply with local laws in countries where they operate, including countries that don't protect free speech. Twitter's policy says it must provide "direct notice of removal requests to affected users," and Twitter representatives have claimed they don't delete hashtags.
But attacks on social media accounts, and efforts to silence online voices critical of the Saudi regime, are part of a systematic effort by the Saudi government to use social media as a weapon, cybersecurity analysts say.
"We're seeing authoritarian governments using these techniques and tactics more strategically," David Fidler, a senior cybersecurity fellow at the Council for Foreign Relations in New York, told Newsweek.
"Governments that are concerned with dissidents using email and social media monitor social media and make a formal complaint [to the company] to take down that tweet or post."
He added that Facebook, YouTube and Twitter have struggled to work with governments that want the companies to comply with local laws, citing national security concerns.
"The Saudi government is fully engaged in this," Fidler continued. "Like other authoritarian governments, they are using social media as a weapon against these individuals."
Representatives of the Saudi embassyin Washington, D.C. did not respond to multiple requests for comment from Newsweek.
Ghanem al-Dosari, a Saudi dissident based in London who created a satirical show about Saudi Arabia that he broadcasts on a YouTube channel, said he had also been the victim of Saudi cyberattacks. Al-Dosari's show regularly pokes fun at the Saudi crown prince and other prominent figures in the autocratic Muslim nation.
He said that since he launched The Ghanem Show in 2015, his personal website, YouTube channel, Twitter account, Instagram and Facebook pages have all been hacked.
"When I started my YouTube channel, the government tried to shut it down. YouTube received a complaint from the government about my channel. They hacked my website and put King Salman's picture there. They sent spam to my Twitter account and shut it down," al-Dosari told Newsweek.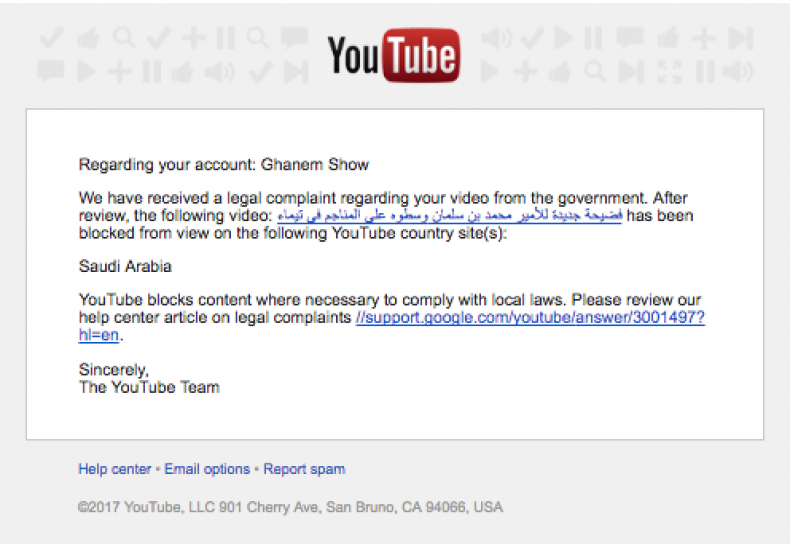 A representative from YouTube told Newsweek that the company disclosed government requests in its transparency reports and restricted access to videos only after a thorough review. Content remains on the site if it does not break local laws or violate YouTube's guidelines.
Al-Dosari said he was happy with the way YouTube and Twitter responded to the incidents, and his YouTube account was restored in May 2016 after a short investigation. But he hasn't had the same luck with Facebook, which, he claimed, hasn't allowed him to access his account in nine months.
"I created a Facebook page and it had almost 90,000 likes, but suddenly Facebook just went crazy and prevented me from accessing my account. They said I am not Ghanem," al-Dosari told Newsweek.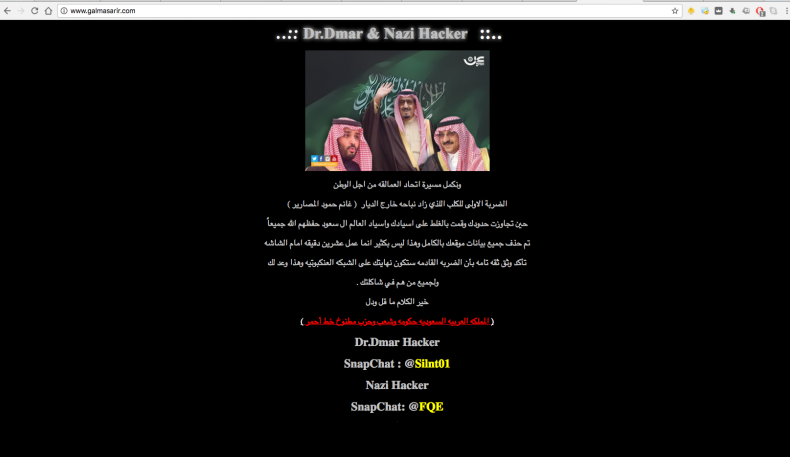 According to emails viewed by Newsweek, al-Dosari sent Facebook a copy of his personal ID, a personal photograph and his phone number, which he said he hadn't changed since opening the account. But the company never reopened his account.
A representative from Facebook told Newsweek that the company was looking into the incident, but Facebook did not provide a reason why it had taken so long to restore al-Dosari's account.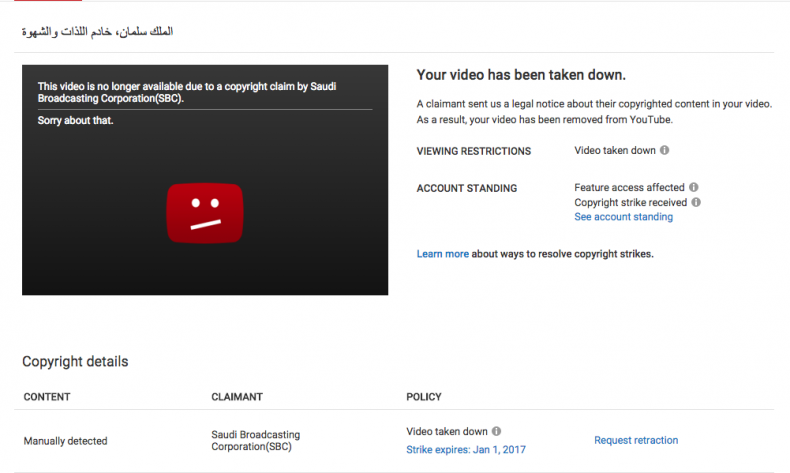 Cybersecurity professionals argue that the way tech giants make decisions about which government requests to follow and which accounts to close isn't as transparent as the companies claim.
"These requests come in from foreign governments all the time, and the company has to decide how to respond," Fidler told Newsweek.
"There is no transparency with what they decide. They want to be global companies that operate in these jurisdictions, but they have to comply with local laws. And so you get into this murky nontransparency," he said.
Saudi Arabia has long been included among a group of countries that use hackers and cyberattacks to quell dissent. Countries like Russia, China, Iran and North Korea use similar tactics.The U.S. has also used cyber warfare to target foreign adversaries, and in 2012 the Justice Department granted the National Security Agency permission to target foreign hackers specifically.
But the Saudi government has become even less tolerant of criticism in recent months as the country's crown prince works to consolidate power at home, revamp the economy and put pressure on Iran, its regional enemy. Efforts to stop dissent at home coincide with similar efforts to stop dissidents from criticizing the regime.
"Saudi Arabia as a political entity is closed, and when you have a closed political culture you have a closed information culture protecting it," Kenneth Geers, a cyber policy researcher at the Atlantic Council in Washington, told Newsweek.
"Political control manifests through a high level of information control because you have to stay on message. It's only logical that when it's a very strict social and political regime within their borders, they extend that into cyberspace," he said.
Some social media users get around these censors by using a proxy server or altering domain names and keywords. But overall, Saudi Arabia's internet landscape is strictly monitored. Al-Dosari said he was only able to operate a YouTube show that is critical of the Saudi royal family because he was based outside the country.
"You can't run a show like mine in Saudi Arabia, you can't even tweet in Saudi Arabia, you can't say something that the government is unhappy about," al-Dosari told Newsweek, stressing that he feels safe in London.
But Abdulaziz said the Saudi government had succeeded in shutting down Twitter hashtags even when they were created outside the country, and he was calling on Twitter to fix the problem.
A trending hashtag criticizing the Saudi guardianship system—a law that doesn't allow women to travel or visit a doctor without a male guardian—has been removed multiple times, Abdulaziz claimed. Social media users have started re-creating the hashtag, which roughly translates to "#TogetherToEndGuardianship," by adding ascending numbers to differentiate it from previous hashtags that had vanished. The latest versions were numbered in the 530s.
That hashtag was trending again on Saudi Arabian Twitter in the past week, but Abdulaziz said two hashtags criticizing Al-Sheikh had vanished, along with a hashtag calling for more government aid for Saudi citizens.
"It was also trending [on Twitter], and it was taken down," Abdulaziz said about the hashtags. "We don't know if Twitter is helping the Saudi regime or if some hackers have the ability to do such a thing, but we have questions."