As midnight ushered in June 24, women in Saudi Arabia got into their cars, switched on their engines and put their foot on the gas, as the country finally lifted its restrictive driving ban.
Twitter exploded with videos of Saudi women driving for the very first time, highlighting their experiences with the hashtag #saudiwomendriving.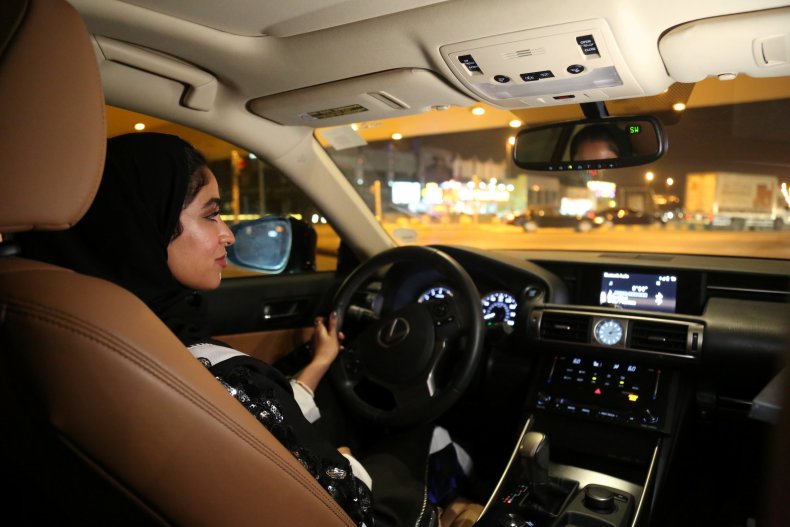 "I am totally happy and ready to drive. No word can express my happiness. Also, I would like to take this tag as a chance to [thank] prince Mohammed bin Salman for making women [equal] to men," wrote Twitter user Lama Akhaldi.
"Thank yous to everyone who made this possible," wrote Muna AbuSulayman "[A] new chapter is about to be written."
"On the first day behind the wheel in #Saudi, I took my kids for a ride in #Jeddah and winked at my 13-year old son: "I got to do that before you," wrote Deema Farsi.
Saudi woman Majodooleen Al-Ateeq expressed her joy in the video above. "I'm just so happy," she told Reuters as she drove. "No words can explain what I'm feeling right now." She joked that the view from the driver's seat was pretty different from the back of the car, where she was used to sitting.
Condemned by human rights campaigners around the world, Saudi Arabia's driving ban forced women to rely on chauffeurs and male family members to get around.
But the repressive regime didn't stop some women bending the rules. Protests in 1990 and 2008 famously saw women driving illegally. In 1990, officials sent female drivers to jail for a day and confiscated their passports, the BBC noted.
Sunday's freedom, however, is bittersweet. Reports have emerged that some women's rights campaigners were arrested shortly before the end of the driving ban. CBS News reported activist Madeha al-Ajroush may be among those arrested. Al-Ajroush campaigned tirelessly for 30 years for women's right to drive in Saudi Arabia. The country, it seems, still has a long way to go before women's rights equal those of men.
The end of the driving ban comes alongside Saudi Arabia's Vision 2030—an "ambitious yet achievable blueprint, which expresses our long-term goals and expectations and reflects our country's strengths and capabilities," crown prince Mohammad bin Salman bin Abdulaziz Al-Saud proclaimed online. The programme aims to reduce the country's economic dependence on oil and improve its ties to Europe, Africa and the rest of Asia.
Vision 2030 was criticized in a Financial Times article which questioned the programme's readiness to adapt to the changing future of the energy market.