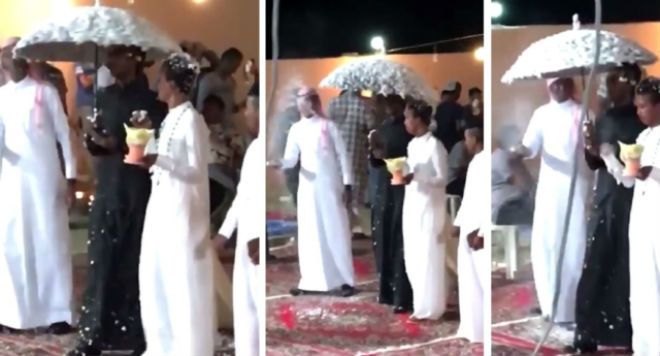 Saudi authorities are investigating a video claiming to show a gay wedding ceremony in the country, according to regional media reports.
Footage of two men in Saudi dress walking down an aisle at an alleged wedding ceremony has gone viral in the Gulf kingdom. Men surrounding the pair are seen throwing confetti.
The LGBT community in Saudi Arabia is severely restricted by the country's ultraconservative Islamic law. Same-sex activities between men and between women are outlawed, and the rights of that community are not recognized by the government. LGBT people face punishments ranging from lashings to the death penalty.
The Saudi government's communications office did not respond to a request for comment. Newsweek was not able to confirm the authenticity of the video footage, and some users suggested the video was a prank. However, Saudi authorities are not taking it lightly.
According to Pan-Arab news site Al-Araby, Saudi officials opened an investigation into the ceremony, which reportedly took place in Aradiyat, a governorate located near the city of Mecca, the holiest site in Islam.
Police raided the ceremony and arrested those involved, a regional official told Saudi news site Al-Marsd, according to Al-Araby. Their fate is unclear.
The footage caused a stir on social media, with conservative Saudis and others from the Muslim world condemning the wedding. Some chastised the pair for holding the ceremony close to Mecca.
"In the purest spot on earth... Two homosexuals marry in Saudi Arabia," one Twitter user wrote.
Related: Saudi Arabia converted another hotel into a prison as part of corruption crackdown
Another said, "Since 2013, the phenomenon of homosexuality has been increasing in Mecca, and perhaps the response for respectable people is to purge Mecca of this corruption, which stems mainly from foreigners."
Mohammed bin Salman, the country's youthful crown prince, has embarked on a modernization project known as Vision 2030, but his campaign has yet to benefit the LGBT community.
It has created more employment opportunities and greater rights for women, in a bid to improve the Gulf kingdom's international image. Women in the country will be permitted to drive starting June 2018, ending a ban for which the Saudi ruling elite had long been criticized.