How Saudi Arabia's Male Guardianship System Restricts Women's Lives: Report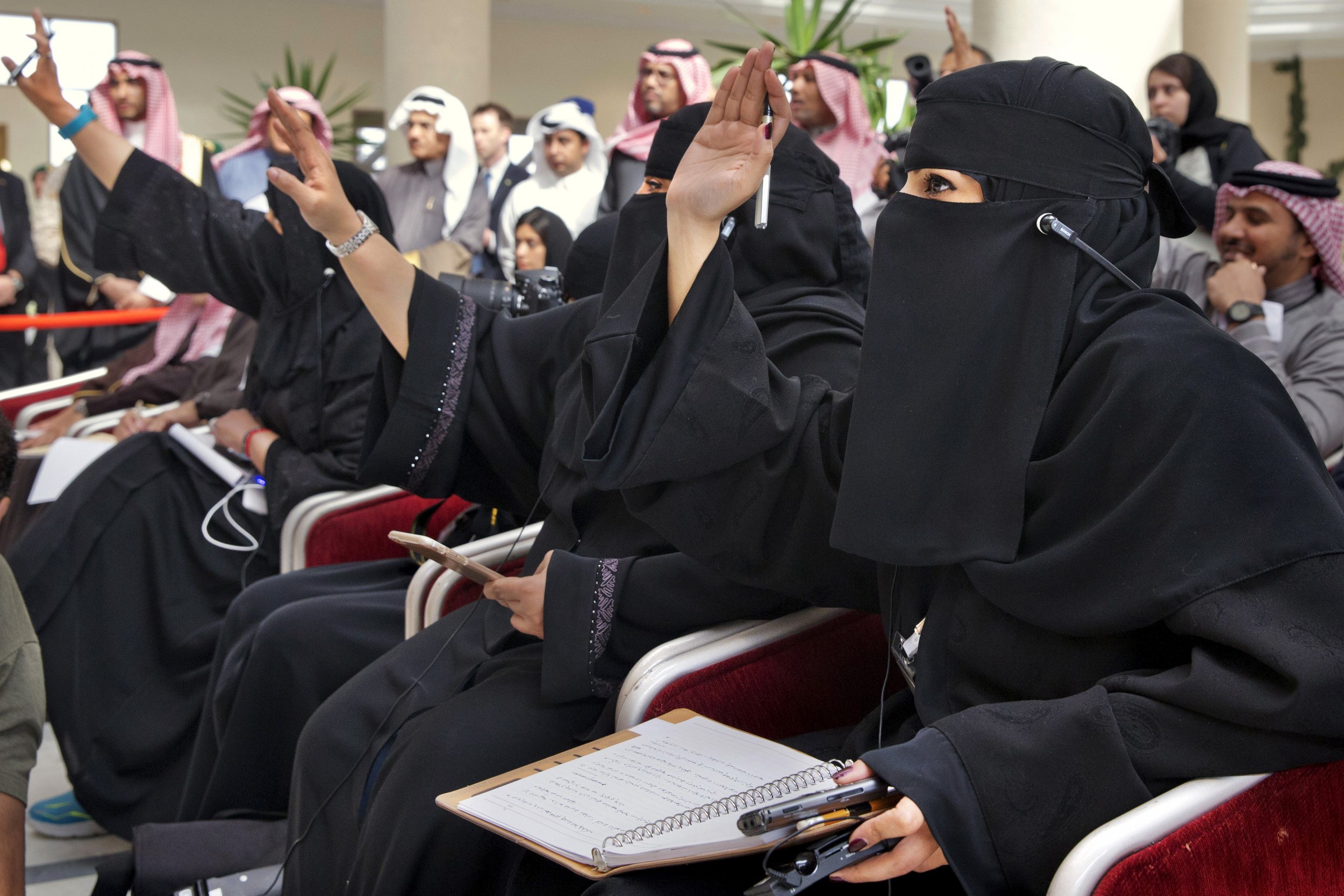 The male guardianship system in Saudi Arabia is "the most significant impediment to realizing women's rights in the country" and effectively renders adult women legal minors, according to a new report from Human Rights Watch.
Despite some small steps that have been made by the Saudi government, restriction of movement outside the home affects women from all social and economic backgrounds. Women need to get permission from a male guardian—usually a husband or father, but sometimes a brother or son—to make critical decisions in their lives. Male guardians also have control over a woman's ability to travel, marry and in some cases access employment or health care.
"Saudi Arabia has, in fact, taken some reforms and some steps forward to chip away at the male guardianship system, so what we really wanted to do was look at the extent of these reforms, what exactly were these reforms," Kristine Beckerle, a researcher in the Middle East and North Africa division of Human Rights Watch, tells Newsweek from Amman, Jordan. But for every step forward, she adds, there is a limitation.
The biggest change for Saudi women has been in the area of women's employment, says Beckerle. The government has been "actively encouraging women to get into the workforce" and can now work in most sectors. Beckerle said one of the most significant steps forward is that women can now be licensed to be lawyers, but they still cannot be judges.
While some employers no longer need a woman to get her male guardian's approval to work, companies that do require guardians' permission are not penalized.
"That means you're in a situation where an individual employer, be it a private employer or a public employer, can decide [whether their female employees are allowed to work] without fear of sanction from the government," says Beckerle.
"That's one of the things we're trying to push. You'll always hear a lot of Saudi officials say, 'It takes time' or 'We need to move slowly.' But they have made all these small steps, and the sky hasn't fallen," says Beckerle. "What we're really trying to say is, listen, you've done these things but you still need to do more, you can do more, and it's in your interest."
Between September 2015 and June 2016, Human Rights Watch interviewed 54 Saudi women and seven Saudi men about the country's guardianship system. The interviews were conducted electronically as Human Rights Watch staff have not been granted visas to enter Saudi Arabia by the government since 2008.
In the past decade, Saudi women were granted the right to vote and to stand in municipal council elections. The elections were "a significant, symbolic victory for women, particularly as many women had campaigned for this right for more than a decade," according to the report. The Saudi government has also created a program for women to study abroad, yet male guardians still need to give women their permission to go.
Despite a 2013 law that criminalized domestic abuse, "the law itself is deeply problematic in that it still maintains the rights of guardians to have some authority over their female dependents," says Beckerle. In some cases, family reconciliation is given priority over a woman's safety, according to the report; often, the male guardian is the abuser a woman has tried to escape.
"You can do all these little steps to try and respond to domestic violence, but until guardianship is eliminated there's going to be this incredible tool in men's hands to both abuse and exploit women," she says.
The ban on women driving in Saudi Arabia remains a huge barrier to mobility in the country. A 2015 study of female nurses found that 27 percent of work-related absences were due to transportation problems. Women rely on male family members or chauffeurs to drive them around, which can be costly. Women who protest the driving ban by getting behind the wheel are often arrested.
In June, Uber received a $3.5 billion investment from Saudi Arabia's Public Investment Fund, the single biggest cash infusion for the company. Before the deal, women were grateful to Uber, said Beckerle; last year, the company offered free lifts to women who were going to polling stations to vote for the first time in the country's elections.
"This deal came out and women were, understandably, frustrated," said Beckerle. "The narrative has always been, 'It just takes time.' What the Saudi government seems to do is take these Band-Aid measures to try and address the manifestation of the problem rather than the cause, the root of the problem. This just seemed like the exact same thing all over again.
"You're willing to invest how much money in a company, but you're not willing to just change the law and let your own citizens drive themselves to where they need to go?"
The Saudi government could enact a number of immediate changes to improve women's lives, according to the report. These include letting women travel without the permission of a male guardian, allowing women to drive and issuing women passports. The govcrnment also needs to make sure women can exit state institutions without getting male permission, Human Rights Watch said.
The Saudi Arabian Ministry of Foreign Affairs and the Saudi Arabia Mission to the U.N. did not return Newsweek's request for comment. Human Rights Watch sent letters to several Saudi government ministries, but said it received no response.
"[Saudi women] waited far too long and they shouldn't have to wait any longer before the government takes the immediate steps it can take to make their lives so much better," said Beckerle.