Saudi Arabia Is an Indispensable Middle East Ally for the United States | Opinion
I was disheartened and discouraged to read the opinion of Aaron David Miller and Richard Sokolsky published by The Washington Post on March 4, 2021.
Among the authors' themes is that the Kingdom of Saudi Arabia's interests "often run counter" to Washington and that "[f]ar from advancing U.S. priorities in the Middle East, the Saudis have often complicated them, especially in recent years." This is surprising, since one of the greatest threats faced by the United States today is Iran's nuclear and hegemonic ambition. On that front, the Kingdom worked hard with the Trump administration to assist us in protecting U.S. national security interests and the interests of our allies. The Biden administration appears to be taking a different, misguided and unfortunate approach with the Iranian regime, which might cause the Kingdom and others most at risk to seek alliances elsewhere.
The critical voices regarding the Iranian threat are those in the Middle East itself. Instead, the U.S. is now placing some European nations on the highest pedestal of influence when it comes to Iran. These European nations are not at risk from Iran in the same way our Middle East allies are. Some of these European nations act purely out of naked economic self-interest, irrespective of the security concerns of the United States and our allies. That is their right, but let's at least candidly acknowledge that.
Miller and Sokolsky argue that the Kingdom is not an ally, but rather just a partner. The term "ally" means a person, group or nation associated with another for a common cause. Synonyms include "friend" and "partner." Based on my nearly three years at the White House working on Middle East-related matters, I believe the Kingdom and its leadership—especially His Royal Highness Crown Prince Mohammed bin Salman—check the box on all of those words as they pertain to many of our regional interests, valid concerns notwithstanding.
The authors' reference to Secretary of State Antony Blinken's comment that "the relationship with Saudi Arabia is bigger than any one individual" is grounded in truth—such a sentiment is true for the relationship between the U.S. and any one country. But it ignores today's important questions relating to the U.S.-Saudi relationship. The crown prince is the second (some would argue the first) most important voice in the Kingdom. The crown prince is expected to be the next ruler of the Kingdom, and the United States has no right to tell the Kingdom who their next ruler should be. Based on my extensive experience with the crown prince and those who work closely with him, the crown prince serving in that leadership role would greatly benefit the people of Saudi Arabia, the United States and our other allies in the region—including our most important regional ally, Israel.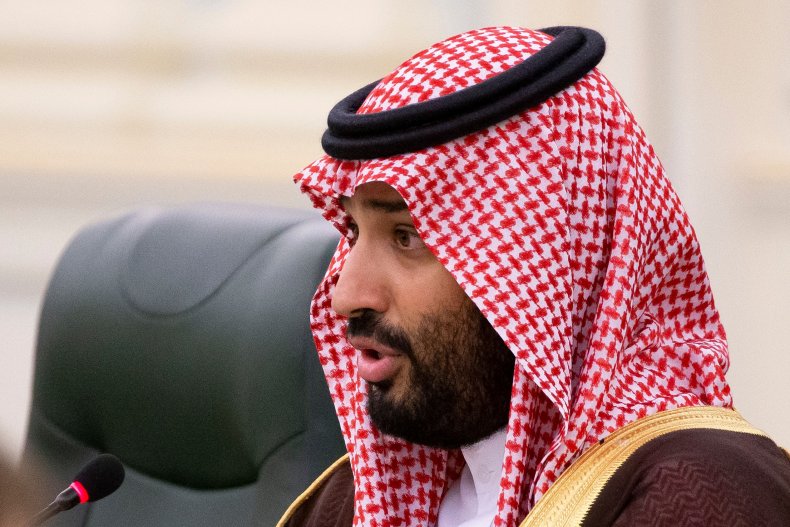 Messrs. Miller and Sokolsky boil down the U.S.-Saudi relationship to that of competing oil suppliers and partners in counterterrorism and imply that since we are not getting much out of the Kingdom, there is little value in having them as an ally. But this approach disrespects the Saudi people. The relationship between our two countries has much more breadth, depth and scope.
I believe that today's Saudi Arabia is more important to us than ever. The region is fighting a battle of good versus evil, terrorism and chaos versus stability. The Kingdom and others in the region are seeking ways to realize a brighter future for their young populations.
My first trip to the Kingdom was in 2017, as an observant Jew in a land that was strange to me. Today I feel at home there and I see a region that is so very different in many, positive ways. I see people excited about their future. The Saudis that I am meeting recognize what the crown prince is trying to achieve and support his efforts, his dream and his vision.
Ultimately, the logic used by Messrs. Miller and Sokolsky would suggest that the Arab world should shun me and everything I stand for. After all, I am a proud, outspoken supporter of Israel. Yet, I am able to continue to have deep and meaningful ties with the people of Saudi Arabia and others in the region because we all understand that while we may disagree on certain major issues—sometimes deeply so—we have so much more in common, and we want to build a better future for all.
Politics, diplomacy and so much else in life is not just black and white. Unless we behave and speak in a nuanced manner and recognize the differences we may have with our friends, partners and allies, while also understanding that we will only move our societies forward if we work together where we can and respect each other, we will fail to achieve the progress we strive for.
I firmly believe that the intent of King Salman and the crown prince is to build a brighter future for Saudi Arabia and the broader region. Our goal should be to work closely and cooperatively with our friends and allies, and to continue to improve lives, step by step, day by day, issue by issue, to pave a brighter path for the next generation. We owe it to them.
Jason D. Greenblatt served as President Donald Trump's White House envoy to the Middle East for nearly three years. Follow him on Twitter: @GreenblattJD.
The views expressed in this article are the writer's own.