Saudi Death Sentences for Jamal Khashoggi Killing 'a Way to Silence Them Forever and Conceal the Truth,' Says Journalist
Death sentences handed down to five Saudi men accused of killing the journalist Jamal Khashoggi may prevent the full details of his case coming to light, the media freedom group Reporters Without Borders has said.
Khashoggi fell out of favor with the Saudi government which he repeatedly criticized and was killed by Saudi agents inside the kingdom's consulate in Istanbul in October 2018.
The kingdom's de facto ruler, Crown Prince Mohammed bin Salman faced a global outcry over the killing, although Riyadh denied he had any involvement or knowledge of the operation.
On Monday, Saudi Arabia's public prosecutor Shalaan al-Shalaan announced five people had been sentenced to death in connection with the killing, and three more to jail terms totaling 24 years, Reuters reported.
Al-Shalaan also said that the court dismissed charges against the remaining three of the 11 people that had been on trial. Those acquitted were deputy intelligence chief Ahmed al-Assiri who oversaw the killing and the royal court's media chief, Saud al-Qahtani, who advised him.
Al-Qahtani was not indicted "due to insufficient evidence" and al-Assiri was investigated and charged but eventually acquitted on the same grounds, the prosecutor's statement said, according to Al Jazeera.
The Saudi consul-general in Istanbul at the time, Mohammed al-Otaibi, was also acquitted, the outlet said.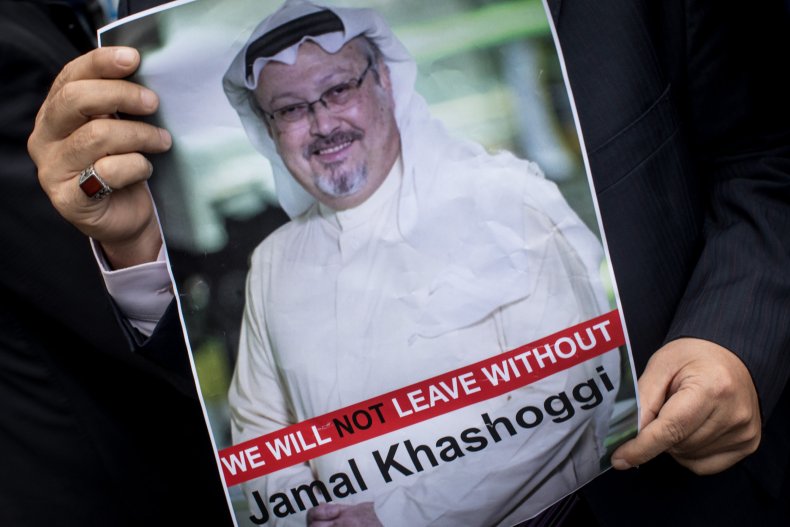 However the secretary-general of Reporters Without Borders, Christophe Deloire tweeted his disapproval of the verdict, saying: "When Saudis sentence five to death for Khashoggi's murder, we fear that it is a way to silence them for ever and to conceal the truth.
"We cannot consider death penalty helps to bring justice. We still expect a full accounting," he added. Newsweek has contacted Reporters Without Borders for further comment.
The trial was conducted mostly in secret and sessions were closed to the public, although diplomats from the U.S., Turkey and other countries were allowed to attend, as were members of Khashoggi's family, reported The Washington Post, for which Khashoggi was a contributer.
Mehmet Celik, managing editor of the Turkish Daily Sabah newspaper said many questions were left unanswered, especially as there was evidence that there was phone contact between Qahtani and the people who carried out the murder.
He told Al Jazeera: "The fact that several high-profile people have not been charged raises questions around the credibility of the trial and whether or not these people [sentenced to death] were chosen as scapegoats."
Saudi Death Sentences for Jamal Khashoggi Killing 'a Way to Silence Them Forever and Conceal the Truth,' Says Journalist | World