Saudi Arabia: One of the World's Most Prolific Executioners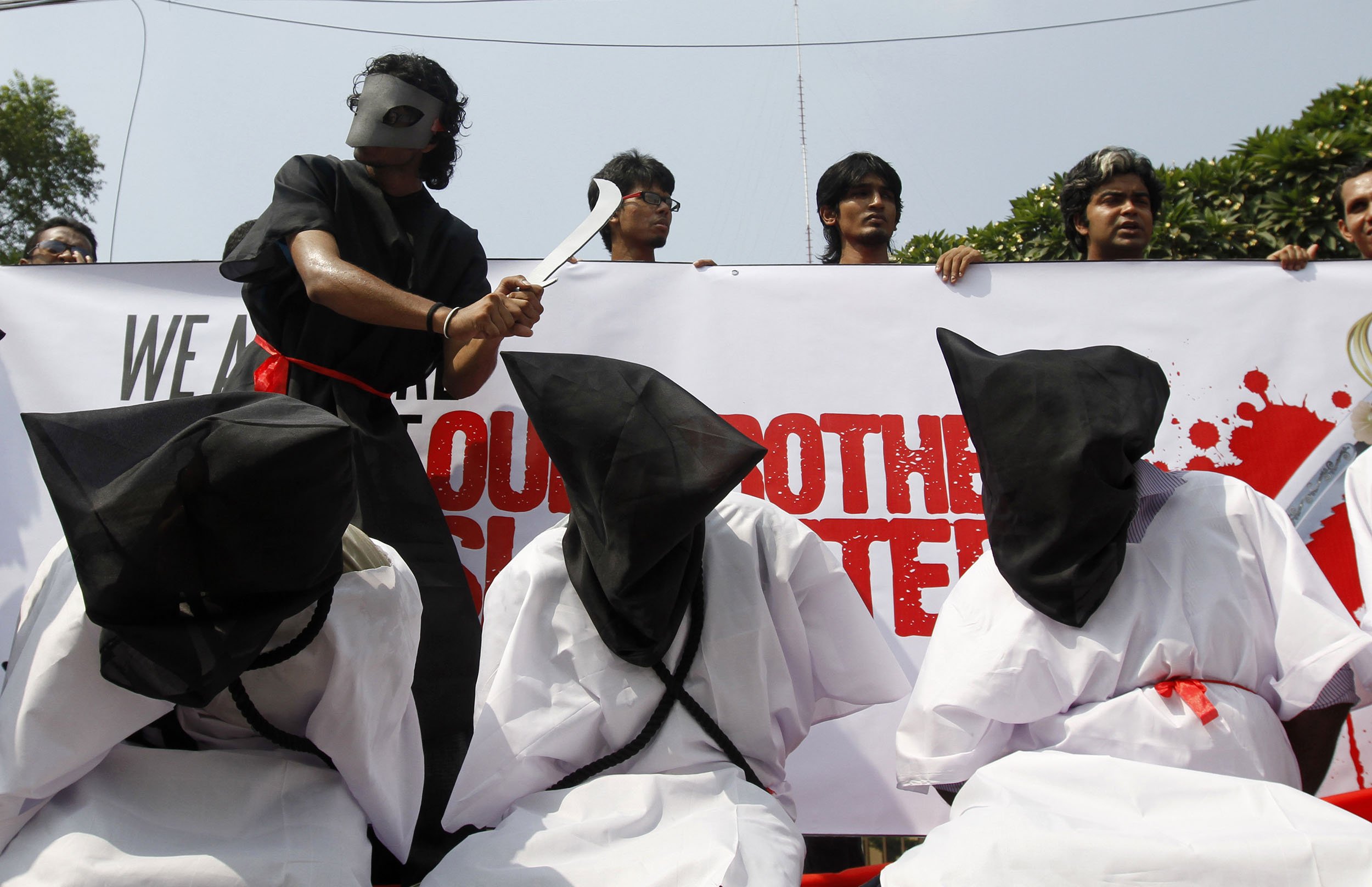 This was first published on the Amnesty International site.
Saudi Arabia remains one of the most prolific executioners in the world. Between January 1985 (the earliest year from when information on executions is available) and June 2015, it executed at least 2,200 people, almost half of whom were foreign nationals.
Over one-third of these executions were carried out for offenses that do not meet the threshold of "most serious crimes" for which the death penalty can be imposed under international law. Most of these crimes, such as drug-related offenses, are not mandatorily punishable by death according to the authorities' interpretation of Sharia law.
Saudi Arabia also continues to sentence to death and execute individuals for crimes committed when they were below 18 years of age, in violation of the country's obligations under international customary law and the Convention on the Rights of the Child. Also in violation of international law, the death penalty in Saudi Arabia continues to be used against people with mental disabilities.
The death penalty is also used disproportionately against foreign nationals, the majority of whom are migrant workers with no knowledge of Arabic—the language in which they are questioned while in detention and in which trial proceedings are carried out. They are often denied adequate interpretation assistance. Their country's embassies and consulates are not promptly informed of their arrest, or even of their executions. In some cases, their families are neither notified in advance of the execution nor are their bodies returned to them to be buried.
The authorities recurrently fail to abide by international standards for fair trial and U.N. safeguards guaranteeing protection of the rights of those facing the death penalty. Too often trials in death penalty cases are held in secret, and their proceedings are unfair and summary with no legal assistance or representation through the various stages of detention and trial. Defendants may be convicted solely on the basis of "confessions" obtained under torture or other ill-treatment, duress or deception.
The Saudi Arabian authorities continue to claim that they apply the death penalty only for the "most serious crimes" and only following the most rigorous and thorough judicial proceedings. They have argued that the death penalty is an integral component of Sharia law that guarantees the rights of perpetrators and victims alike, and that the death penalty and public executions serve as a deterrent to crime. The authorities' claims on the use of the death penalty contradict its practice in reality.
The scope of the death penalty in Saudi Arabian laws is a major cause for concern. In both Sharia and statutory laws, offences that are not internationally considered "most serious crimes," such as drug-related offences, are punishable by death. There is, however, no evidence to support the Saudi Arabian authorities' argument that the death penalty prevents crime more effectively than other punishments.
Saudi Arabia also continues to impose the death penalty on those convicted of "offenses" that are not recognizably criminal offenses under international human rights law. These include apostasy, adultery, witchcraft and sorcery.
In August 2014, Saudi Arabia executed 26 people in a sudden surge in executions that has persisted since then, with the total number of executions in the first six months of 2015 reaching 102. In the space of less than a year, from August 2014 to June 2015, therefore, the Saudi Arabian authorities executed at least 175 individuals, an average of one person every two days. Of the total number of recorded executions since 1991, executions for drug-related offenses constituted 28 percent and have been steadily rising in the past five years.
Foreign nationals, particularly migrant workers from disadvantaged economic backgrounds who moved to Saudi Arabia from countries in Africa, the Middle East and Asia, comprise a high and disproportionate number of those executed in Saudi Arabia. Of the total 2,208 executions recorded between January 1985 and June 2015, at least 1,072, or some 48.5 percent, were of foreign nationals. During their trial, their foreign nationality and the fact that they often lack Arabic language skills place them in a particularly disadvantageous position.
Saudi Arabia continues to carry out executions, mostly by beheading but some also by a firing squad, in public and, in some cases, to display executed bodies after death in public. The authorities often fail to inform those under the sentence of death and their families of their imminent execution or to return the bodies of those executed to their families after death.
The situation is compounded by the fundamentally flawed nature of Saudi Arabian legal and judicial safeguards. In terms of the legal provisions, the lack of specificity in the definitions of most crimes renders them open to wide interpretation by the judicial authorities. Those authorities also frequently fail to apply both national laws and international human rights law standards during trials. Notably, they too commonly deny detainees the right to a lawyer and to a meaningful appeal. One of the most significant concerns remains the fact that "confessions" extracted under torture, duress or coercion are often the sole evidence in cases of those sentenced to death.
The Saudi Arabian authorities also fail to consistently apply safeguards to ensure that two categories of individuals—juvenile offenders and people with mental and intellectual disabilities - are not subjected to the death penalty. Individuals in both categories have been executed in recent years.
The case of Ali Mohammed Baqir al-Nimr illustrates a number of these concerns. On May 27, 2014, the Specialized Criminal Court in Jeddah convicted him and sentenced him to death for offenses committed when he was 16 or 17 years old and which included participating in demonstrations against the government, attacking the security forces, possessing a machine gun and armed robbery. The court seems to have based its decision primarily on signed "confessions" that al-Nimr claims were extracted under torture and other ill-treatment and which the judge has refused to look into.
In the past two years, conducting human rights research on Saudi Arabia has become increasingly difficult. As well as continuing to prevent Amnesty International and other international human rights organizations from visiting the country to conduct human rights research, the Saudi Arabian authorities have taken measures to silence independent activists in a bid to prevent cases and evidence of human rights violations from reaching the outside world.
The Saudi Arabian authorities continue to deny Amnesty International access to the country for research purposes. The organization has therefore had to conduct research for this briefing remotely.
It has conducted detailed analysis of over 20 death sentences and executions since 2013. In all these cases, Amnesty International acquired information either directly from those sentenced to death before their execution, their lawyers and legal representatives, or a family member closely following the case. In most of the cases, it was able to analyze available court documents, which included decisions by different courts, charge sheets and, in rare cases, defendants' appeals.
Amnesty International has also reviewed information about executions made available by the authorities through statements released by the Ministry of Interior, including the names of executed prisoners, their nationality and the crimes of which they were convicted, as well as the dates and location of the executions.
Recent government initiatives to introduce legal and judicial reforms, even though they remain inadequate to address the systematic nature of violations in detention and courts, could help to bring Saudi Arabian criminal justice standards closer to those of international law if properly implemented. There is therefore an opportunity for change.
Pending full abolition of the death penalty, Amnesty International recommends that the Saudi Arabian authorities:
Restrict the scope of the death penalty to intentional killing, in line with international law and standards on its use.
Stop using the death penalty on anyone under the age of 18 at the time of their alleged offence, in accordance with Saudi Arabia's obligations under the Convention on the Rights of the Child.
Stop using the death penalty on anyone suspected of suffering from mental and intellectual disabilities.
Ensure that foreign nationals have adequate access to consular and interpretation services.
Ensure rigorous compliance in all death penalty cases with international standards for fair trials.
Ensure that all allegations of torture and other ill-treatment used to extract "confessions" are promptly and impartially investigated, and those found guilty of committing them are held to account.
As Amnesty International is highlighting, the Saudi Arabian authorities can address many of these concerns simply by ensuring application of their own laws and international obligations.
This is the executive summary of the Amnesty International report "Killing in the Name of Justice: The Death Penalty in Saudi Arabia."