Saudi Arabia has partially lifted its coronavirus lockdown measures, with a 24-hour curfew no longer applying in parts of the country beginning today.
Under orders issued by King Salman on Saturday, and published by the official Saudi Press Agency, the curfew will be lifted between 9 a.m. and 5 p.m. until May 13.
The relaxed restrictions have come into effect in most areas of Saudi Arabia, but the 24-hour curfew will still be in effect in Mecca and other "isolated districts" within the country.
According to the Saudi Press Agency, King Salman has also decreed that "some commercial and economic activities" should be allowed to resume, with wholesalers and shops now permitted to reopen.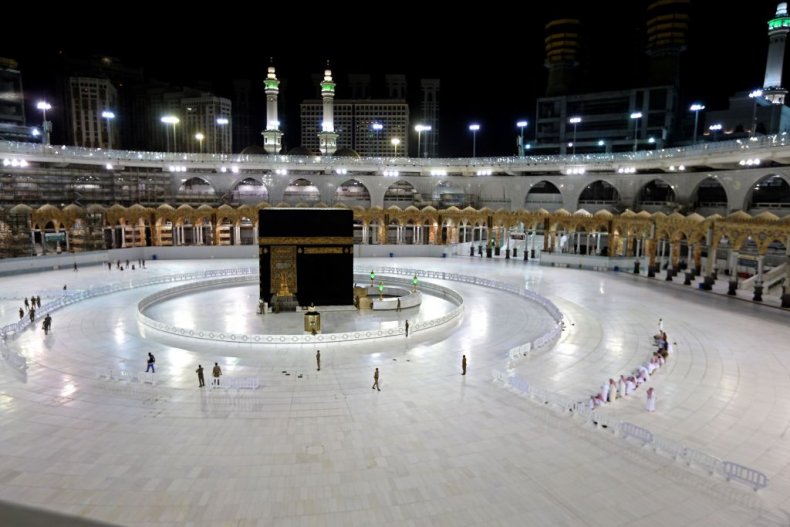 Restrictions are still set to apply to beauty clinics, barbers, cinemas, and other non-essential businesses as the country still seeks to enforce social distancing measures.
"The royal order to the concerned authorities seeks to urge citizens, expatriates and employers to assume responsibility and adhere to the precautionary and preventive measures in order to overcome this pandemic," the SPA release said.
A statement posted on the Saudi Foreign Ministry's official Twitter account read: "@KingSalman issued an order to partially lift the curfew in all regions of the Kingdom except for the Holy City of Makkah and previously announced neighborhoods."
Saudi authorities banned foreign travel to the holy sites of Mecca and Medina at the end of March, and began enforcing 24-hour lockdowns in the cities from April 2.
In a statement at the time, the foreign ministry said it was taking "proactive preventive measures" to curb the spread of the novel coronavirus.
Mecca is home to the Great Mosque and the site of the Umrah, a year-round pilgrimage that has been suspended by Saudi authorities amid the ongoing COVID-19 pandemic.
Al Jazeera has also reported that the Hajj pilgrimage to the city, due to begin on July 28 and finish on August 2, could also be cancelled this year.
According to the Johns Hopkins University COVID-19 tracker, more than 16,000 cases of the virus have been confirmed in Saudi Arabia so far, along with 136 deaths and 2,215 total recoveries.
A New York Times report published earlier this month said as many as 150 Saudi royals were believed to have become infected with COVID-19, including those in lower branches.
Citing a source close to the family and local doctors, the Times also reported that Prince Faisal bin Bandar bin Abdulaziz Al Saud was among those infected with the disease.
Crown Prince Mohammed bin Salman was reportedly not among the infected, but holed up in a property near the coast.