Saudi Arabia Princes Offered Asylum in Yemen By Rebels They Are Bombing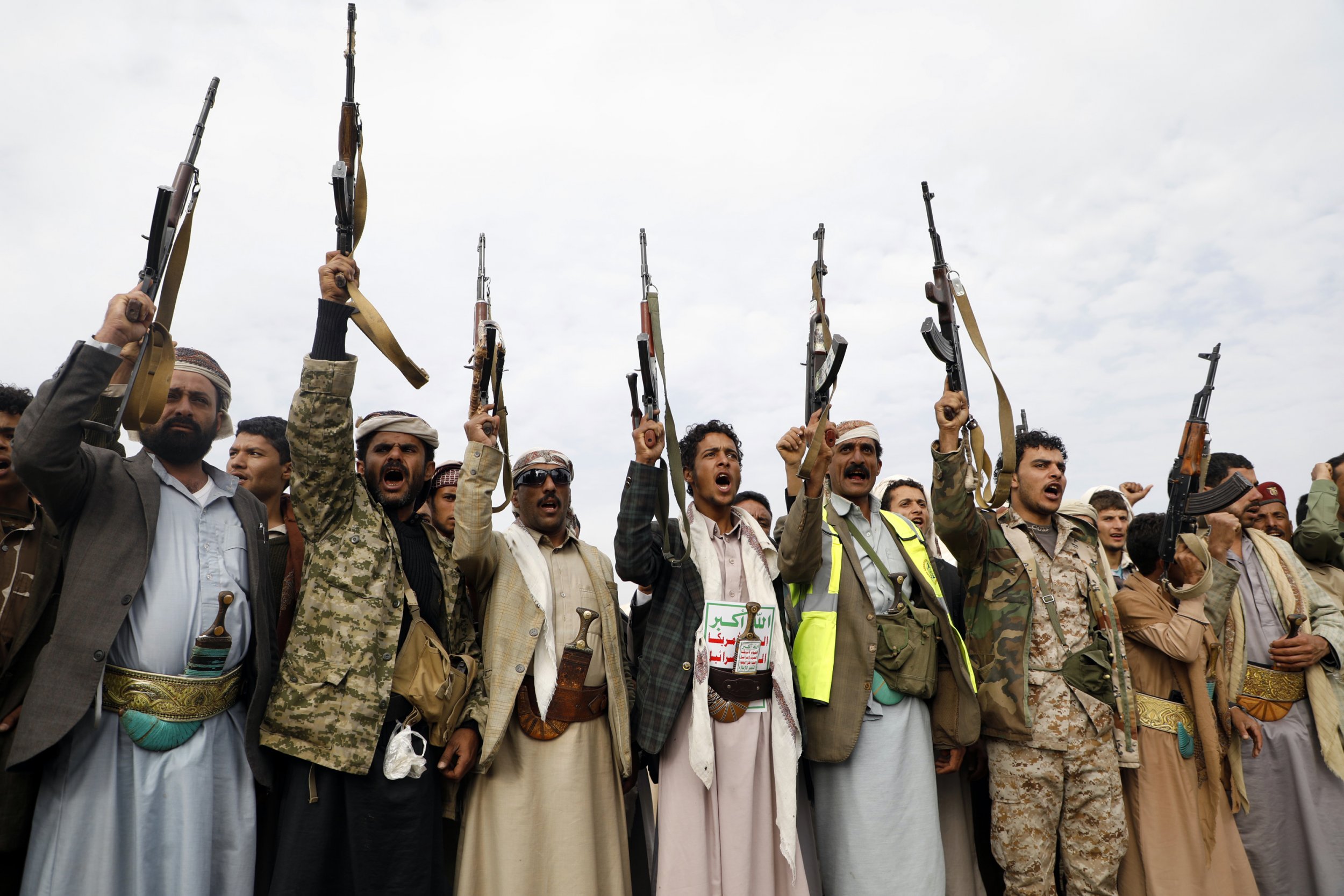 The Yemeni rebel group currently battling a coalition led by Saudi Arabia to retain control of the war-torn country's capital has offered asylum to Saudis fleeing a sudden anti-corruption purge led by the kingdom's crown prince.
Ultraconservative Sunni Muslim monarchy Saudi Arabia saw dozens of princes, ministers and other high-ranking officials arrested Sunday after King Salman bin Abdulaziz Al Saud appointed his son, Crown Prince Mohammed bin Salman bin Abdulaziz Al Saud, head of a new anti-corruption committee. In response, a spokesperson for the Houthi movement, a Yemeni Zaidi Shiite Muslim militia also known as Ansar Allah, offered to take in any Saudis attempting to escape what has been viewed by critics as a consolidation of power for the millennial crown prince, who has led Riyadh's war against the Houthi movement in Yemen.
Related: What's happening in Saudi Arabia? How crown prince's rise to power is fueling new violence in the Middle East
"To the brotherly Al Saud princes of the royal family, to any employee or person who feels targeted by the regime, we are prepared to receive all who want to reside with us as a dear, honorable, oppressed brother," Mohammad Ali al-Houthi, president of the Revolutionary Committee and cousin of Houthi movement leader Abdel-Malik al-Houthi, tweeted Sunday.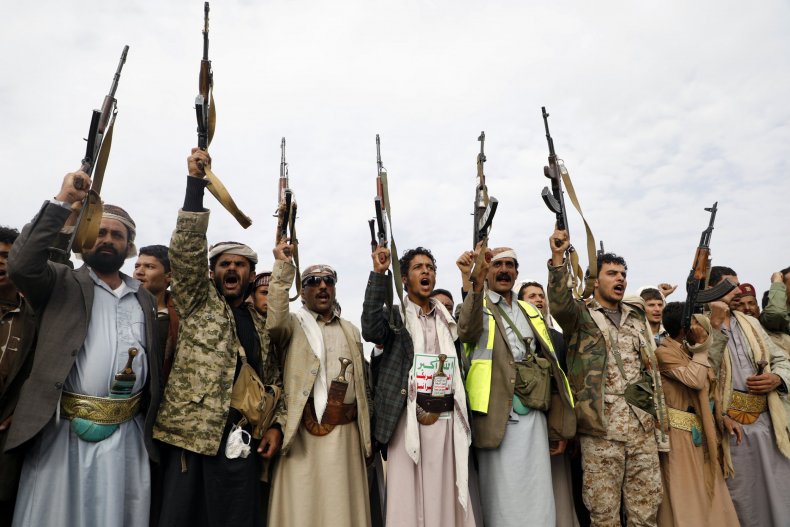 The offer, which was further verified by unnamed Houthi sources cited Tuesday by Al Jazeera, came amid an uptick in violence in Yemen. Just prior to the early morning crackdown in Saudi Arabia Sunday, Houthi fighters fired a Burkan (Volcano) H-2 ballistic missile that was intercepted Saturday near Riyadh's King Khalid International Airport. Saudi Arabia responded by launching dozens of airstrikes in Houthi-held areas of Yemen. Such airstrikes have been criticized by human rights groups for inflicting mass civilian casualties and further devastating a country currently undergoing the world's worst humanitarian crisis.
Yemen has experienced unrest since a 2012 revolution ousted former President Ali Abdullah Saleh. The succeeding administration of Yemeni President Abd-Rabbu Mansour Hadi was plagued by protests, accusations of corruption and a growing insurgency by jihadi groups such as Al-Qaeda. In 2015, a Houthi-led coalition of fighters successfully forced Hadi out of Sanaa, but Saudi Arabia has accused the Houthi movement of being a front for Iran and staged a military intervention to support pro-Hadi forces trying to dislodge Houthi and pro-Saleh fighters from the capital.
As minister of defense, Mohammed bin Salman led Saudi Arabia's military campaign, which has failed to regain control of the capital and has been locked in a stalemate with its rebel adversaries. Since being promoted to crown prince in June, the young royal has increasingly focused on politically reforming Saudi Arabia's society, but doing so in a way that sees him expand his control.
After inviting refugee Saudis to Yemen, Mohammad Ali al-Houthi posted a follow-up tweet suggesting that Saudi Arabia would go down a similar path to that of Turkey, where the ruling Justice and Development Party has undergone a widespread purge of more than 140,000 soldiers, politicians, teachers and other public employees in the wake of a failed coup attempt in July 2016. He claimed that, like Turkish President Recep Tayyip Erdogan, Mohammed bin Salman would go after military and political leaders with charges of espionage, disobedience and fraternizing with dissident groups.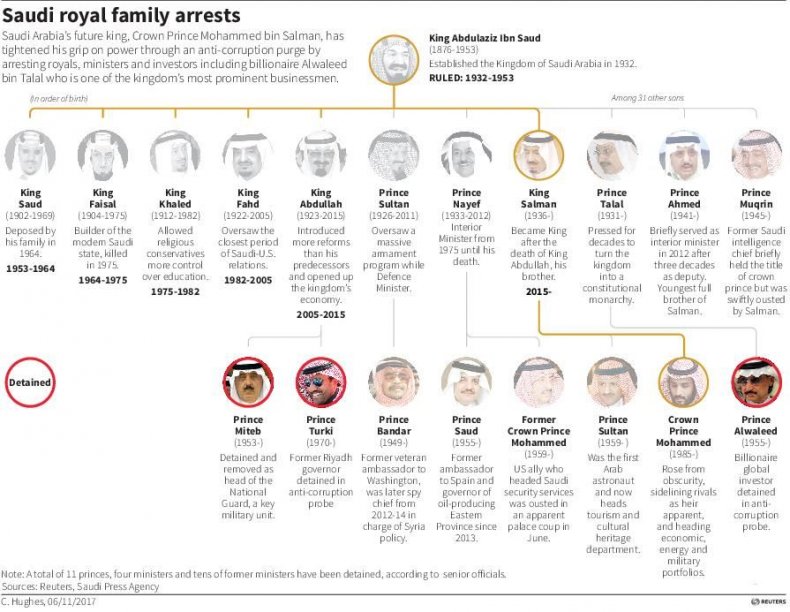 Among those detained Sunday was one of Saudi Arabia's most prominent businessmen, Prince Al-Waleed bin Talal bin Abdulaziz Al Saud, accused of money laundering, bribery and extortion. Another prince, Mansour bin Muqrin Al Saud, was killed along with seven other officials that same day when his helicopter crashed near the Yemeni border. He was the son of a former Saudi Arabian crown prince and Houthi suggested in another tweet that the prince's death was no accident.
Despite reports that a third prince, Prince Abdul Aziz bin Fahd Al Saud had been shot to death while resisting arrest, Saudi Arabia claimed Tuesday he was "alive and well."
Sunday's attempted Houthi missile attack, along with an alleged assassination plot against pro-Saudi Lebanese Prime Minister Saad Hariri supposedly sponsored by Iran-backed Shiite Muslim movement Hezbollah, have been used by Saudi Arabia as evidence of Iranian meddling abroad and potential acts of war.
Majority-Shiite Muslim Iran and majority-Sunnu Muslim Saudi Arabia have been embroiled in a proxy war of influence across the region and support opposing factions across the region. Iran, however, denied having any hand in the attempted missile attack or Hariri's sudden decision resign from his post and flee to Riyadh. The Lebanese army said Sunday it had no evidence of a plot to kill the prime minister, whose father assassinated in a 2005 bombing blamed by his supporters on Hezbollah, Iran and Syria.