Saudi Arabia Shoots Down Qatar Plane in Animated Warning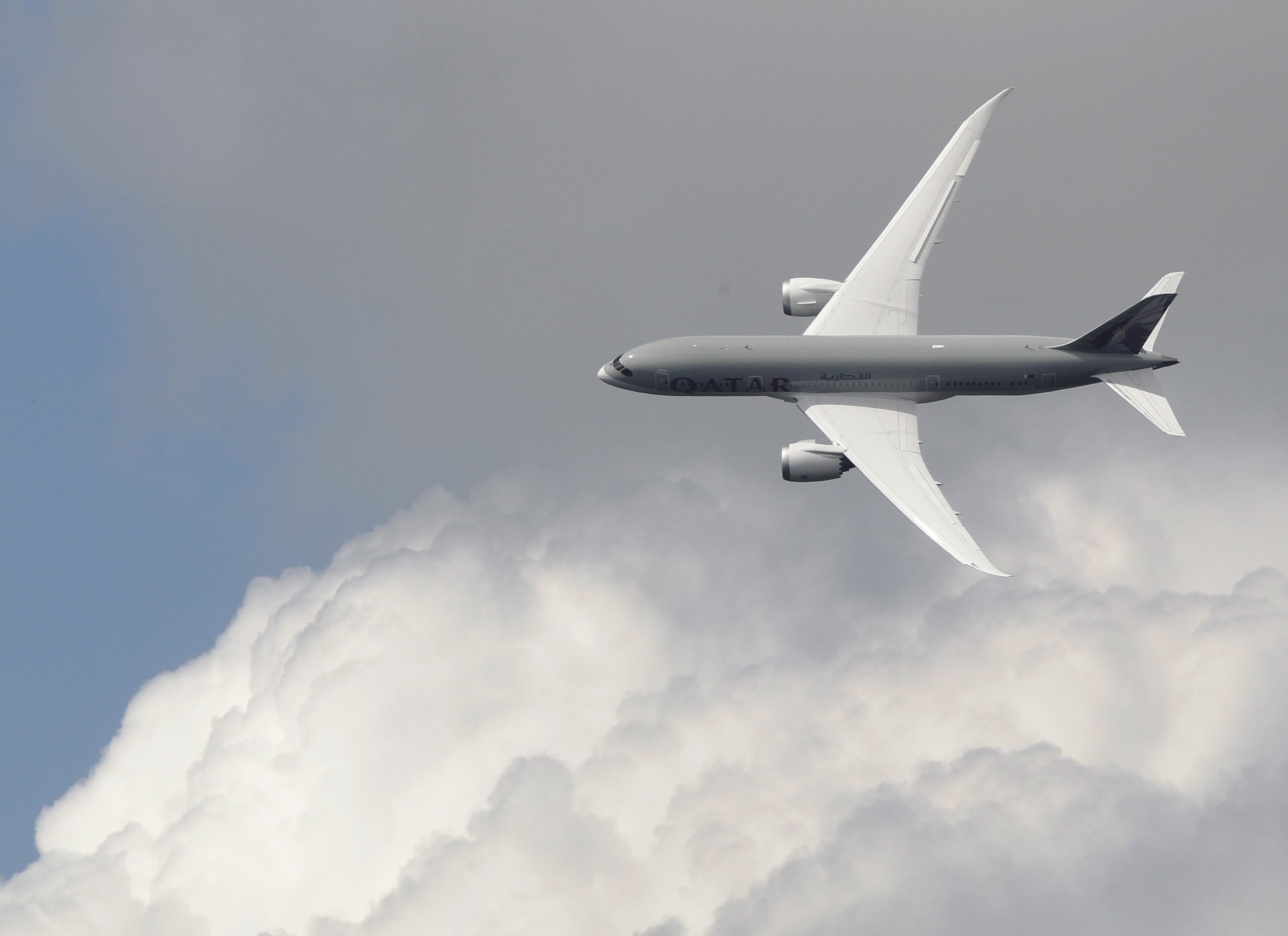 Saudi Arabia's main news outlet has aired an animation showing how the kingdom's air force would shoot down a Qatari passenger plane if it failed to heed a Riyadh-imposed blockade amid heightened tensions between the neighboring Gulf Arab monarchies.
The clip by Al Arabiya, which has close ties to Saudi Arabia's royal family, was posted to YouTube last week and was described as an informational video on the "emergency corridors" that allow Qatari flights to squeeze through tight air restrictions placed on Doha by Saudi Arabia and allies Bahrain, Egypt and the United Arab Emirates, but only under extraordinary circumstances. The 3-D animation imagines a scenario in which an airplane bearing the name and logo of Qatar's flagship carrier, Qatar Airways, breaches the aerial blockade and is met by a violent response from Saudi Arabia.
Related: Saudi Arabia says Qatar has declared war over Muslim holy sites
"The decision of the anti-terrorism states to boycott Qatar included banning Qatari planes from crossing their airspaces," the video's narrator said in Arabic. "According to international law, any state that restricts a flight from crossing over it has the right to deal with it in any manner it sees fit."
The video goes on to illustrate two of what it refers to as the most common reactions to such a violation. In the first, a fighter jet is scrambled to intercept the passenger plane and forces it to land. Those onboard may then "be charged with a number of crimes, including compromising national security and exposing civilians to harm," which the narrator says is usually how such cases are handled. In the second, more deadly situation, a Saudi Arabian jet does not approach the Qatari flight but instead fires a missile at the aircraft, presumably destroying it and killing all those onboard. The narrator maintains that such measures are justified by international law.
The video also detailed nine "emergency corridors" that Qatari flights could take between the boycotting countries under very specific conditions, such as if a plane suffered technical problems or if a passenger were to suffer medical issues. The passages, eight of which were in the Gulf and one of which lay in the Mediterranean, were estimated to be about 5 to 10 miles wide and subject to strict speed and elevation restrictions.
In June, Saudi Arabia gathered allies Bahrain, Egypt and the United Arab Emirates to impose a full boycott on Qatar, accusing it of funding terrorist groups abroad and of hosting close relations with Saudi Arabia's regional rival, Iran. Riyadh then offered Doha more than a dozen demands, which included ending support for the Muslim Brotherhood and other Islamist groups, cutting ties with Iran and closing down its primary media channel, Al Jazeera, a top competitor to Saudi Arabia's Al Arabiya.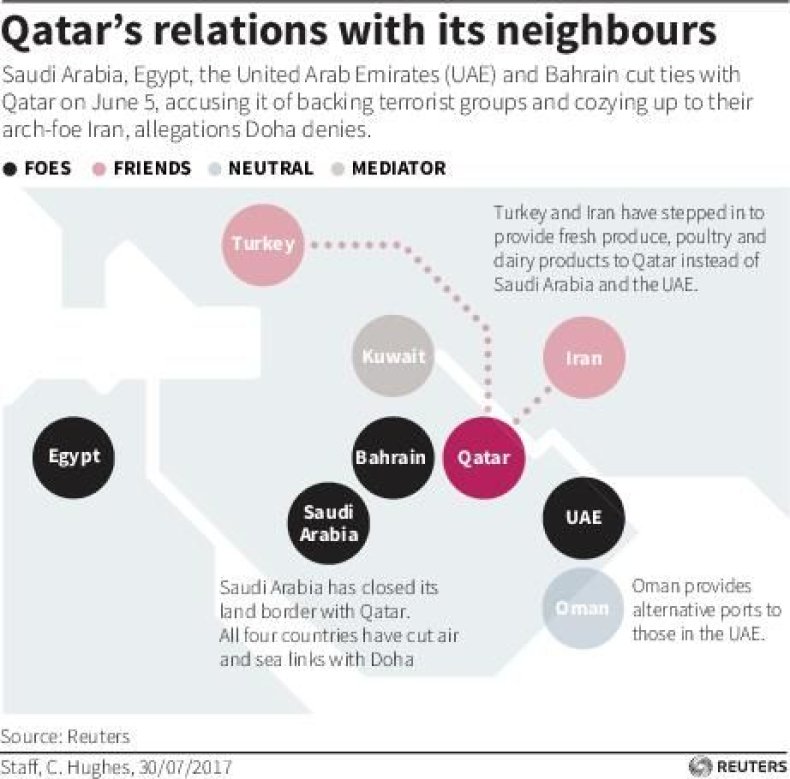 Despite now being totally isolated by land and heavily restricted by air and sea, Qatar's leadership rejected Saudi Arabia's demands and has received support from Turkey and Iran. The ban came shortly after President Donald Trump's trip to Saudi Arabia, a key U.S. ally that Washington has mostly backed in the standoff. U.S. officials, however, have also called on the feuding states to find a diplomatic solution to the crisis as Qatar hosts Al Udeid Air Base, the largest U.S. military base in the Middle East. Mutlaq al-Qahtani, special envoy for Qatar's foreign minister for counterterrorism and mediation of conflict resolution, said Monday that the Saudi-led effort to cause Qatar to capitulate would ultimately fail and embarrass the countries that support it.
"The longer the blockade goes on, the more damaging information the world will learn about them—and the more difficult it will be to resolve their differences with Qatar," Qahtani wrote in an opinion piece published in The Wall Street Journal.
"It's time to abandon the public-relations campaigns, the blockade, the ultimatums and the pressure tactics and meet at the negotiating table, so we can broker a fair and just resolution to the Gulf crisis."