Police Hunt for Clues in Mysterious Deaths of Saudi Sisters Found Duct-Taped Together in Hudson River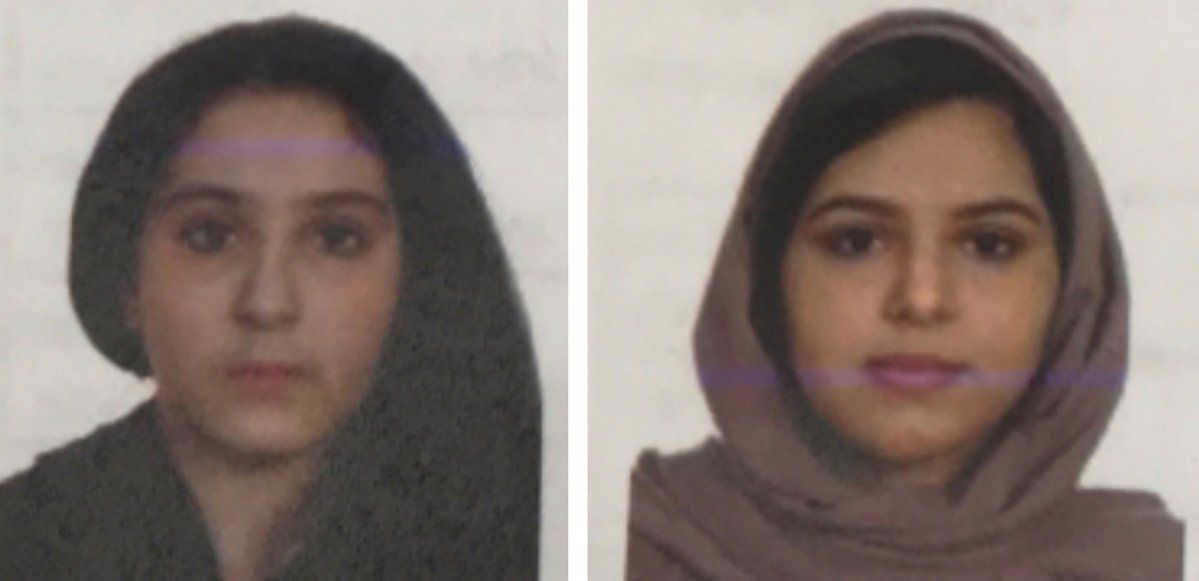 *UPDATE: 5:10 p.m. EDT, Jan. 22 —* New York City's Office of Chief Medical Examiner (OCME) released a statement Tuesday determining sisters Rotana and Tala Farea committed suicide by drowning in the Hudson River back on Oct. 24, 2018.
In a statement, Chief Medical Examiner Dr. Barbara Sampson said: "Today, my office determined that the death of the Farea sisters was the result of suicide, in which the young women bound themselves together before descending into the Hudson River."
Original story: Their young, Western-clothed bodies were duct-taped together and washed up onto the jagged rocks of the Hudson River in New York City last Wednesday afternoon. The nameless females lingered there, shadowed by the towering residential slivers set on the long esplanade of Manhattan's Riverside Park.
A passerby made the grisly sighting and dialed 911.
Responding New York Police Department cops confirmed "two unidentified females unconscious and unresponsive with no obvious signs of trauma." They were locked together by duct tape secured around their waists and sandaled feet.
Since then, police released sketches of each female—both youths they initially estimated to be in their teens, and each shared similar physical characteristics.
The following day investigators had names and confirmed the pair were sisters who had been reported missing.
Tala Farea, 16, and Rotana Farea, 22, hailed from Fairfax, Virginia, by way of Saudi Arabia in 2015.
Speaking to Newsweek, a neighbor living by one of the family's Virginia residences remembered the daughters as routinely donning a headdress and said that they kept to themselves.
"They never spoke," the neighbor, who asked to remain anonymous and spoke in Spanish, confirmed. "They just came and went."
How they drifted onto New York City's shore remains shrouded in mystery. Law enforcement agencies in New York and New Jersey are trying to determine their point of entry.
The initial suspicion that they may have jumped from the George Washington Bridge has been tamped down because the bodies lacked the signature trauma from such a landing.
The Associated Press, citing the NYPD, suggested the sisters were in the process of cutting ties to the Saudi Kingdom and made a bid for asylum. The report claimed that the family was the then ordered by a Saudi Arabian Embassy official to leave the U.S.
Newsweek's attempts to get information about the asylum requests by the sisters to the Saudi Embassy were not immediately returned.
However, an embassy official countered the asylum narrative.
"Any/All communication with the mother had nothing to do with a supposed asylum claim," the official told Arab News, which was then retweeted out by a Saudi spokeswoman.
The Royal Consulate General of Saudi Arabia in New York issued a statement confirming the sisters came to America to study along with their brother.
"The citizens were students accompanying their brother in Washington," the statement reads.
It also added that they "appointed an attorney to follow the case closely." The kingdom, it read, was "following closely and constantly for details on the case including the forensic reports showing the causes of death which have not yet been finalized and is still under investigation."
Meanwhile, the Fairfax County Police Department, posted a statement on their official blog on Wednesday, detailing how both sisters were reported missing on September 12, and added that they "were last heard from on Aug. 24," where their names were released into the country's National Crime Information Center database.
But the sisters may have gone missing at least once before back in December 2017, according to the AP.
NYPD, who dispatched detectives to Virginia, have been retracing the sisters' path ever since they were identified.
"We are looking at all clues in their past life," NYPD Chief of Detectives Dermot Shea said.
He also maintained that it remains to be seen if the Farea sisters died as a result of foul play.
"We do not know that a crime took place," Shea, who released images and a plea for leads in the case of the deceased sisters, said. "We have a terrible tragedy for sure."
Shea assured that detectives in Virginia are making headway.
"Those interviews are unraveling a piece of the puzzle about what is happening behind-the-scenes and what was going on in the girls' lives," he said.
Since they disappeared the siblings kept a low profile.
The older sister found what appears to be a safe house in Fairfax, Virginia, inside an upscale residential building.
For a spell, Rotana lived inside a fifth floor apartment located at a luxury complex before moving out in July, The New York Times reported.
.
So far, their deaths have been classified as suspicious, but nobody from the city's top cop to the medical examiner have declared their untimely deaths as a homicide.
A police source confirmed to Newsweek that the sisters were believed to have been alive when they entered the Hudson River (one of them suffered a gash to the head, possibly from hitting the rocks).
So far, it remained unknown if their deaths were a result of trauma pending toxicology reports.
A spokeswoman for the city's Office of the Chief Medical Examiner acknowledged that there has been no determination of the cause of death.
The deaths are being classified as a "suspicious death" but it hasn't been ruled out if they could have died as a result of a potential suicide pact.