Saudi Arabia to Allow Tourists From 49 Countries, Let Visiting Women Show Their Faces
The Kingdom of Saudi Arabia launched a new visa program Saturday that will allow travelers from 49 countries to apply for tourist visas to enter the restrictive country.
The move is part of a push Crown Prince Mohammad bin Salman began last year to shift international perspective towards the country and give it a more modern image, The Associated Press reported. So far, that drive has included lifting a ban on women drivers and building the country's first movie theater.
Saudi Arabia is home to five UNESCO World Heritage sites, and the desert nation is sure to hold special appeal for traveling fans of archaeology and ancient history. The first site in the country to make the list, Al-Hijr, is an archaeological site reminiscent of Petra in Jordan, with 111 "monumental tombs" carved into stone cliffs. At Arabia's eastern edge, Al-Ahsa, the world's largest oasis, has seen continuous human settlement since the Neolithic period, according to the U.N. agency's website.
According to Business Insider, the 15,000 members of the Saudi royal family share a fortune estimated at $1.4 trillion. For reference, that comes out to more than $93 million for every man, woman and child. Bolstered by such concentrated wealth, the country has drawn cultural elites from a broad range of disciplines and backgrounds. Designers and Michelin-starred restaurateurs from Europe have opened boutiques and eateries in Riyadh and Jeddah, while museums like the King Abdulaziz Center for World Culture display impressive art collections.
Previously, the only visas available to those wishing to visit the ultraconservative Muslim country were for work, study, visiting family and religious pilgrimages. A notice on the Saudi embassy's website reminds journalists wishing to visit the kingdom that they are required to complete a supplemental application, an ominous reminder to some visitors of Jamal Khashoggi, a Washington Post journalist and native of Saudi Arabia who was murdered and dismembered by Saudi agents inside the country's embassy in Istanbul on October 2, 2018.
In 2010, columnist Maureen O'Dowd wrote about her experience visiting the kingdom for Vanity Fair, saying: "No wonder they call this the Forbidden Country. It's the most bewitching, bewildering, beheading vacation spot you'll never vacation in." O'Dowd detailed the limitations she encountered as a woman visiting Saudi Arabia, including wearing a black headscarf and abaya, the mandatory outerwear for women in the kingdom, which O'Dowd wrote, "make you look like a mummy and feel like a pizza oven."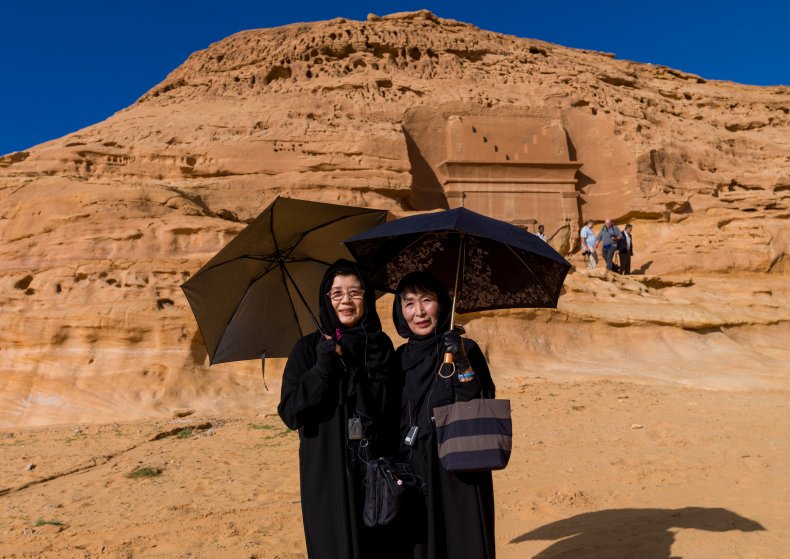 Women visiting the kingdom under the new tourist visa program may wear their own clothes, but must cover themselves from their shoulders to their knees. Other restrictions include a ban on dogs (except for those assisting the blind, or used for hunting or guarding), public displays of affection, the use of "profane" language, and alcohol, drugs or pork.

Intrepid travelers with a taste for luxury and conservatism can learn more about visiting the kingdom at the Visit Saudi tourism website.
Saudi Arabia to Allow Tourists From 49 Countries, Let Visiting Women Show Their Faces | World