U.K. Arms Sales to Saudi Arabia Ruled Unlawful As Donald Trump Prepares to Veto Senate Resolutions Against Weapons Sales
A court of appeals in the United Kingdom has declared British arms sales to Saudi Arabia unlawful as the Senate voted to ban similar sales, but which President Donald Trump is expected to veto.
The judges accused Ministers Boris Johnson, Jeremy Hunt, and Liam Fox of having illegally authorized weapons sales to Saudi Arabia in 2016 without assessing whether the sales would pose a risk to civilians or have other humanitarian consequences. The ruling requires the U.K. government to suspend all new arms sales to Saudi Arabia until it can review its processes.
Meanwhile, Congress is similarly attempting to put the breaks on U.S. arms sales to Saudi Arabia, though it has had less success.
A bipartisan group of lawmakers filed 22 resolutions of disapproval on Thursday to stop the Trump administration from using an emergency declaration to sell $8.1 billion in arms to Saudi Arabia and the United Arab Emirates.
On Thursday, the Senate voted 53-45 to block two of the arms sales to Saudi Arabia included in the emergency declaration, with Republicans like Senator Susan Collins of Maine, Senator Lindsey Graham of South Carolina, and Senator Lisa Murkowski of Alaska voting with Democrats to block the arms sales.
Senators voted 51-45 to block the remaining 20 arms sales to Saudi Arabia, with Murkowski backing the sale.
President Donald Trump is expected to veto all 22 resolutions of disapproval as Congress did not garner the two-thirds majority needed to overrule a presidential veto.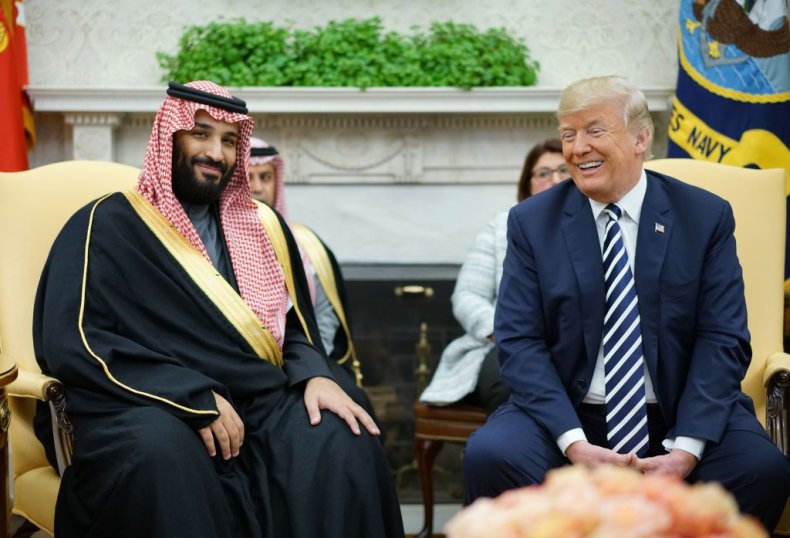 The Trump administration argues that Saudi Arabia needs additional support to counter Iran's influence in the region. On Thursday, the White House issued a statement arguing that the resolutions "would hamper our ability to sustain and shape critical security cooperation activities and would significantly hinder the interoperability between our nations."
But members of the House Foreign Affairs Committee have questioned this argument and spoken out against the human rights abuses being committed with U.S. weapons, particularly in the Saudi-led war in Yemen.
During a congressional hearing on June 12, David Cicilline, a Democrat from Rhode Island, called the emergency declaration an "egregious and legally questionable" transfer of weapons.
"The administration is trying to abuse the law in order to sell weapons to supposed ally Saudi Arabia and the [United Arab Emirates]. These are countries that are already using American-made weapons in a campaign in Yemen that resulted in innocent civilians being targeted and killed," Cicilline said. "The justification for this appalling action by the administration is a bogus emergency."
Senate Republicans are also preparing measures to put limits on U.S. support for Saudi Arabia.