Saudi Women Are Going to Jail for Driving Cars, Fleeing Abusers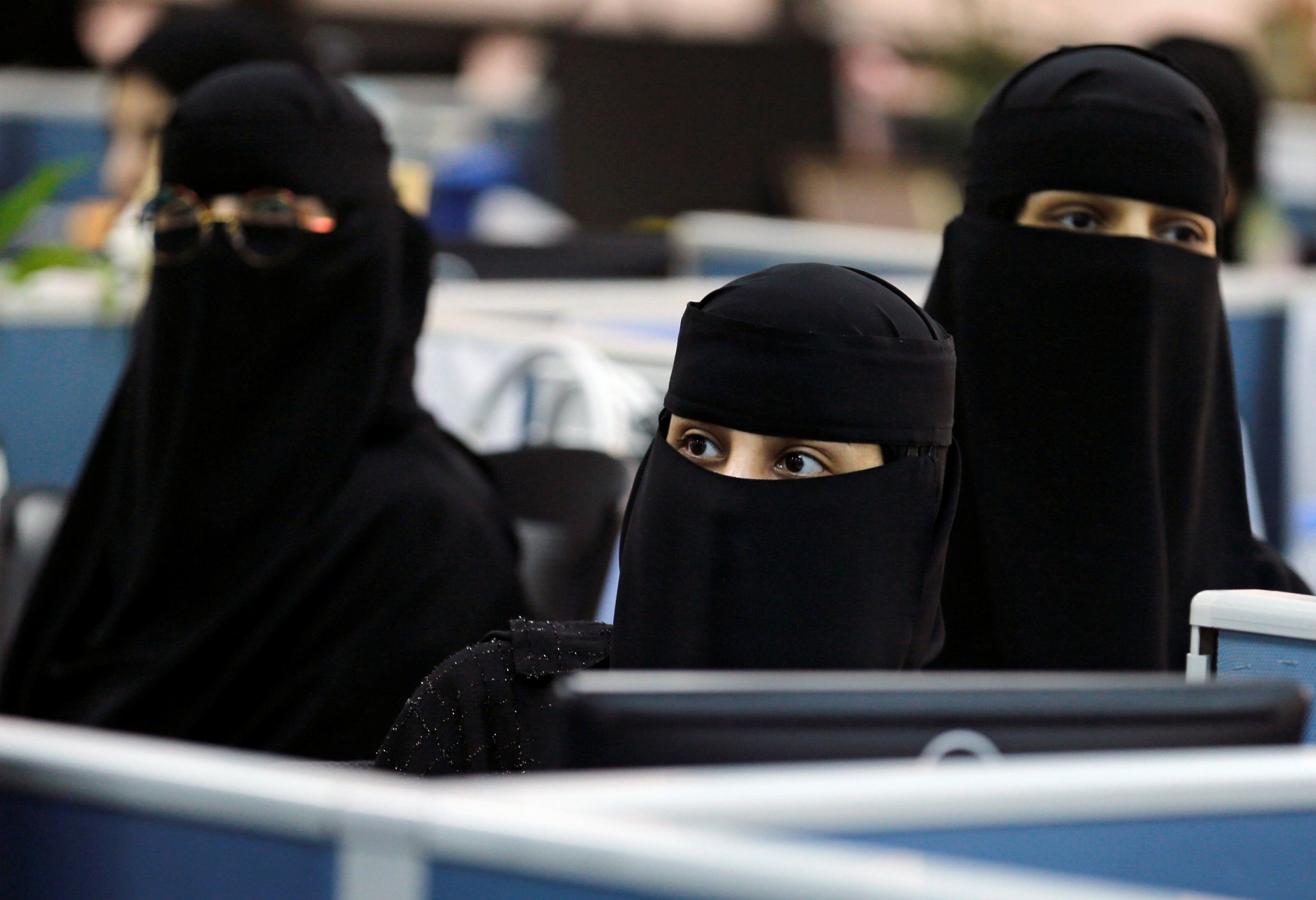 How would you like to wear a black blanket in the desert heat and remain legally a child your entire life, banned from moving about without male supervision or a chaperone, thrown in jail for driving a car or running away from an abusive man?
Welcome to the world of women in Saudi Arabia, America's foremost Middle Eastern ally, where misogyny is still a quaint cultural custom. Despite a social media campaign by and for Saudi women's rights activists, and tweets and other signs of support from younger members of the royal family, the Kingdom keeps throwing women in jail for demanding basic human rights: the freedom to move and to be free of domestic violence.
A new book, Daring to Drive, by the Saudi exile and feminist activist Manal al-Sharif, was published this week in the midst of a new spate of female jailings. Al-Sharif, one of the founders of the Women2Drive movement, shares memories of growing up in Saudi Arabia and confronting the myriad medieval rules and regulations the Saudi government enforces in order to keep women down.
The book was published a week after Saudi Arabia locked up yet another young woman for driving a car. Activist Loujain al-Hathloul, 27, has been behind bars before: She spent 173 days in jail for the same offense a few years ago. When she got out, she ran for public office in 2015, the first year women were allowed to run. But officials left her name off the paper ballot.
This week, she was detained for driving at King Fahad International Airport in Dammam, on the country's east coast.
Al-Hathloul has been released, according to al-Sharif, but she is only the most well-known Saudi woman to be thrown behind bars in recent months for exercising what in other parts of the world are considered human rights.
The Saudis also have jailed domestic violence survivor Mariam Alotaibi for fleeing a brother who was beating her and who had sent his younger brother to his death in Syria by forcing him into ISIS. Saudi authorities most recently arrested Alotaibi at her job as a cashier, and confiscated her house keys and other possessions.
She has been treated at hospitals for her injuries, and, incredibly, was returned to her abusive household by authorities, three times.
She is currently being held in a women's prison, first charged with the crime of disobedience of "being absent" from her home. Because the case is widely discussed on Arabic social media, including on her own Twitter account, Saudi authorities have changed the charge to disturbing the public order, al-Sharif said.
Also in April, the Saudi government participated in the kidnapping of another woman, Dina Ali Lasloom, from the Manila airport, where she had a layover on her way to seeking asylum in Australia. Saudi officials ordered Philippine authorities to seize her passport, then allowed male family members who had been trying to force her into a marriage she didn't want to kidnap her. Lasloom is also believed to be in jail. (Her family has not shared information on her whereabouts.)
In her book, al-Sharif, a former employee of Saudi oil giant Aramco, graphically described what happens to women in Saudi prisons: Besides being vaginally searched, they are packed into airless group cells crawling with cockroaches and smelling of diapers, as some of the inmates are locked in with babies.
On her first night behind bars, one of the inmates offered her bed to al-Sharif, who hadn't slept in two days. "I could see the cockroaches climbing over everything," she wrote. "In the outside world...cockroaches used to run away when they see people. But here, they just crawled, heedless of the light, over everything, under everything. I felt them on the top of my head, trying to crawl up the hem of my abaya. I kept batting them off, shrieking, 'Cockroach! Oh, cockroach!'"
The fellow inmate who had given up her bed tried to calm her: "She told me I would get used to them." And she did. Al-Sharif spent two weeks in that jail, but her act of defiance went viral and she was released.
Like so much about the theocracy's rules against female freedom, the driving law makes no sense in the gender-segregated society. Women are forbidden from going around with non-related males, are forced to use separate entrances for universities, banks and even restaurants, and yet they must get in cars with men they don't know whenever they go outside.
Al-Sharif writes that the ban on driving forces women to use drivers who are serial harassers or worse. "They make comments about our appearance, or about conversations they overhear; they demand more money; they touch you inappropriately. Some women I know have been attacked. I've had drivers make all sorts of inappropriate comments and tape my calls when I've used my cellphone, thinking maybe they could blackmail or extort me." Some drivers sexually molest children they ferry back and forth to school, while their mothers are locked indoors.
Al -Sharif belongs to a second generation of activists. The first female drivers stepped on the gas during the first Gulf War, with American troops gathering in the Kingdom to push Iraq out of Kuwait. On November 6, 1990, 47 women drove cars around Riyadh. The public vitriol was intense and lasting. "They were depicted as sexually loose, un-Islamic, pro-western women," Al-Sharif, who was a child during the incident, writes. "In my twenties, when I thought about these women, it was only scorn I felt."
When she started her own driving campaign, al-Sharif was attacked viciously by one of Saudi Arabia's most famous male poets, Yasser Altuajiri. In a video that garnered 2.2 million views, he recited:
They want our virgins to drive trucks
And cruise around as if it was ok
Tell the car dealers if they want heaven
To sell only to men …
I swear to God if the girls drive even in a deserted place
Our male youth will riot.
"Traditional poetry is a big deal in the Saudi nomadic society," al-Sharif told Newsweek in an interview this week. "People go in thousands to such events, memorize the poem and spread it. This particular one hurt my tribe, and they pressured dad to shut me up or lock me in. It was more painful than 10 articles."
There have been signs that Saudi women's rights are gaining some public traction. Four years after writing it, that poet has apologized for the poem and is now supporting Women2Drive. Then, late last year, Saudi Prince Alwaleed bin Talal tweeted, "Stop the debate. It's time for women to drive." Last month, Prince Faisal Bin Abdullah, a member of the ruling family and a former Saudi education minister, said in an interview with a privately owned TV channel that he had "no doubt" that women will drive. But these younger members of the royal family are not members of the more conservative official government.
Al-Sharif is somewhat optimistic, given the history. "It is way, way, way different than a few years ago because of the social media aspect," she said. "Many more people are not afraid. There is still harassment, but at least there's support."
To its shame, the U.S. government has never officially supported the group. The topic of the treatment of women is not known to have come up during President Trump's trip to Saudi Arabia (during which the U.S. signed a $110 billion weapons deal with the Kingdom). But even under Obama it was also crickets. In 2011, 14 U.S. senators—all female—urged Saudi Arabia to overturn the driving ban. No men signed on, nor did then-Secretary of State Hilllary Clinton.
In an interview with Newsweek, al-Sharif said the most important thing Western women can provide to Saudi women is public support and acknowledgement of movements like #IAmMyOwnGuardian, which is pressing the Saudi government to name an age when women are legally adults. Al-Sharif also said that plans to take Saudi oil giant Aramco public might provoke some changes, because the company might not want its value decreased due to official misogyny.
"The only thing we have is to never stop fighting," said al-Sharif. "With Trump, it makes no difference, and we have no expectations from Trump. But what makes a difference is when media and social media speak up."