Fox Business Is Only Major Western Media Outlet Still Participating in Saudi Conference After Journalist's Apparent Killing
A high-end investment conference taking place in Saudi Arabia could be derailed now that many international participants are pulling out in response to the disappearance of an acclaimed Saudi journalist in the country's consulate in Turkey.
Fox Business is now the only major Western media outlet participating in the event. Fox anchor Maria Bartiromo interviewed the Saudi Crown Prince on Monday about his plans to expand the Saudi economy through technology and artificial intelligence.
The Future Investment Initiative, nicknamed Davos in the Dessert, is part of Saudi Crown Prince Mohammad bin Salman's attempt to modernize Saudi Arabia's economy by diversifying away from its overdependence on oil. But many international media and business leaders have decided to boycott the event because the Saudi Kingdom has not provided an explanation for why Jamal Khashoggi, who criticized the Saudi regime in a regular column for the Washington Post, appears never to have left the Saudi consulate after he entered on October 2. The journalist went to the consulate to obtain paperwork for his upcoming wedding and was never seen again. Turkish officials say they believe that he was murdered in the consular building.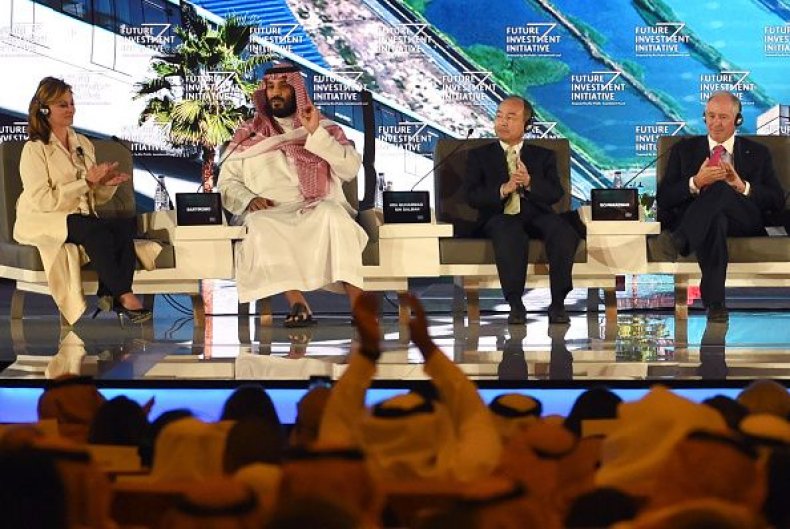 Newsweek subscription offers >
The incident has caused international outrage and many have abandoned their plans to do business with the kingdom.
The CEOs of many top European banks reportedly pulled out of the conference, including the heads of HSBC and Credit Suisse, both of whom were scheduled to speak at the event. The CEOs of U.S. companies like Uber and Viacom also decided not to attend, as did top executives from JP Morgan Chase, MasterCard and Ford. Meanwhile, British billionaire Richard Branson has abandoned two projects to develop tourism on the Red Sea and canceled talks with the Saudi government over a $1 billion investment in his business. Google Cloud CEO Diane Greene and Ariana Huffington also canceled their attendance.
Among the international media, representatives from the New York Times, the Economist, and the LA Times have decided not to attend. Fox did not immediately respond to requests for comment from Newsweek about its decision to participate.
Some critics of the Saudi regime applauded the decision to boycott the event.
Newsweek subscription offers >
"Western businesses should indeed pull out this time en masse to send unambiguous message that they do not do business with killers," Ali Al Ahmed, a Saudi analyst and director of the Washington-based Gulf Institute, told Newsweek. "This will give these business leaders a greater chance to future investments in the region. It will make for a better investment environment when you have better human rights."
Some major international officials and business leaders still plan to attend, however, including the International Monetary Fund's representative Christine Lagarde and U.S. Treasury Secretary Steve Mnuchin.
President Donald Trump appears to believe the Saudi government's claim that it was not involved in the journalist's disappearance and said that the alleged killing may have been committed by "rogue killers." On Monday, CNN reported that the Saudi government is preparing to acknowledge its responsibility for Khashoggi's death by saying that it was an interrogation gone wrong. The Saudi government has not yet confirmed that report.
Fox Business Is Only Major Western Media Outlet Still Participating in Saudi Conference After Journalist's Apparent Killing | World