Saudi Crown Prince Surrounded by Smiles and Selfies Amid Accusations He Ordered Journalist Dead
Saudi Arabian Crown Prince Mohammed bin Salman made a surprise visit to a business summit Tuesday, embracing a positive reception amid allegations that he was behind the murder of a prominent journalist who fled the kingdom.
The crown prince's unscheduled appearance Tuesday at the Financial Investment Initiative in Riyadh received a standing ovation, with a number of attendees swarming the young, smiling royal to take selfies. However, the event took place in the shadow of Saudi Arabia's announcement that it arrested 18 citizens and dismissed senior officials in connection to the killing of dissident writer Jamal Khashoggi, whose vanishing earlier this month prompted Saudi leaders to reject any involvement in the journalist's whereabouts.
As a result, numerous global policymakers—including the finance ministers of France, Germany, the Netherlands, the United Kingdom and the United States—and corporate giants withdrew from the conference, which was dubbed Davos in the Desert.
Khashoggi's disappearance after entering the Saudi consulate in Istanbul on October 2 and subsequent confirmation of his death have shaken the traditionally staunch relationship between Washington and Riyadh. President Donald Trump, who has championed his close political and military ties to Saudi Arabia, was reluctant to assign blame to the kingdom as Turkish authorities gathered evidence of foul play. Nevertheless, he warned of consequences should Riyadh be found responsible.
Treasury Secretary Steven Mnuchin announced Thursday that he would no longer be attending the Financial Investment Initiative, even as Saudi Arabia continued to dismiss allegations that it was involved in Khashoggi's vanishing amid Secretary of State Mike Pompeo's high-profile visit to the kingdom that same day. On Friday, however, official Saudi media released a series of government statements revealing that 18 Saudi nationals were arrested and several influential officials—mostly from the intelligence sector—were dismissed in connection with Khashoggi's death.
Saudi Arabia maintained that its leadership had no knowledge of the plot and that it would seek to hold accountable those responsible for the incident. Trump initially described the Saudi-led investigation as "credible" on Friday but later told The Washington Post that "there's been deception, and there's been lies." Jared Kushner, the president's senior adviser and son-in-law who has particularly close ties to Crown Prince Mohammed bin Salman, defended Saudi Arabia as "a very strong ally" on Monday.
That same day, Mnuchin traveled to Saudi Arabia and met with the crown prince to stress "the importance of Saudi-US strategic partnership, where it holds an important role in the future in line with the Kingdom's #Vision2030," according to a Saudi Foreign Ministry tweet referring to the monarch's initiative to diversify the oil-rich kingdom's economy.
While Mnuchin has canceled his appearance at the Financial Investment Initiative, he was still reportedly set to attend a meeting of the Terrorist Financing Targeting Center later this month in the Saudi capital. His attendance would come as France, Germany and the U.K. suspend all political trips to the kingdom due to outstanding questions over Khashoggi's death.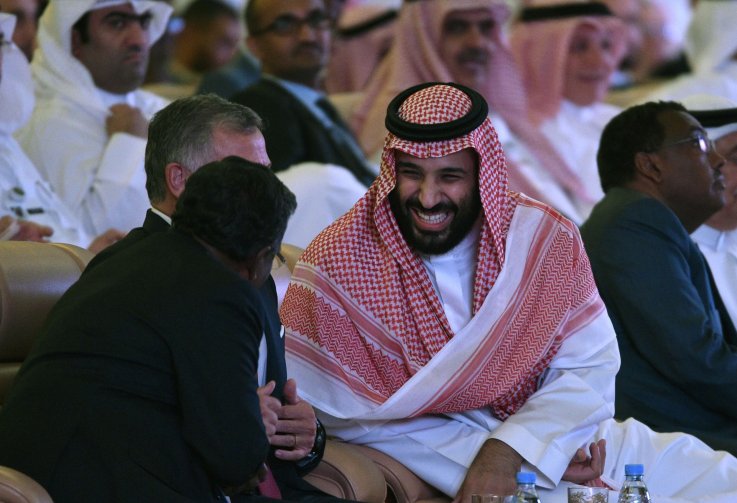 A number of European countries have also canceled arms sales to Saudi Arabia over allegations of war crimes during its war effort in Yemen, where the kingdom and allies have struggled to oust a Zaidi Shiite Muslim rebel group known as Ansar Allah or the Houthis. Trump has previously suggested that such measures were off the table, as Riyadh is the top U.S. weapons export partner.
As the lawmakers pressured the Trump administration to offer a response to Khashoggi's murder, which Vice President Mike Pence called "an assault on a free and independent press" in an interview with The Washington Post, Crown Prince Mohammed bin Salman took advantage of another photo op on Tuesday. Before showing up to the Financial Investment Initiative, Crown Prince Mohammed appeared alongside his father King Salman to receive Khashoggi's sons Sahl and Salah to offer condolences over the killing.
Saudi Crown Prince Surrounded by Smiles and Selfies Amid Accusations He Ordered Journalist Dead | World