Saudi Crown Prince Takes Home $670 Million U.S. Arms Deal After Pentagon Meeting
The U.S. signed off on a $670 million arms sale to Saudi Arabia on Thursday after Crown Prince Mohammed bin Salman held a meeting with Pentagon chief James Mattis on his visit to Washington.
The State Department approved the sale of thousands of anti-tank missiles, as well as helicopter and tank parts for U.S.-made vehicles that the kingdom already owns.
"This proposed sale will support U.S. foreign policy and national security objectives by helping to improve the security of a friendly country which has been, and continues to be, an important force for political stability and economic growth in the Middle East," the department said in a statement.
"Saudi Arabia will have no difficulty absorbing this equipment and support into its armed forces."
Rights groups have condemned Washington's continued transfer of arms to the Saudi-led coalition fighting Shiite rebels in Yemen. Thousands of civilians have died in the conflict that officially began in March 2015, and millions were affected by the resulting humanitarian crisis, according to the United Nations.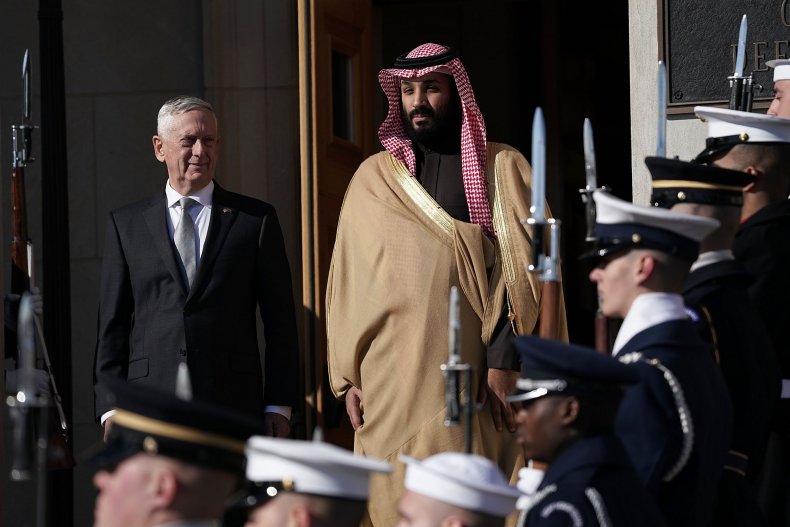 The Saudi-led coalition embarked on a bombing campaign in Yemen to combat the rise of the Shiite Houthi rebels backed by Iran. They overran the capital, Sana'a, in 2015 and ousted Sunni U.S. ally President Abdu Rabbu Mansour Hadi.
"Three years on, Yemen's conflict shows no real signs of abating, and all sides continue to inflict horrific suffering on the civilian population," said Lynn Maalouf, Amnesty International's Middle East research director, in a statement.
"Schools and hospitals lie in ruins, thousands have lost their lives and millions are displaced and in dire need of humanitarian aid."
The Pentagon said that Mattis did not raise concerns over civilian casualties with Salman. He said Washington was working with Saudi Arabia and other involved nations to find a political solution in the country wracked by civil war.
"We are going to end this war. That is the bottom line," Mattis said, according to The New York Times. "And we are going to end it on positive terms for the people of Yemen but also security for the nations in the peninsula."
Salman, Saudi's acting defense minister, has presided over the campaign in Yemen with the aim of shoring up Sunni rule in the country and preventing the rise of Al-Qaeda in the Arabian Peninsula, or AQAP, on its border.
While former U.S. President Barack Obama blocked a sale of precision arms to Saudi Arabia in 2016 over civilian casualty concerns, the administration of President Donald Trump has sought to increase support to Saudi Arabia and the campaign in Yemen.
In a diplomatic boon for the Gulf kingdom, the construction magnate made his first foreign stop in Saudi Arabia, delivering a May 2017 speech to Arab leaders in Riyadh, eschewing the presidency's diplomatic practice of ensuring neighboring Mexico or Canada as the first visit.