French Police Release Saudi Man Mistakenly Arrested for Jamal Khashoggi Murder
Update: Wednesday, December 8, 2021: French authorities announced Wednesday that Khalid Aedh al-Otaibi, the man arrested for his supposed connection to the murder of Jamal Khashoggi, was not the suspect they were looking for. French police called it a case of mistaken identity and released the man from custody.
The man had been arrested, authorities stated, because his name was the same as a wanted suspect's, and other details also matched on his passport. However, police determined that he was not the wanted suspect after a thorough investigation.
Original Story:
Journalists who worked alongside Washington Post reporter Jamal Khashoggi expressed "bittersweet" relief while lauding a "step toward justice" Tuesday after a Saudi man was arrested in connection with Khashoggi's 2018 killing.
Khalid Aedh al-Otaibi was arrested at Charles de Gaulle International Airport attempting to board a flight from Paris, France, to Riyadh, Saudi Arabia, according to French authorities.
Reportedly a former Saudi Royal Guard, al-Otaibi is alleged to be a member of a secret hit squad known for silencing dissidents of Saudi Arabian Crown Prince Mohammad bin Salman, such as Khashoggi, who often wrote pieces criticizing the crown prince.
Khashoggi was last seen entering the Saudi embassy in Istanbul, Turkey, and is thought to have been ambushed by a team of hitmen. His remains have never been found.
Numerous writers and foreign policy journalists lauded the news of al-Otaibi's arrest as a step towards finally getting true justice for their slain colleague. In particular, members of The Washington Post also added their opinions to the mix on social media.
Karen Attiah, an international affairs columnist for the Post, said that the arrest was a "bittersweet" moment and a "step towards justice."
Attiah also mentioned that it was tragic that "my boss and colleague Fred Hiatt, who championed Jamal's cause for at @WashingtonPost, did not live to see this day."
Hiatt was the Post's editorial page editor, and was considered one of the primary promoters of finding answers to Khashoggi's murder. He passed away Monday, just one day prior to al-Otaibi's arrest, at the age of 66.
Post reporter Dan Diamond tweeted that Hiatt had "demanded justice for Jamal Khashoggi - and for human rights around the world."
Hiatt's obituary in the newspaper he worked for since 1981 said that he "helped prepare dozens of forceful editorials that sought to keep attention focused on Khashoggi's death."
"[Hiatt] led an editorial campaign to demand justice for Khashoggi," Jackson Diehl, Hiatt's deputy editor, said, "He made an effort to keep the legacy of Khashoggi alive and created a fellowship in his name for international journalists."
The New York Times wrote a column stating that "Mr. Hiatt was perhaps best known in recent years for leading the newspaper's outraged response to the 2018 abduction and murder of one of its Saudi contributors, Jamal Khashoggi."
Hiatt demanded "justice on Mr. Khashoggi's behalf, established a fellowship in his name and gave a global platform to other dissident writers from the Arab world who had been banned from their domestic media," the Times continued.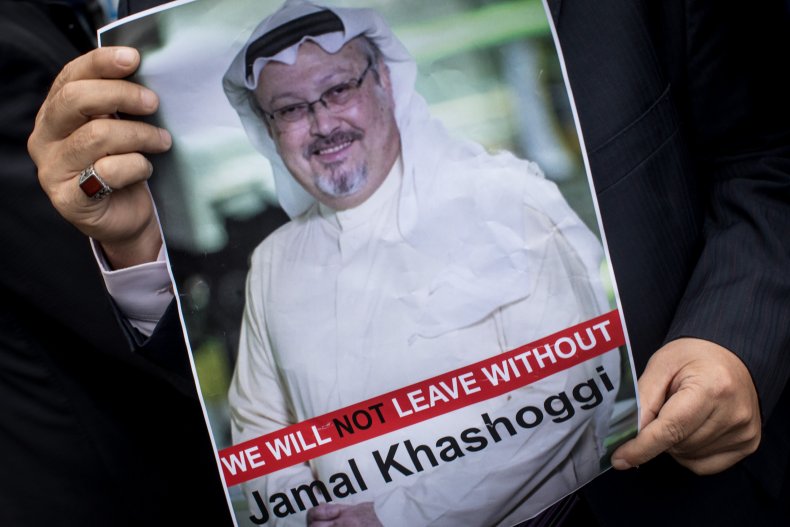 Other journalists across social media reacted with satisfaction to the news of the arrest, hoping that it might lead to a breakthrough in the case. This included words in outlets like Axios and CNN.
Additionally, Khashoggi's fiancee, Hatice Cengiz, tweeted that she welcomed "the arrest of one of Jamal's killers today in #France."
"France should try him for his crime, or extradite him to a country able and willing to genuinely investigate and prosecute him as well as the person who gave the order to murder Jamal."
Despite the arrest, Saudi Arabia maintains that al-Otaibi had nothing to do with Khashoggi's death. A Saudi official told Reuters that "this is a case of mistaken identity. Those convicted of the crime are currently serving their sentences in Saudi Arabia."
Newsweek has reached out to the Embassy of Saudi Arabia for comment.
Updated 12/07/2021 at 7:30 p.m. ET: This story has been updated with additional information.