Who's Been Racing a Fleet of Gold Cars Around London?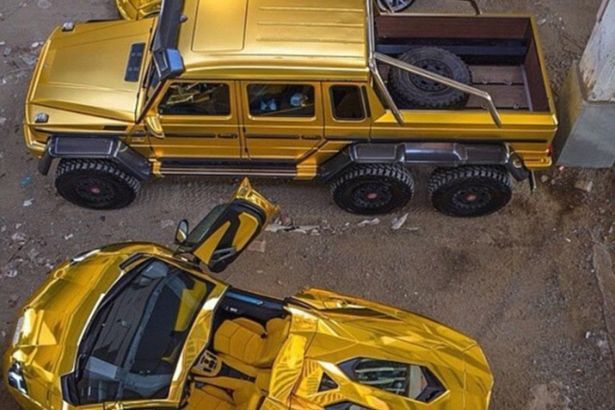 For the past week, Londoners have been debating the identity of the owner of a fleet of gold vinyl cars that have been spotted revving and racing around the city. On Wednesday, all was revealed
According to the MailOnline, Saudi playboy Turki bin Abdullah—who boasts 58,300 followers on his Instagram page—has been riding around in his Lamborghini Aventador, Mercedes G63 6x6, Rolls-Royce Phantom Coupe and Bentley Flying Spur, together worth over £1 million ($1.4 million).
He leaves the four flashy cars wherever he pleases without bothering to pay for parking. After all, £80 ($115) here and there is nothing more than loose change for the Saudi billionaire, who has racked up £360 ($517) worth of parking fines.
Most recently, three of his gold cars were parked outside the Jumeirah Carlton Tower Hotel, in the upscale Knightsbridge neighborhood of central London—mere minutes away from a public car park, The Telegraph reports.
"It's very rare that anyone would leave their car in a pay-and-display bay and leave it for more than a day as they risk the chance of it being towed away. No one has done this before. Normally they rent a garage rather than park them in the street," Timothy Coleridge, councilor for the borough of Kensington and Chelsea, told BBC News, adding that he plans to take up the issue with the borough's parking department. "We would not differentiate between somebody with a gold Rolls or a beaten-up Renault 5."
In November 2015, following numerous complaints from residents, Kensington and Chelsea council imposed a Public Spaces Protection Order preventing motorists from revving their engines, accelerating suddenly and racing on the streets of Knightsbridge.
Evidently, Abdullah, who posted a photograph on Instagram last month of his pet cheetah strapped into the front seat of one of his gold vehicles, remains blissfully unaware of the ban.