Saudis Perplexed As Country's Press Freedom Ranking Dips After Khashoggi Murder, Arrest of Dozens of Journalists
Reporters Without Borders (RSF) activists say they have been forced to explain to Saudi Arabian officials why the authoritarian kingdom has slipped down the organization's annual press freedom index rankings, less than a year after the brutal murder of Saudi journalist Jamal Khashoggi.
Staff at RSF said Saudi officials filed a complaint about the country's falling ranking, despite a team of government agents having killed Khashoggi at the Saudi consulate in Istanbul in October last year and an ongoing crackdown on the kingdom's free press.
RSF told The Guardian its staff had visited Riyadh in April to hold unprecedented meetings with Saudi officials. The organization was lobbying for the release of 30 journalists who remain detained in Saudi prisons.
Those who attended the meetings were struck by the confusion among Saudi figures, who were bemoaning the country's three-place fall to 172nd out of 180 countries in the RSF press freedom index.
The RSF kept the meetings under wraps because it was hoping the Saudi government would release the jailed journalists during Ramadan, which ended at the start of June. No such clemency was forthcoming.
The organization said discussions included Adel al-Jubeir, the minister of state for foreign affairs, and public prosecutor Saud al-Mojeb.
RSF Secretary-General Christophe Deloire and RSF's U.K. bureau director Rebecca Vincent told The Guardian that the series of meetings stretched across three days. They noted that the Saudis were clearly upset with their low ranking and especially how close they were to North Korea, which sits at the bottom of the list.
"They were clearly sensitive of the rating," Deloire explained. "They consider it purely illegitimate that they are so badly ranked. And we can say: 'It is because of this, and because of that.' It is a way to engage."
Deloire noted that though such meetings were unusual, they represented "little movements that create bigger movements."
The RSF team said they explained to the Saudis that "their global image is totally terrible...and we tried to explain that what they have to do is to take action. They will never convince us or the general public that it is legitimate to have all those journalists in jail."
The graphic below, provided by Statista, illustrates world press freedom based on data from Reporters Without Borders.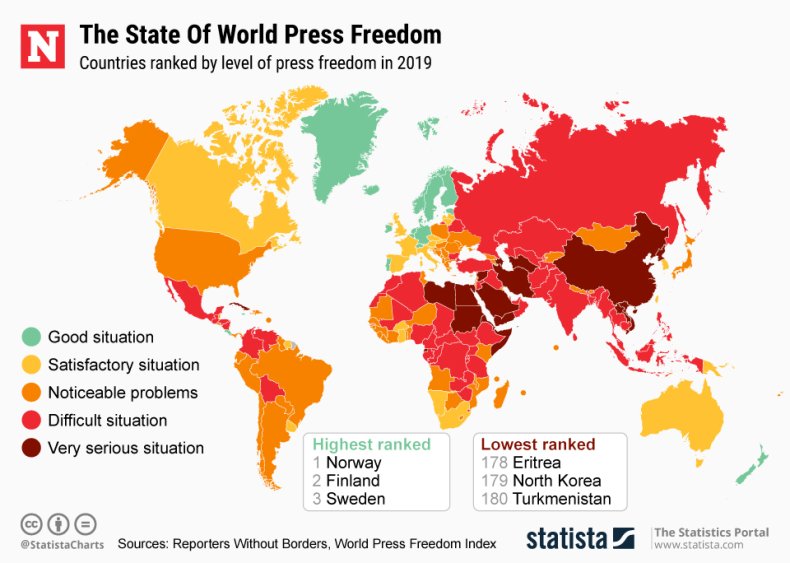 Khashoggi was murdered by a specialist team of Saudi agents, sent to Turkey with the intention of killing the dissident journalist. Crown Prince Mohammed bin Salman—heir to the crown and considered the true power behind the throne—is believed to have directly ordered the assassination.
Khashoggi's body has still not been found, with Saudi Arabia resisting demands to reveal the location of his remains. Some reports suggested the assassins dissolved Khashoggi's body in acid soon after his murder.
RSF's most recent press freedom index noted that the number of journalists and citizen-journalists detained has tripled since Salman became crown prince following a palace coup.
The self-proclaimed reformer has overseen a crackdown on human rights activists, pro-democracy campaigners and Shiite dissidents, which has sent the execution rate soaring.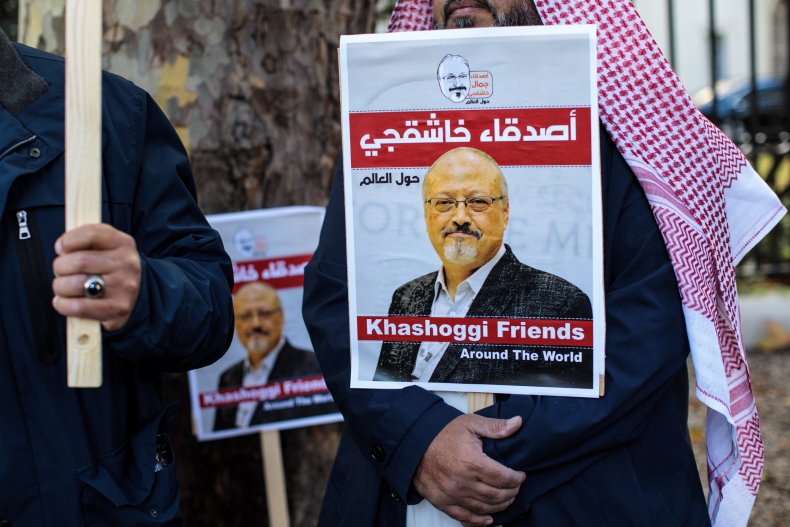 This article was updated to include an infographic.