Saudi Teenager Abu Sin Arrested For 'Unethical' Video Chats With U.S. Blogger Christina Crockett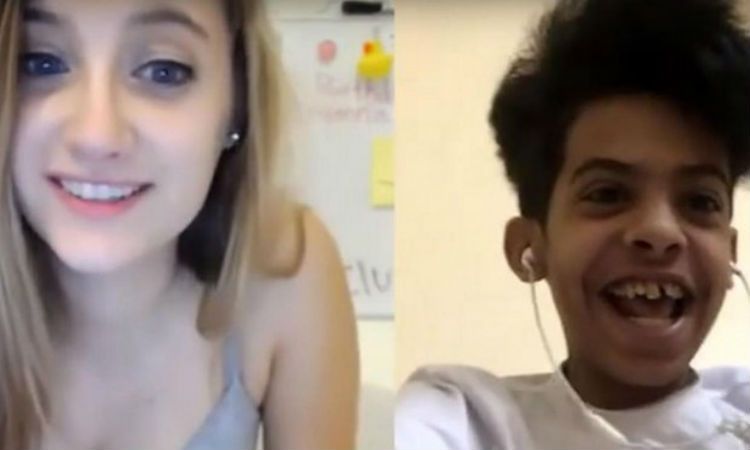 A Saudi teenager has been arrested and faces three years in prison for posting a series of popular videos of online conversations with an American blogger.
Abu Sin, which allegedly translates as "toothless" because of his gap tooth, was having tongue-in-cheek conversations with 21-year-old YouTuber and Californian native Christina Crockett on the video service YouNow. The videos subsequently went viral, bringing Abu Sin relative fame at home.
Saudi police spokesman Col. Fawaz Al-Mayman said that those commenting on Abu Sin's videos had "demanded for him to be punished for his actions," according to news site The Saudi Gazette.
"The live broadcasting website YouNow was launched in 2011 and was popularized among Gulf Arab youth. Abu Sin is 19-years-old and he was arrested for unethical behavior," he continued.
Ironically, his arrest was also shown on the YouNow service, with police stopping Abu Sin as he drove with two friends and talked with a Kuwaiti user of the video site. One of his friends tells the Kuwaiti man that Abu Sin is "going to take a while. There's an arrest warrant against him."
A Saudi lawyer told the Saudi Gazette that Abu Sin had breached Saudi Arabia's strict version of Islamic law, the Sharia. "The teenager could face prison term—ranging from a year to three—depending on the sentence issued by the judge. The ethics and morals of Shariah Law apply even on the Internet," said Abdulrahman Al-Lahem.
Crockett spoke of the popularity of Abu Sin's and her videos, as both struggled to communicate with each other despite English and Arabic preventing them understanding one another clearly.
"He didn't speak much English, so I was trying to get him to understand what I was saying most of the time; it wasn't that good communication," Crockett told The Guardian. "He was dancing and being funny, we would both dance on there because we can't communicate with words. It was pretty funny."
She says of Abu Sin's predicament: "I think it's terrible and I don't think he deserves it."