Saudi Arabia 'Davos in the Desert' Website Hacked With Picture of Jamal Khashoggi Being Executed by Crown Prince, ISIS
The website for the Future Investment Initiative, a conference in Saudi Arabia nicknamed "Davos in the Desert," was seemingly hacked Monday, with the home page showing a mocked-up image of Saudi journalist Jamal Khashoggi about to be executed by Crown Prince Mohammed bin Salman.
The investment conference, which was to begin Tuesday, has been the subject of much controversy since the killing of Khashoggi in the Saudi consulate in Istanbul earlier this month. Khashoggi entered the consulate and was not seen leaving; Saudi Arabia finally acknowledged his death over the weekend. However, the kingdom claimed that his death was the work of a "rogue operation" and that the crown prince was not aware of it.
A number of high-powered CEOs and political leaders, including U.S. Treasury Secretary Steven Mnuchin, subsequently pulled out of the conference amid much public outrage.
Those behind the hacking of the Future Investment Initiative website suggested not only that Khashoggi's killing had been orchestrated by the crown prince but that Saudi Arabia was a leading financier of terrorism.
"For the sake of security for children worldwide, we urge all countries to put sanction on the Saudi regime," read a message on the website's home page before the site went down shortly afterward. "The regime, aligned with the United States, must be kept responsible for its barbaric and inhuman action, such as killing its own citizen Jamal Khashoggi and thousands of innocent people in Yemen. The medieval Saudi regime is one of the sources for #Terrorism_Financing in the world."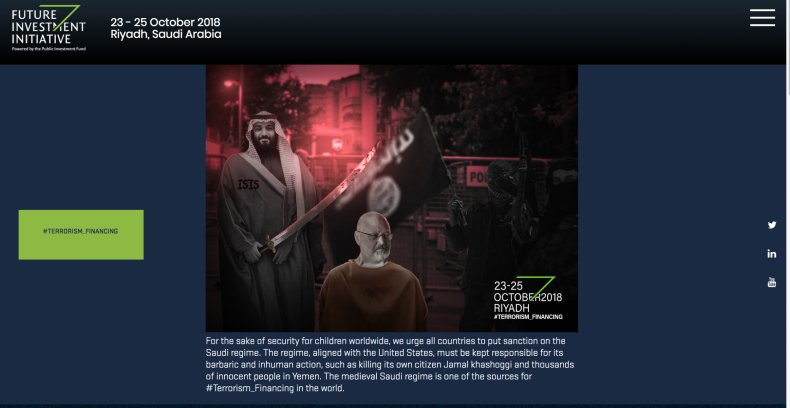 The rest of the home page replaced messages on Saudi Arabia's business investments with further claims about its financing of terrorism. Also included was a list and contact information of individuals claimed to be spies of the Saudi regime "who perform malicious activities around the globe."
International pressure on Saudi Arabia continued Monday with German Chancellor Angela Merkel announcing a freeze on its arms deal with the kingdom and urging allies to do the same. Thus far, however, President Donald Trump has been reluctant to criticize the Saudi leaders and signaled an unwillingness to jeopardize the United States's arms sales.