Saudi Women's Rights Activist Detained for Two Years While Awaiting Trial Must Be Released During Pandemic, Sister Says
Today marks two years since Loujain al-Hathloul, a prominent human rights activist in Saudi Arabia, was arrested and detained for trying to "destabilize the kingdom" with her fight to push for more freedoms for women across the country.
Her family is now more worried for her safety than ever before, with Loujain's sister, Lina al-Hathloul, telling Newsweek the activist is "losing hope" after her trial date was pushed back indefinitely due to the coronavirus pandemic, while her family has also been barred from seeing her amid the outbreak.
"We can hear that she's losing hope," Lina, 25, told Newsweek on Friday. "It's really worrying that my parents can't visit her."
In May 2018, Loujain, then 28 years old, became one of several women's rights activists to be arrested for trying to push Saudi Arabia toward the kind of "modernization" that Crown Prince Mohammed bin Salman has claimed to champion.
Before her arrest, Loujain had used social media to amplify her voice, with the activist famously live-streaming herself defying Saudi Arabia's ban on women driving.
Despite being arrested and detained for 73 days in 2014 after attempting to drive into Saudi Arabia from the United Arab Emirates, Loujain continued to push for the ban to be lifted. She was also an advocate for the end to Saudi Arabia's male guardianship system and became one of the first women to run for office in the country in 2015.
For months after her arrest, Loujain said she had not even been formally told what she was being detained for.
It was on March 13, 2019, during her first trial session, that Loujain was formally charged with "promoting women's rights...calling for the end of the male guardianship system...contacting international organizations, foreign media, and other activists, including contact with Amnesty International," Amnesty International states in a profile on the activist.
Now, more than 700 days after she was detained in May 2018, Loujain, 30, continues to sit behind bars, awaiting trial.
According to her sister, Loujain's trial date had been set to take place in February.
"They canceled it without justification," Lina said. "Then, they said the judge was sick and now they have the excuse of coronavirus and stopped everything. They didn't give any new dates for the trials."
Knowing that her sister is being detained and cut off from seeing her family amid a pandemic that has claimed hundreds of thousands of lives, Lina said her family has become desperate to secure the 30-year-old's release.
"I'm really worried because there's so much bad news coming out of prisons right now," Lina said, referring to global concerns around the spread of coronavirus among incarcerated populations, with prisoners around the world often being held in overcrowded facilities with limited access to adequate sanitation.
"It's just so scary not being able to have physical contact with Loujain to be sure that she is fine," Lina said.
While Loujain can talk to family members over the phone, Lina said her sister is unable to speak freely. "She can't complain about anything on the phone," Lina said. If she does, Lina said, authorities will simply cut the call.
"But we can hear it in Loujain's voice," she said. "She's not healthy right now. She's just losing hope."
With today marking the second anniversary of Loujain's arrest, Lina and human rights advocacy groups around the world are calling for the 30-year-old activist to be released.
Speaking with Newsweek on Friday, Uma Mishra-Newbery, the executive director of Women's March Global, said her organization, which is part of the Free Saudi Activists coalition, is joining in those calls, demanding that Loujain and other human rights activists detained in Saudi Arabia be freed.
"We are working to advocate for the immediate and unconditional release of all Saudi women and human rights defenders," she said.
Part of that effort, Mishra-Newbery said, is calling on countries, including the U.S., and businesses to put pressure on Saudi Arabia to release detainees who advocates say have been unfairly detained.
"There is a complicity here by the international and business communities and their lack of holding Saudi Arabia accountable for its injustices," she said.
"There are opportunities coming up, like with the G20 Summit held in November, where they can speak out in a forceful and public way against Saudi Arabia," she said.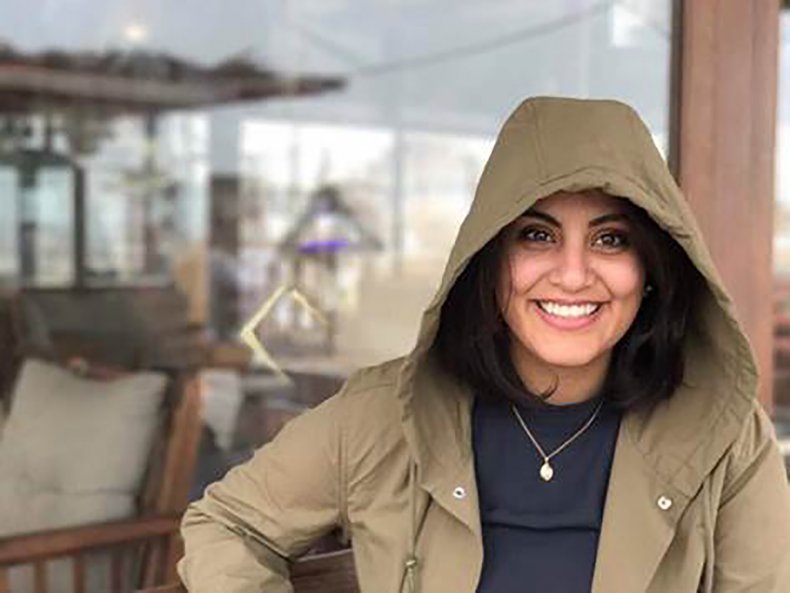 While some countries, such as Iceland and Germany, have taken strides in seeking to hold Saudi Arabia accountable, she said, countries like the U.S. continue to work with the country, including selling "an incredible amount of weapons" to Saudi Arabia.
In recent years, bin Salman, known around the world as MBS, has sought to change the image Saudi Arabia projects to the outside world, lifting the ban on women driving that activists like Loujain have been imprisoned for pushing against and allowing mixed-sex concerts.
"Saudi Arabia has been working for several years on a public relations campaign," Mishra-Newbery said, noting that the country has made headlines around the world for its proclaimed efforts towards "modernization."
However, Lina said, the way the relatively new freedoms introduced in Saudi Arabia have been policed has created an "atmosphere of fear" in the country, with women in particular not being sure "where the red lines are."
"Yes, women can go to concerts, but when they dance, if a policeman thinks she is not decent enough, he can arrest and imprison her," Lina said. "It's unclear and messy. They're not real freedoms that have been given because you don't know where the red lines are."
The high-profile killing 2018 death of Jamal Khashoggi, a U.S.-based journalist who was critical of Saudi Arabia's government that was killed after walking into the country's consulate in Istanbul, has further cast a significant shadow over those efforts, despite the Saudi government claiming that his murder was carried out in a "rogue operation."
Saud al-Qahtani, a former influential aide to MBS who had been suspected of playing a role in directing Khashoggi's killing, was cleared of wrongdoing by Saudi prosecutors.
However, Loujain's family and human rights advocates have said that al-Qahtani also played a role in directing torturous acts against the activist in the early months of her detention.
"I won't stop until he is sentenced for Loujain's torture," Lina said. "I'm furious."
Lina described how her sister had initially been "kidnapped" while driving along the highway between Dubai and Abu Dhabi in April 2018.
Loujain's car was surrounded by vehicles, Lina said, and she was forced to stop before being detained and eventually forced onto a plane and flown to Saudi Arabia.
Lina said that when her sister arrived in Riyadh, she was imprisoned for several days and interrogated before being released with a travel ban barring her from leaving Saudi Arabia.
In May 2018, however, Lina said her sister's home was raided and she was taken back to prison, where she has remained ever since.
In the first ten months of her detention, Loujain was held without charges or trial, according to Amnesty International, which is also campaigning for the 30-year-old's release.
During that time, the organization alleges Loujain has been "beaten, waterboarded, given electric shocks, sexually harassed, and threatened with rape and murder." The abuse, Loujain's family has claimed, was orchestrated by al-Qahtani.
Loujain had made the claim during one of Lina's early visits with her parents, Lina said. Noticing marks on their daughter's body and that she seemed to be sapped of energy, they demanded that Loujain tell them what was happening to her.
"She told them about the torture, that she had been electrocuted," Lina said. The 25-year-old said she did not believe that officials carried out the alleged abuses "to get information from her."
"They enjoyed it. It was a torture session where they could come laugh at her," she said.
In 2019, al-Hathloul was reported to have rejected a release deal that would have granted her freedom in exchange for denying that she had been tortured.
She had initially agreed to sign the agreement, her brother, Walid al-Hathloul, had written on Twitter. However, when Saudi officials demanded that she make the statement on camera, he said she refused.
"When the state security asked her to sign the document for the video release, she immediately ripped the document," Walid wrote. "She told them by asking me to sign this document you are involved in the cover-up and you're simply trying [to] defend Saud Al-Qahtani who was overseeing the torture."
According to Amnesty International, there are currently at least 13 women's rights activists on trial for their activism in Saudi Arabia.
"Of the 13, five remain in detention: Loujain al-Hathloul, Samar Badawi, Nassima al-Sada, Nouf Abdulaziz and Maya'a al-Zahrani," the organization said in a statement marking the anniversary of the May 2018 arrests.
"Eight other activists have been temporarily released, though they all face trial and many remain at risk of being jailed under anti-cybercrime legislation for their human rights work," Amnesty International said. "These eight are: Iman al-Nafjan, Aziza al-Yousef, Amal al-Harbi, Dr Ruqayyah al-Mharib, Shadan al-Anezi, Dr. Abir Namankni, Dr Hatoon al-Fassi, and an anonymous activist."
"At least ten activists have endured a range of human rights violations while in prison, including torture, sexual abuse and other forms of ill-treatment," the organization has claimed.
Mishra-Newbery said it was important to note that it is hard to know exactly how many activists were targeted in the May 2018 campaign, since not all families would be willing to risk speaking out about their arrests.
In a statement shared with Newsweek, a spokesperson for advocacy group Free Saudi Activists said: "Saudi women's rights defenders have suffered inconceivable human rights violations at the hands of the Saudi government and our first priority is to ensure that they are immediately and unconditionally released."
Until activists like Loujain are allowed to walk free, Lina and human rights advocacy groups around the world have been clear: "The international and business community must also hold the Saudi government accountable for these injustices."
Doing so is necessary, they have said, for the global community to "move forward with actionable solutions for the advancement of women's human rights."
Newsweek has contacted Saudi Arabia's embassies in the U.S. and Britain for comment.