Saugus High School Shooting Suspect Dies of Self-Inflicted Gunshot Wound
Nathaniel Berhow, the suspected assailant in the November 14 Saugus High School shooting in Santa Clarita, California, has died. Berhow allegedly shot himself in the head after shooting five students at the school and was hospitalized in critical condition, according to reports.
No motive has yet been found for the shooting, which killed two teens and wounded three others.
"We did not find any manifesto, any diary that spelled it out, any suicide note or any writings," said Captain Kent Wegener of the Los Angeles County Sheriff's Department in a press conference. Investigators also found no evidence that Berhow was influenced by any kind of ideology or group.
Officials also say there was no connection between the victims, who appear to have been randomly chosen by the shooter.
Surveillance video seen by officials shows Berhow removing a .45 caliber sidearm from his backpack and shooting five students, after which he shot himself in the head. In all, the shooting event took 16 seconds. Berhow had turned 16 that day.
"He just fires from where he is," Wegener said. "He doesn't chase anybody. He doesn't move."
"I would never have guessed that it would be him," Matthew Arauz, a schoolmate of Berhow's, told KABC. "He seemed like a normal kid. He seemed collected and on the outside you wouldn't understand that he would be troubled."
Police found six firearms at Berhow's home which were registered to his late father. Other weapons found at the home, though, were not immediately traced back to their owners. It is as yet unknown where this firearms came from.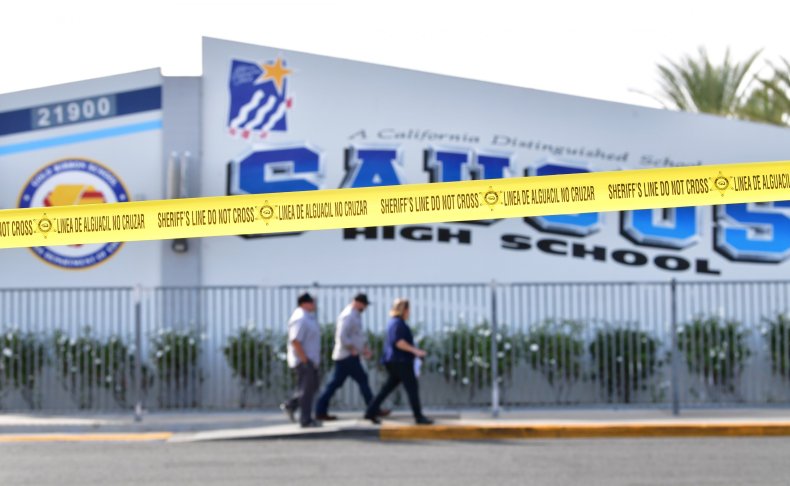 Politicians reacted to the shooting, offering condolences through Twitter.
"My heart goes out to the Santa Clarita community as they respond to a mass shooting at a high school," tweeted Democratic presidential candidate Julian Castro. "We cannot accept this as normal. We must act on behalf of our children."
"My heart goes out to the families and children," tweeted candidate Andrew Yang. "The time for action is long past - we must do more than mourn."
Many on Twitter placed the blame for the shooting directly on the shoulders of Senate Majority Leader Mitch McConnell who has refused to bring any voting on gun control bills to the floor of the House of Representatives. #MassacreMitch became a trending hashtag.
"I said a few weeks ago that if the President took a position on a bill so that we knew we would actually be making a law and not just having serial votes," McConnell said in September, "I would be happy to put it on the floor and the administration is in the process of studying what they are prepared to support if anything."