Saunders Claus' journey into becoming one of the country's most popular people portraying Santa Claus is an unlikely one. Yet, a moment that he describes in terms that sound practically magical told his heart he had found his calling—a calling that led him to be one of the first Santas portrayed by a Black person at a Disney park in the U.S.
But Saunders had never aspired to become what many call a "Black Santa." In fact, he wasn't much of a Christmas enthusiast when a friend, who worked at a talent agency, asked him to don the red suit for an event in 2017.
"She reached out to me because of my jolliness," Saunders explained to Newsweek during a recent interview.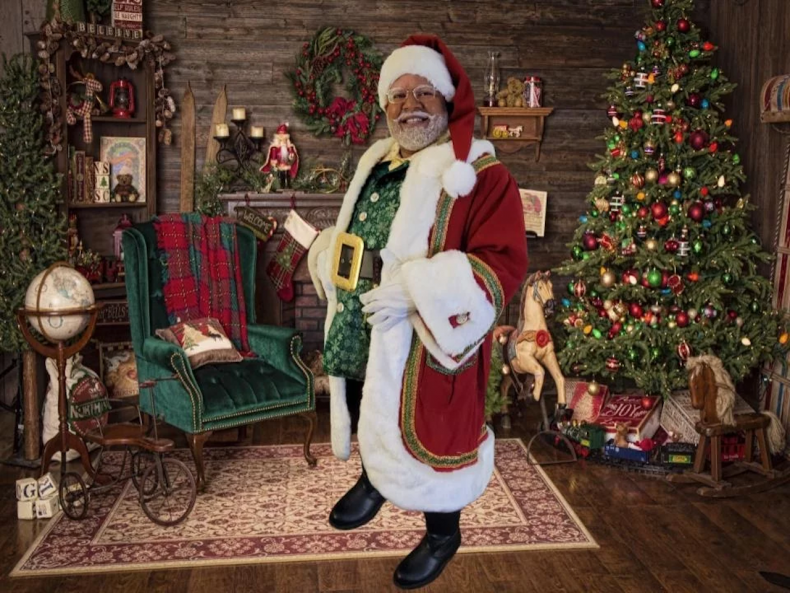 While Saunders grew up with a great fondness for the holiday, his Christmas spirit drifted away for several years following the passing of his grandfather on a Christmas Eve, which occurred only two years after the death of his father. The two events led to what he now refers to as a "bah humbug" phase.
That all changed during a walk through St. Louis' business district in full Santa regalia for the 2017 gig. Passing by a nail salon, Saunders said he spotted a young girl inside.
"Instinctively, I just waved. You know, 'Oh, hello there, little girl.' She exploded, and it was like the most heartwarming, exciting experience I've ever had in my life," he said. "It was that sign that made me say, 'Okay, this is this is what I need to be doing.'"
In that very moment, the "bah humbug" phase vanished, and Saunders Claus was born. Saunders, who asked to be identified by his working name for this article, has been portraying Santa year-round ever since. This winter, his work took him to Lake Buena Vista, Florida, where he became one of the first Black Santas to appear at a Disney park in the U.S.
He declined to discuss the Walt Disney World Resort appearance, and Disney doesn't go into specifics about such events. However, a Disney spokesperson told Newsweek that Santas at the company's parks represent the diversity of the community at large.
Saunders did, however, share a photo of his appearance at Disney World on his Instagram account.
"I don't want it to become separate but equal Santas," Saunders said of being a person of color taking the role of a character traditionally associated as being a white man. "I don't want it to become, I'm a Santa portrayed by a Black person, so I only got the Black families, or a Santa portrayed by a Mexican only going to Mexican families."
He added, "It doesn't matter, and everyone can have a Santa of a diverse background in any household."
Saunders said he's faced some resistance from being a Black Santa, though not directly.
"I have noticed that there are people who are hesitant but won't say anything," he said, adding he's been at events where he'd noticed a person with "a disgusted look on their face."
He said that while he had expected such a reaction from certain segments of society, a different experience caught him off guard.
"One of the most unexpected challenges that I faced was I had a family of children who were of color tell me that I wasn't the real Santa because the real Santa was white," Saunders said.
Those types of moments haven't discouraged Saunders, who maintains a natural positivity about his work. He also recognizes the void he's helped fill for some children.
Discussing the importance of representation, Saunders said: "It is very important that Santa himself is portrayed by people of different backgrounds to inspire those people who can say, "Oh, hey, Santa looks like me. If Santa can look like me, then that means I can look like anything, and I can do anything."
Just as important to Saunders, though, is being a Santa Claus for all children.
"One of the most important things of being a Santa portrayed by a person of color is not just giving the children of diverse backgrounds a Santa that looks like them," Saunders said. "It's also teaching the children who are not of diverse backgrounds that Santa does not have one specific, physical description."
After all, he said, "Santa is the spirit of love, compassion, giving...and that spirit can embrace anybody of any background."