'Savage' Dance Song Played for Prom Queen in Wheelchair Horrifies Internet
Online commenters were horrified by the "savage" song that played after Sarah Mendenhall, a high school student with Acute Flaccid Myelitis (AFM), was announced prom queen.
The moment was captured and shared on TikTok by Mendenhall's friend, Celeste Orozco, who wrote: "A prom queen crowning moment to remember." The post has amassed nearly 18 million views and thousands of comments from stunned viewers, many of whom expressed embarrassment for the DJ.
In the clip, Mendenhall, who's in a wheelchair, meets her king on the dance floor after being crowned. Students cheer as the royals greet each other, but the room's mood dramatically shifts when the pair's first dance song—Ed Sheeran's Thinking Out Loud—begins to play.
"When your legs don't work like they used to before," the song's first line reads. Upon hearing the lyrics, the crowd collectively gasped and "booed" the DJ.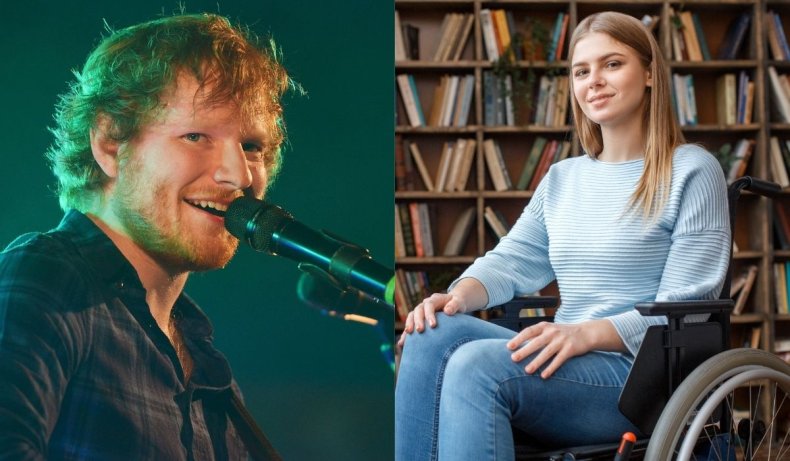 "This would haunt me the rest of my life if I were a DJ," said the video's narrator.
Viewer Reaction
Many viewers believe the song was chosen weeks before the dance. Still, they were horrified by the moment.
"I would run to a new state and change my identity," wsp wrote.
"I'd quit right then and there man," Manavog admitted.
"Wrong so wrong," Zyan Jones commented.
"Bruh even if it was a pre-made playlist by the school I still would've skipped that song because I know the d**n lyrics to this song," the_drama_queen_sarah said.
Luke Powell simply called the moment "savage."
Thatb0ybubu added: "It's so disrespectful."
While both the crowd and many of Orozco's viewers thought the moment was shocking, to say the least, Mendenhall thought it was funny.
"I found it really funny and ironic. I didn't know what was playing until way after cause I was tryna dance," Mendenhall commented.
Orozco responded: "Had a great prom night and a good laugh about it the next day."
About Acute Flaccid Myelitis
In a video posted to her account on Tuesday, Mendenhall explained that she has an autoimmune disorder commonly referred to as AFM.
"[At] 17, I caught a cold [but] didn't realize I had an autoimmune disorder called AFM," Mendenhall began.
"Basically this cold caused my immune system to attack my entire nervous system. I had two lesions in my gray matter on my spine...two lesions on the spine, one on the top [and] one on the bottom, leaves you a quadriplegic—me," she continued
She then explained that it's possible for nerves to repair themselves if they are not "permanently damaged," which thankfully, hers were not.
"So I am able to walk [but] I am not able to run or walk long distances," she said. "My wheelchair is named Bethany and she is a great friend."
According to the Siegel Rare Neuroimmune Association (SRNA), AFM is a "rare" autoimmune disorder, which means less than 200,000 people in the U.S. are affected by it. The Centers for Disease Control and Prevention (CDC) confirmed 682 cases of the disorder since 2014; however, this number "may be an underestimation because not all cases are reported," SRNA explained.
Unfortunately, the CDC said there is no "specific treatment" for AFM, but clinicians "may recommend different interventions based on each patient." SRNA also claimed that a "quick and accurate diagnosis" can lead to "prompt acute treatment."
Newsweek reached out to Orozco and Mendenhall for comment.