Rihanna Leggings: Where to Buy Savage X Fenty Risque Leggings
Rihanna has successfully graduated from music star to fashion icon with her Fenty Beauty and Savage X Fenty lines. One of her most recent launches, a pair of fashion staple leggings, has caught the attention of fans for their daring look.
Despite the leggings dividing some people due to their cut-out back, many are still keen to get their hands on them.
Where to buy Savage X Fenty leggings
The leggings are available on Savage X Fenty website savagex.com
As well as that, after years of the lingerie only being available via the official website, there is now a store on Amazon.com.
The brand has previously launched pop-up stores in New York and London, but both have now closed.
The Savage X Fenty leggings have caused outrage because of a cut out across the butt, which reveals more than many had expected.
The leggings are also crotchless, and come in two colors: purple lavender and black caviar. They range in size from XS to 3XL.
TikTok user @fathermarge released a video asking what the revealing leggings were, adding: "Things are getting a little crazy," but misattributed them to Kate Hudson's athleisurewear brand Fabletics.
The now-deleted post received a frenzy of reaction, gaining 3.2 million likes and plenty of comments.
However, some came to Rihanna's defense, and the comments on the leggings on Savagex.com show how popular they are with fans.
Buyer Jessica wrote: "Ummmm... WOW. These are sexy. They feel like the same lightweight and comfortable material as the teddy, and have a sexy cutout on the butt.
"If your butt is your best ASSet, these were made for you. The fact that they're crotchless is just a bonus."
Fellow purchaser Erika added: "A different kind of legging to wear under a dress for date night...when we get to have date nights again.
"These are the fun secret that only you will know they are open back and crotchless. Soft, comfortable, but they run maybe a half size bigger then usual when you want to order them.
"Full disclosure, I was gifted this item in exchange for my honest review."
A third buyer, Jennifer, admitted these were not for "the grocery store," but were still a great purchase.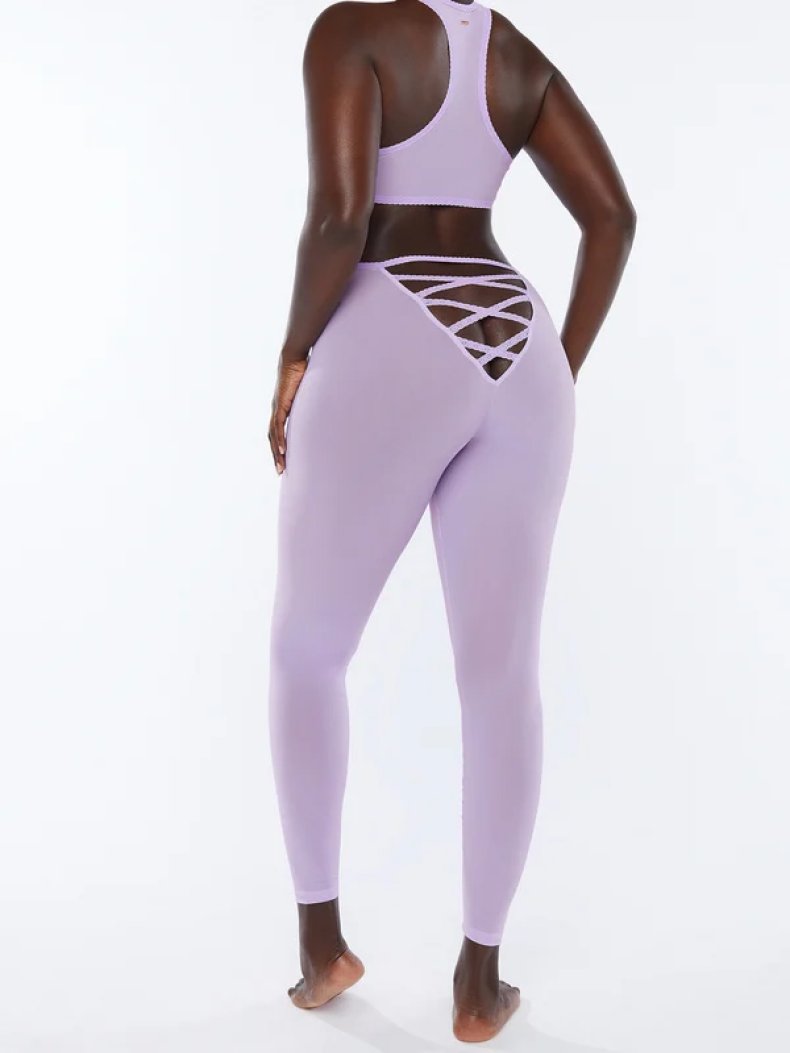 She wrote: "It is pretty clear these aren't the type of leggings you are going to wear to the grocery store, but as something sexy and different for around the house or to sleep in?
"These are unique, flattering, and really pretty! I love the back detail and even the crotchless design, you can wear panties under them or go commando and both are comfy options..."
The description of the item admits the leggings are for "the cozy night in," and also reveals the cut-out section has clear mesh on it, meaning they cover a little more skin than first thought.
The Soft Mesh Open-Back Crotchless Leggings are available on Savagex.com for $49.95, or $19.98 for VIP members.
Newsweek has approached Savage X Fenty for comment.