NBC host Savannah Guthrie received both praise and criticism for her job as President Donald Trump's town hall moderator on Thursday night.
The atmosphere at the town hall was occasionally tense as Guthrie pushed back against some of Trump's claims. One of the most notable exchanges was when Guthrie asked Trump about a retweet he had made of a conspiracy theory describing the killing of Osama bin Laden as a hoax. According to the tweet, the Barack Obama administration had Navy SEAL Team 6 kill a bin Laden body double, then had the SEALs killed as a coverup. There is no evidence to support these claims.
"Why would you send a lie like that?" Guthrie asked.
"That was a retweet," Trump said. "That was an opinion of somebody and that was a retweet. I'll put it out there, people can decide."
Guthrie also asked about Trump's tax returns and the money he owed, according to a recent New York Times expose.
"On the subject of taxes, as you know the New York Times has attained, it says, years of your tax returns. Among other things, it says that you have debts of approximately $421 million that you have personally guaranteed and that will come due in the next four years. The question is, on behalf of voters, who do you owe $421 million to?" Guthrie asked.
"What they did is illegal, number one. Also, the numbers are all wrong, with the numbers they released. And just so you understand, when you have a lot of real estate, you know a lot of it, okay, right down the road—Doral, big stuff, great stuff... I have a very very small percentage of debt compared—in fact, some of it I did as favors to institutions that wanted to loan me money. $400 million, compared to the assets that I have, all of these great properties all over the world. And frankly, the Bank of America building in San Francisco," Trump replied.
"You're saying $400 million isn't that much, but are you confirming that, yes, you do owe some $400 million?" she asked.
"It's a tiny percentage of my net worth. We're doing things, you know, we've given I think it's 108 or 112 pages of financial detail to elections and you know we have to file as the president, as any politician, you have to file. Nobody ever looks at that. When they do, they'll see how incredible the quality is, but more importantly ... no, I don't owe Russia money," Trump said.
Opponents of Trump praised Guthrie for holding Trump "accountable" during the town hall event, while supporters blasted the performance of the moderator, complaining that she was "interrupting" the president. Members of both groups suggested that the town hall seemed more like a debate between Trump and the moderator.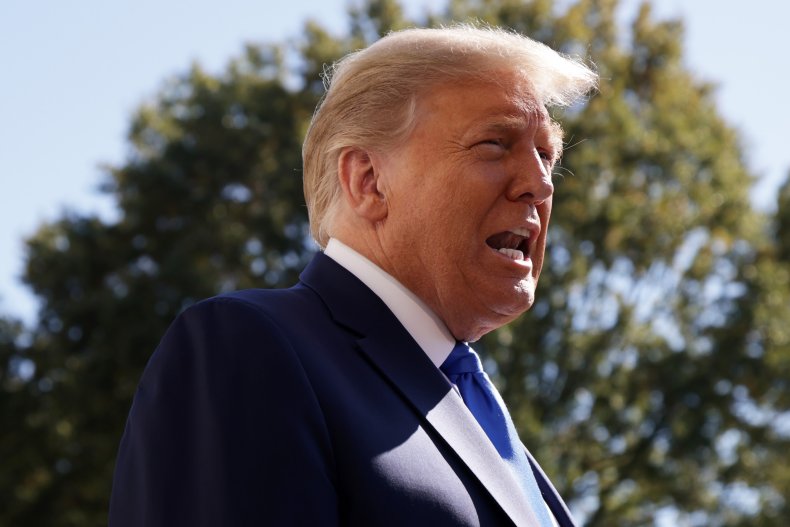 CNN political analyst Joe Lockhart tweeted that Guthrie's performance "a model of holding public figure accountable," while writer David Rothkopf said Guthrie had done "a pretty good job" and that "Trump remains the lying disaster he's always been."
"I can't think of anything more strategically disastrous than trump going head-to-head with @SavannahGuthrie and getting his ass kicked," writer and podcaster Erin Ryan tweeted. "The white women he needs to defect back to him will see themselves in her. the insecure men who love him will see him losing to a 'girl.'"
Trump supporters had a different take on Guthrie's approach, with many claiming that Trump was being treated unfairly in comparison to ABC's George Stephanopoulos, who hosted Democratic presidential nominee Joe Biden's town hall airing at the same time.
"These two town halls capture perfectly the difference in media treatment, Trump vs. Biden," Trump campaign Communications Director Tim Murtaugh tweeted. "ABC is doing everything they can to keep Joe Biden comfortable. Meanwhile, Savannah Guthrie is attacking the President like she openly hates him. Couldn't be encapsulated better."
Fox News host Greg Gutfeld, an outspoken supporter of Trump, tweeted that he was "glad" that the president had "agreed to another debate" but he "didn't realize it would be with Savannah Guthrie." Gutfeld also suggested that the "frantic" host had "bullied" Trump with an "over-the-top performance."
Students for Trump, a group that organized a Trump rally in Phoenix, Arizona in June, said that the NBC host was "a fantastic example of why Americans no longer trust the media."
Comparisons both for and against Chris Wallace, the moderator of the first debate, were also made.
"Can Savannah Guthrie moderate every presidential debate?" BBC correspondent Nick Bryant asked.
"I didn't think it was possible... But Savannah Guthrie is making Chris Wallace seem like a decent moderator," Republican Senate candidate for Minnesota Jason Lewis wrote.
Before taking part in the event, Trump insisted that he was being "set up" by NBC while trashing that network that he appeared on for over a decade as the host of The Apprentice as "the worst" during a campaign rally in North Carolina.