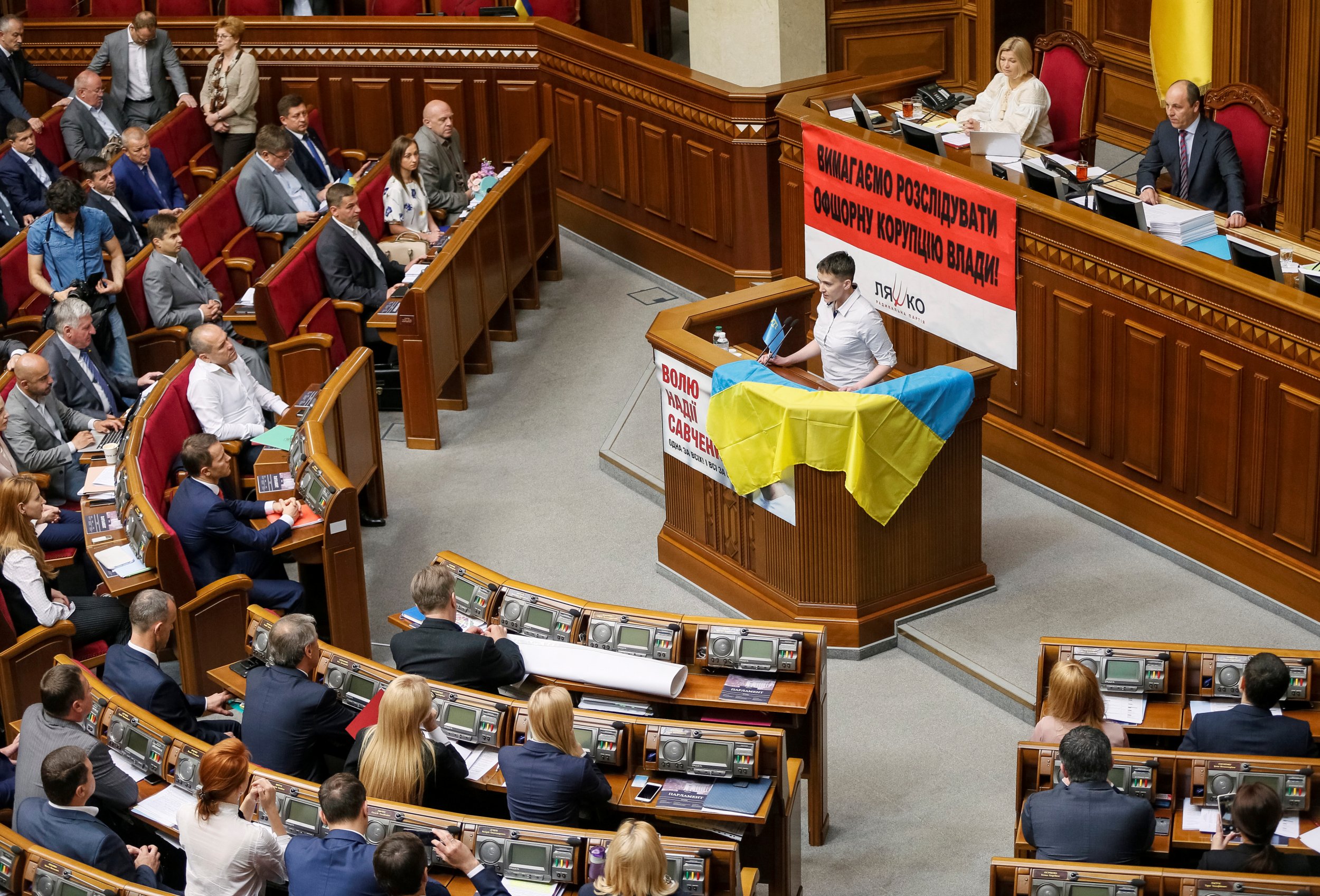 The release of Nadiya Savchenko transformed into a sophisticated special operation. A small team of high-ranking officials had been preparing it for several months, trying to prevent any leaks that could instantly undermine the whole enterprise.
President Poroshenko succeeded in uniting efforts of international leaders to apply pressure on Russia with a demand to free Savchenko.
Savchenko's release would be inconceivable without support of the whole international community. On the other hand, Russian GRU officers, who were captured in Ukraine in May 2015 were completely abandoned by their homeland. Throughout political negotiations in Minsk, Ukraine's delegation repeatedly raised the question as to what these armed people were doing on our territory—silence and hidden gazes were the only reply.
By releasing Savchenko, Russia now tries to lift economic sanctions introduced by the world. Today we hear Russian officials talk of tremendous progress and discussions of return of the Russian delegation to the Parliamentary Assembly of the Council of Europe (PACE).
Clearly, the Kremlin was going to make some reconciliatory steps to silence discussions about extension of economic sanctions against Russia in June, switching them to the talks of so-called "rapprochement."
But let's see what is really happening. Military actions intensified on the frontline in eastern Ukraine. Fourteen Ukrainian soldiers were killed in action this May alone, while Russia-backed militants resumed firing from Grad multiple rocket launchers on civilians.
Granted, it may be difficult to understand Ukraine, if you are not losing someone dear to you every day, or when your children and household are safe. Unfortunately, this is not the case for dozens of cities and hundreds of villages in Ukraine's east.
It is very important for the West to uphold its own values fundamental for the whole civilized world. The rules are clear and simple—respect of human rights and territorial integrity of other people's lands.
The story of Nadiya Savchenko clearly illustrated the world's attitude toward the humanitarian factor of the Minsk accords. Everyone remembers the security and political negotiations needed to achieve a peace process. However, political reconciliation is impossible without solving humanitarian issues. Ukraine remains in the minority when it consistently emphasizes that Russia and its proxy forces in eastern Ukraine do not adhere to these critical issues.
We cannot forget about human rights. Should we not insist on releasing the 114 Ukrainian political prisoners treated as slaves by pro-Russian militants? Should we not bring back the 11 Ukrainian citizens abducted in Crimea and Donbass and tortured in Russian prisons? Why aren't humanitarian missions allowed to inspect the temporarily occupied territories? Why is the International Committee of the Red Cross still not allowed to look for the people who went missing?
Hostage releases and searches for those missing are issues that should be resolved as soon as possible. Ukraine is ready for big compromises to reach the resolution on humanitarian issues; there is no room for politicking. The Kremlin should not be allowed to resort to using the fate of injured and sick people held captive for over a year to get amnesty for militants. This is the politics of the likes of Somali pirates or militant group Islamic State.
I hope the world will hear Savchenko's voice. Russia would probably use her release to argue for lifting economic sanctions. However, if the Kremlin succeeds, this would ruin fundamental European values and deteriorate influence of the major international organizations that defend democratic values and human rights.
Russia have not complied with any PACE resolution. The functioning of the U.N. Security Council has been significantly undermined due to Russia's irresponsible actions. If the release of one person allows the would to turn a blind eye to the deaths of other Ukrainian citizens, to violation of territorial integrity of the state and to a foreign invasion—then we shouldn't be surprised to see Russia's "little green men" break into someone else's door pretty soon.
I do not know how Nadiya Savchenko's release will affect the world, but I am certain how it will influence Ukraine. We will unite and fight for our territory and European values. We want to find a political and diplomatic solution to this conflict without resorting to the path of war and destruction.
We expect that the whole civilized world is looking for a real solution to the conflict instead of covering the whole conflict with a fig leaf. Since under every such leaf there are thousands of human lives that we can still save.
Iryna Gerashchenko is first vice-speaker of Ukraine's parliament and envoy of the president of Ukraine for a peaceful settlement of the conflict in the Donetsk and Luhansk regions.