Can Nadiya Savchenko Turn From Firebrand to Wise Leader?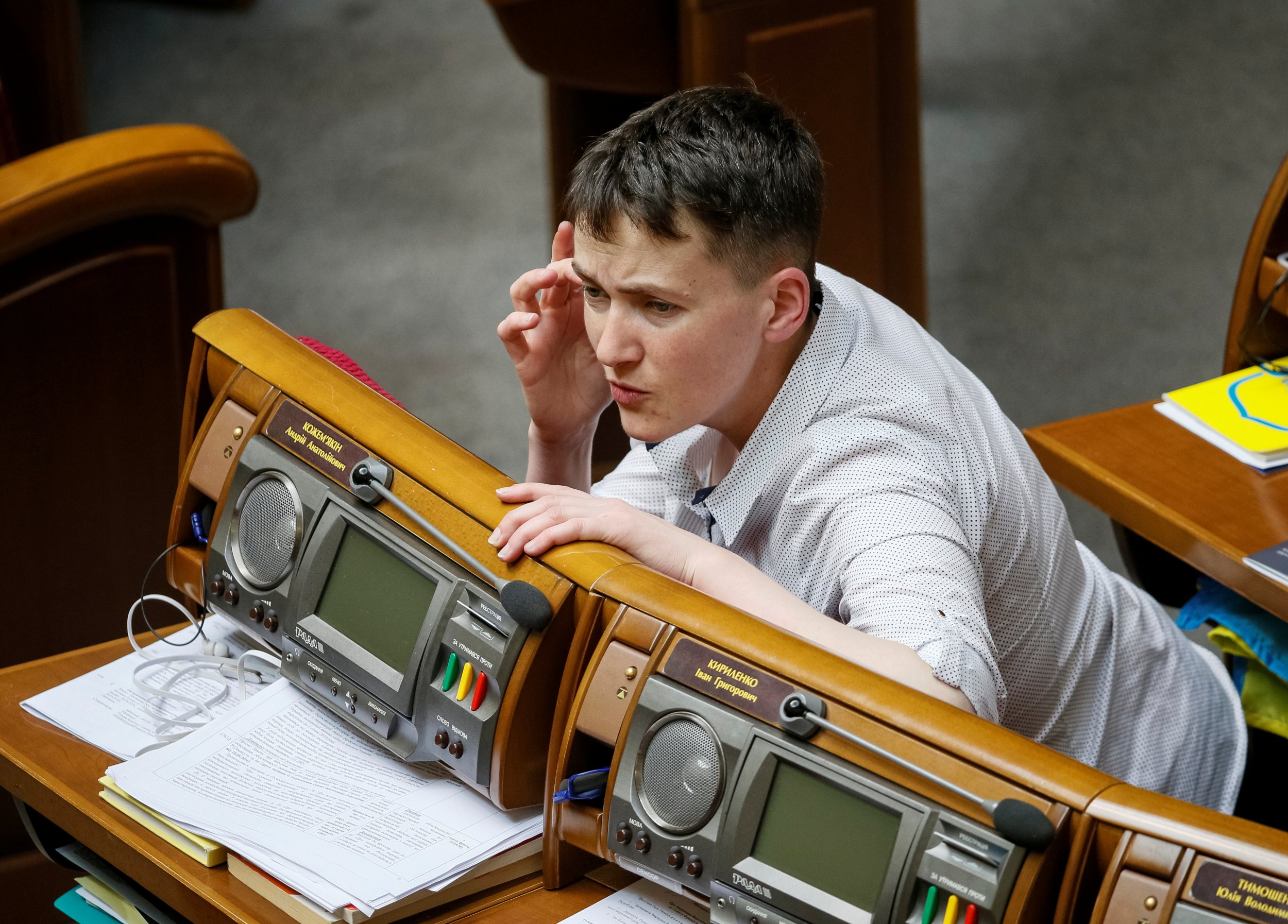 Nadiya Savchenko, the Ukrainian pilot returned to Kiev in a prisoner swap with Russia on May 25, has a chance to transform Ukrainian politics.
During her two years in Russian prison, through hunger strikes and dramatic gestures—she sang Ukrainian songs and vowed to go home dead or alive as she was sentenced to 22 years on trumped-up murder charges in March—Savchenko became a national hero. In absentia, she was elected in 2014 to the Ukrainian parliament.
Now speculations abound about a soaring political future. (She says she's ready to run for president "if needed.") Savchenko has an opportunity to become a great leader for Ukraine and the region—if the firebrand can transform herself.
"Exactly those skills that made her a freedom fighter—including her ferocity and single-mindedness—need to be set aside now to emphasize other qualities," says Veronika Kruglashova, a young Ukrainian scholar and democracy activist.
Kruglashova, herself an ardent admirer of Savchenko, is on to something. Part of this has to do with the fractious nature of Ukrainian politics. A raucous nationalist right, an increasingly unpopular oligarch president and her own Fatherland party—led by Orange Revolution leader and former Prime Minister Yulia Tymoshenko—all pin hopes on Savchenko to save their respective political fortunes and push their agenda to the fore.
They all pull in different directions. In a wild, frenzied atmosphere, the 35-year-old Savchenko would be wise to take a breath. There's something to be learned from history.
In South Africa, Nelson Mandela served 27 years hard labor at the hands of a cruel apartheid regime. In his last years behind bars, Mandela had been offered freedom, if only he would publicly renounce armed struggle. He refused.
Figures like Mandela and Savchenko possess a rare inner strength and inimitable devotion to cause. Vaclav Havel had these things too. The Czech playwright and dissident turned president had spent more than five years in communist jails in Cold War Czechoslovakia. His health suffered badly as a result. It hardly mattered. Havel was determined to free his country and "repair the world," as his biographer and friend Michael Zantovsky put it.
While circumstances in each case were different—and today's Ukraine is not apartheid South Africa, nor Communist Czechoslovakia—there's something Mandela and Havel can teach Savchenko. As political leaders, both shed their hatred of their oppressors and embraced instead the politics of vision and restraint.
What does this mean for Savchenko and Ukraine today?
For one thing, Savchenko must understand that her role and responsibility are changing. Savchenko told an inspired nation last week that she remains ready to die for her country (the leader of the self-proclaimed Donetsk People's Republic threatens to oblige).
At the Battle of Kip's Bay in New York, George Washington got so caught up in the moment that he lost all perspective. His staff had to force the commander of the Continental Army to exit the battlefield—with British infantry just 50 years away. Savchenko has already proved her willingness to sacrifice. She can't lead her country, not in any capacity, if she's not able now to show wisdom and discipline and restraint.
It's these qualities that can help her bring focus—with a balance of aspiration and realism—to her new political life. For example, Savchenko can't end corruption in Ukraine. It's an enormous problem, holding the entire country back. She can speak to the issue, though, with her unique moral authority and call Ukrainians to bring forth the better angel of their nature, to borrow Abraham Lincoln's words.
What makes corruption so insidious a problem in Ukraine is that it touches virtually all segments and levels of society. Some good policies will make some difference, but lasting change is the stuff of a long game.
Discipline and moderation should not be confused with diluting principles. On the contrary. With skillful diplomacy, Savchenko could use her cachet in Western Europe—both French President François Hollande and German Chancellor Angela Merkel played a role in her release—to start a rethink of the Minsk agreement.
Minsk is flawed in many ways, but chiefly because it fails to distinguish between aggressor and victim. The agreement needs to be scrapped in favor of an approach that restores Ukrainian territorial integrity and sovereignty. Who better to make this case, including to the next U.S. president, than Savchenko? But this battle will take time.
Finally, there's Russia itself. Savchenko has every reason to despise Vladimir Putin. Yet he's not the main event. His kleptocratic rule has an expiration date.
Any view of the big picture makes clear that the keys to Ukrainian peace and security lie ultimately in Moscow. And getting us past Putin—and to a more decent and pragmatic Kremlin leadership—requires iron-fisted strength, to be sure. But it also demands vision and strategy, patience and the serendipity gifted often by history to those who are prepared.
Who better to prepare and lead this way forward than a revered and devoted 35-year-old patriot, if only she can take with her key lessons from the past?
Jeffrey Gedmin is a senior fellow at the Atlantic Council and a former president of Radio Free Europe/Radio Liberty.