End Your Work Week By Video-Conferencing With Koalas for Save the Koala Day
Perhaps you've been eagerly awaiting for your calendar to reach Save the Koala Day (September 25) all year. Or maybe you missed the bandwagon of pet adopters during the pandemic early on and need a little cuddly distraction as you wrap up a hard week. Whatever the case, the Australian Koala Foundation has your back. Simply log on to their Facebook page—starting tonight at 7:00 p.m. EST through tomorrow—for the chance to join a group video chat with koala bears.
The Foundation, in partnership with Facebook Messenger, will broadcast live from Symbio Wildlife Park in Helensburgh, Australia. No Facebook account is required to visit and join the koala group video chat—just go to the Koala Room on the Foundation's Facebook page for what it claims is the world's first koala Messenger room.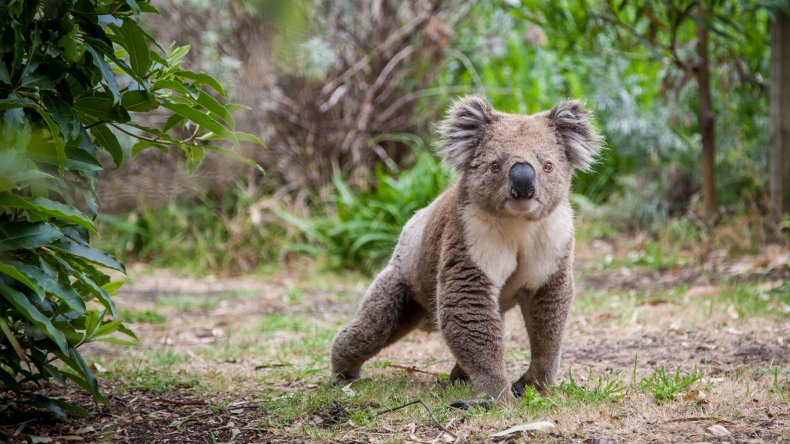 Two Symbio Wildlife Park zookeepers, Naomi Johnston and Elizabeth Florance, will host the room. Participants can enjoy the antics of koalas Imogen, Ellie, Johnny, Grace and Baby Kev. Just be advised that those antics will likely consist of little more than koalas sleeping, cuddling and eating eucalyptus leaves until their sweet, little minds drift away on peaceful clouds.
"We're excited to be bringing the beautiful koalas who live safely at Symbio Wildlife Park into the homes of people around the world," Deborah Tabart, aka "The Koala Woman," Chair of the Australian Koala Foundation and a recipient of the Medal of Order of Australia for her work with the animals, said in a statement. "While these koalas are loved and happy in their zoo home, koalas in the wild aren't so lucky. Koalas are officially classified as vulnerable to extinction—one step down from endangered. Save the Koala Day is an important moment to recognize that we need to protect all koala habitats to secure the future of this unique and incredible species."
The Foundation began in 1986 and designated September as Save the Koala Month to draw more awareness to the precarious existence of the cute marsupials, and Save the Koala Day is celebrated the last Friday of the month. Awareness is particularly important this year, as the recent brushfires in their home country have put koalas at even greater risk.
People everywhere are encouraged to help sell Save the Koala Month merchandise, such as temporary tattoos, stickers and badges, whether as individuals, businesses, or school groups. But don't worry if you missed the opportunity to help with that initiative; you can still donate and pick up merchandise on the organization's website before heading over to Facebook for a little koala therapy time.