How to Get a Cheaper Car Insurance Premium
As rising prices squeeze family budgets, Americans are looking to rein in spending where they can—and one area where households might be spending more than they need to is on car insurance.
U.S. car insurance rates rose 3 percent in 2021, with the average annual premium now costing $1,529, according to insurance comparison site The Zebra.
A number of factors have contributed to the rise in rates, including higher prices for cars and replacement parts and an increase in crashes, according to California-based automotive research company Kelley Blue Book and the Insurance Information Institute.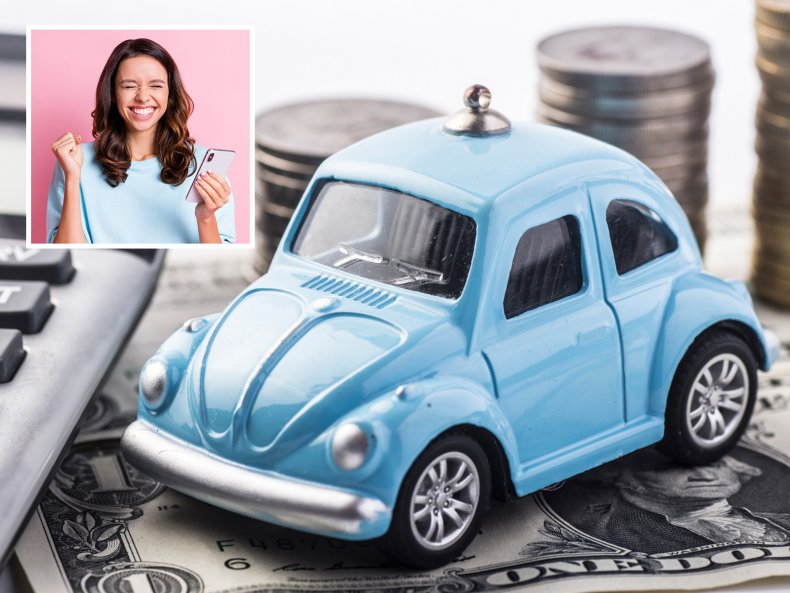 And, with traffic returning to pre-pandemic levels, insurance premiums are on the rise, Marty Sansone, VP of insurance at The Zebra, told Newsweek. "Simply put, as more drivers get back on the road there is potential for more claims, and that can cause car insurance rates to increase."
Fortunately, Sansone says there are ways to reduce your insurance premiums and potentially save yourself hundreds of dollars on your auto insurance.
1. Maintain a Clean Driving Record
The best way to reduce your car insurance premium is to drive sensibly and build up your no-claims bonus.
Some insurers offer discounts to drivers with clean records over a long span of driving, which means if you don't make a claim on your insurance, you should see a reduction in your annual cost.
"Most traffic violations affect rates for three years, which is a lot of money in the long-run. Practicing safe driving habits like staying below the speed limit and paying attention to the traffic signals can help reduce your risk of a car accident," Sansone said.
2. Protect Your Vehicle
Sansone added that you should take the appropriate steps to ensure your car is as secure as possible from break-ins or from natural disasters.
"Where you park your vehicle is just as important as how you drive your vehicle. Park your car away from high-traffic areas to prevent accidents, or in a garage to protect it from weather-related hazards and mitigate theft."
3. User-Based Insurance
If you are a relatively new driver or someone who has not been able to build up a reasonable no claims, you could look to other options to reduce your premium.
One such option is a telematics device to monitor your driving habits. Some insurers offer apps or plug-in devices that can track things such as your speed and distance driven.
Sansone said: "This data allows the carrier to identify tendencies such as miles driven, time of day, total drive time, rapid accelerations, hard braking and others in order to provide potential discounts to customers on their auto insurance premium."
4. Bundle Protections With Additional Products
Most carriers offer some kind of discount to customers when products are bundled, which you might be able to do with your homeowner policy.
"These discounts can provide savings on the auto premium or all premiums reducing a customer's total price," Sansone explained.
"When shopping for auto insurance it is beneficial to consider including a homeowners, renters, umbrella or other non-auto policy quote to see what discounts you qualify for that could save you money."
5. Billing and Payment Options
Often, it can work out cheaper in the long-term to alter how you pay for your insurance, by switching to an annual, or semi annual, payment schedule.
While it might cost more in the short term, some insurers offer a set percentage discount to those who pay their insurance in advance, which is a great way to cut down the overall cost if you can afford it.
"Many carriers offer discounts to customers who qualify for preferred billing and payment plans," Sansone said. "Customers should consider asking about billing and payment plan options when shopping to find a plan that fits their financial situation but may also provide additional savings on their premium costs."
6. Shop Around Every 6—12 Months
One of the best things you can do when you buy car insurance is to look around and see what the best deals are on the market.
Insurers may offer you better deals if you purchase direct, and you can use insurance comparison sites to find out which insurers are offering you the most competitive rates, to ensure you get the best price possible.
Sansone says this is essential if you think you're paying too much for your car insurance: "You may find that you could be paying a lot less for the exact same—or even more appropriate policy coverage."
Don't Cut Your Cover to Save Costs
While you may be tempted to cut down on your coverage to reduce your auto insurance costs, Sansone recommends you get the most comprehensive cover you can to ensure you are fully protected in case of an emergency.
"While car insurance is unique to individual needs, it's recommended you consider including comprehensive and collision coverage in your policy, which when paired together with liability coverage, are commonly referred to as "full coverage insurance."
Comprehensive cover includes things like theft, broken windshields and vandalism.
Sansone added: "It's generally recommended to increase your liability limits, other motorist coverage and medical payments to the highest amount you can reasonably afford."