'Saved by the Bell' Reunion May Be Happening, But Will Screech Be Involved?
It looks like Zack Attack weren't wrong when they sang, "We'll be friends forever."
Hit 1990s sitcom Saved by the Bell could be the latest show to stage a comeback, according to main stars Mark-Paul Gosselaar (Zack Morris), Mario Lopez (A.C. Slater) and Elizabeth Berkley (Jessie Spano).
The trio said there have been "talks" about a revival of the classic Saturday morning program, which marked its 30th anniversary in August.
Per ComicBook.com, Gosselaar teased at the recent Fan Expo Canada event: "We know about it. All three of us know about it, this person that's going to tackle it. If something came up, I'm sure all of us would want to be on board in some capacity, so there's that. But nothing has ever really come to us with legs that would make us kind of get on board."
Berkley said a reunion show "has to be right," while Lopez added that "obviously we couldn't be in high school still, so you'd have to be creative with the premise. But it's fun to think about."
Saved by the Bell, set in the fictional Bayside High School, aired four seasons between 1989 and 1993, making stars of it cast, which also included Tiffani Thiessen (Kelly Kapowski), Dustin Diamond (Samuel "Screech" Powers), Lark Voorhies (Lisa Turtle) and Dennis Haskins (Mr. Belding).
The success of the NBC show spawned a prime time spin-off, Saved by the Bell: The College Years, and two made-for-television movies featuring some of the original cast. Another spin-off show, Saved by the Bell: The New Class, aired between 1993 and 2000.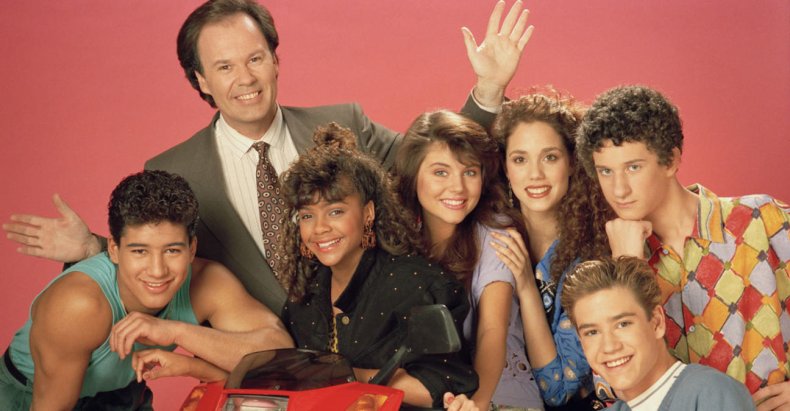 Saved by the Bell reunion talk mounts
Back in May, Gosselaar teased what a Saved by the Bell reunion might look like, saying he'd prefer a continuation of the original series like The Karate Kid follow-up Cobra Kai.
"I'm okay, I mean me personally, with never seeing a reboot ever again," Gosselaar told The Hollywood Reporter. "I like original content. I really appreciate what Cobra Kai has done. I appreciate what Roseanne has done… what Fuller House has done, it's great."
In April, some of the cast—Lopez, Gosselaar, Berkley and Thiessen—got together for a reunion dinner with their significant others, as documented by Lopez on social media.
Not pictured at the 30-year confab were Voorhies and Diamond. In the case of Diamond, at least, a Saved by the Bell reunion—if he is indeed involved—might prove awkward.
In 2009, Diamond published a sensational tell-all book about his time on the show called Behind the Bell, in which he claimed the cast were having sex with each other and taking drugs. The book was also the basis for a 2014 Lifetime movie about the show.
The Screech actor later took back the claims and said the book was written by a ghostwriter.
Appearing on The Dr. Oz Show in 2016, Diamond said: "I hadn't talked to most of the cast mates in a long time. Mario Lopez and I speak frequently and Dennis Haskins and I speak frequently. Of course, Slater and Belding. And they know what I went through, but the rest of the cast—Mark Paul I haven't seen since I was 16 years old, so I feel terrible for it but what can I do? Unfortunately, being in the entertainment industry, you get fleeced a lot and you get taken advantage of a lot."