Their very names—Northern Michigan Asylum for the Insane, Trans-Allegheny Lunatic Asylum, Alabama Insane Hospital—conjure images of dark, dank psychiatric snake pits. The buildings, long abandoned, litter the American suburbs as enormous, dilapidated and graffitied relics of a failed 19th-century mental health system that the country is eager to forget. So why would people clamor to save these giant former homes for the so-called insane?
Perhaps no one living has a better answer than Robert Kirkbride, associate dean of constructed environments at the Parsons School of Design in New York. His forebear, Philadelphia physician Thomas Story Kirkbride, provided the conceptual blueprint for the buildings in an 1854 book. The Kirkbride family name has been linked with psychiatric hospitals ever since.
Thomas Kirkbride believed that compassionate care for the mentally ill could completely cure them in a matter of months. Working as a psychiatrist before the medical specialty was even recognized as such, he envisioned large, airy rooms with plenty of direct sunlight and opportunities for bowling, farming, swimming, dancing and dining—a design historians have come to call the Kirkbride Plan.
"The beauty of the buildings was meant to be part of the therapy," Robert Kirkbride says. "The buildings were not just a place where you stuck people but were part of the treatment itself. It was an infrastructure of the mind that helped to bring healing."
In early 2015, the younger Kirkbride joined efforts to preserve the buildings in the aftermath of the much-protested decision to demolish Greystone Park Psychiatric Hospital in Morris Plains, New Jersey. Originally named the State Asylum for the Insane, the 673,700-square-foot building boasted a massive foundation that was supposedly the largest in the U.S. until the construction of the Pentagon in 1943. Its most famous patient was folk singer Woody Guthrie, who resided there beginning in 1956 after the progressive neurological disorder Huntington's disease left him disabled.
Despite the fervent protests by Guthrie's daughter Nora and a group of local activists, Governor Chris Christie insisted Greystone was beyond repair. State officials fought off court challenges and ignored critical news coverage and detailed proposals from seven companies offering to redevelop the building at their own expense. In the summer, New Jersey issued a $50 million bond to fund demolition, and in late October the building's last remnant—the dome of its central administration building, where ravens once perched as though awaiting a visit from Edgar Allan Poe—came crashing down. Nevermore, indeed.
But the impending demise of Greystone became an unlikely turning point for efforts to save the country's psychiatric hospitals. Simultaneous protest marches were held in the spring in front of Greystone and at the site of a state hospital in Traverse City, Michigan, and within months the 34 remaining buildings had their first national advocate group, PreservationWorks.
Robert Kirkbride became a spokesman and joined the group's board. "Having all these people talking about 'Kirkbride' buildings was humbling," he says. "I didn't ask for my name, but if that helps me preserve and adapt these historic structures, and bring respect to the stories of the people who lived and worked there, then I'm pleased to do that."
"Greystone's demolition came as a big shock," says Christian VanAntwerpen, the photographer and musician who founded PreservationWorks. The organization came about after VanAntwerpen saw the response to a national conference he had organized in April, which Kirkbride attended and centered on discussions on how best to save the buildings. Fittingly, the meeting was held at the former Traverse City State Hospital, which has been transformed over the past 10 years into a mixed-use development known as the Village at Grand Traverse Commons.
Raymond Minervini, whose family's company bought the site in 2002, says he understands why many people think the gargantuan structures are eyesores. In fact, the company's name, now the Minervini Group, was originally White Elephant Redevelopment. "Every town has a white elephant," he says. "It takes someone willing to put their life savings on the line, like my dad did, to save them. But it also takes a community with vision."
Minervini sees the demolition of Greystone, and the threat still faced by other Kirkbride buildings, as a creative failure by local officials. "Nobody will ever go visit a historic marker that says, 'In this place once stood the largest building in America.' All these Kirkbride properties, because they're so massive and built almost 150 years ago, are hard to adapt," he says. "My father had an appreciation for historic structures. He thought it would be a tragedy if we allowed this building to decay. He had a profit motive too, but he was trying to do well by doing good."
The success of Grand Traverse, says Kirkbride, proves that redeveloping the properties "is not just a crazy idea. It shows how these buildings can be cherished and updated with imagination and poetry and real pragmatism."
Informed by his scholarship focusing on the connection between architecture, memory and cognition, Kirkbride says the buildings' histories are just as important as their utility for redevelopment.
The rise of the psychiatric mega-building can be credited not just to Kirkbride's relative but also to Dorothea Dix. In 1843, Dix, a nurse, appeared before the Massachusetts Legislature to talk about her two-year investigation into the appalling conditions in which towns kept their mentally unstable residents. In one village, she reported, the owner of an almshouse told her that a "lunatic" woman was kept in the cellar. She found the woman chained under the cellar stairs: "In that contracted space, unlighted, unventilated, she poured forth the wailings of despair. Mournfully she extended her arms and appealed to me: 'Why am I consigned to hell?'"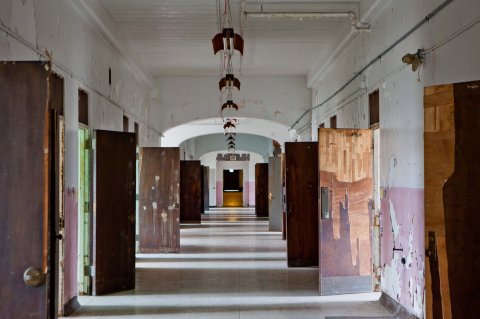 Chastened, the legislators voted to fund the construction of a proper hospital, and Dix went on to mount similar campaigns in other states, trying (unsuccessfully) to gain a federal endowment for them. Still, awakened by Dix's moral fervor, states from California to Connecticut erected 75 mental hospitals over the following decades, designed in the style of the Kirkbride Plan, which called for a central administration building with wings set back at a slight angle, zigzagging at regular intervals to assure maximum sun exposure for each small unit. Most patients, Thomas Kirkbride insisted, would soon recover and return home.
Of course, things didn't work out as he and Dix intended. The treatment of mental illness, then as now, requires more than good intentions and big windows. Virtually all the institutions had doubled and redoubled again their supposed maximum capacities by the mid-20th century, leading to overcrowding and abuse. Then the advent of antipsychotic drugs in the 1950s and the deinstitutionalization movement of the 1960s led to most of the buildings being emptied out and abandoned.
Today, only 34 of the original 75 buildings still stand. In part as a result of the deinstitutionalization movement, more people with serious psychiatric illnesses are now incarcerated in America's prisons than are receiving treatment in psychiatric hospitals.
"It's terribly ironic that care for the mentally ill has come full circle," says Kirkbride. "We're back to where we were before Thomas Story Kirkbride conceived of these buildings."
That failure to remember the hospitals' dark histories drives the effort to maintain them. Some of the most passionate people fighting for preserving the buildings are, like Nora Guthrie, former friends and family of people who lived in them. They see the buildings as living memorials to the care, and the suffering, of their loved ones.
Laurie Mullen, 58, of Fergus Falls, Minnesota, grew up two blocks from the local psychiatric hospital that was home for 23 years to a woman whom Mullen came to love like a grandmother.
"Lilly was admitted to the hospital in the 1940s for postpartum depression," Mullen says. "Within a year, her husband had remarried and given up their two daughters to different families."
In 1963, Mullen's grandparents signed Lillian Cushman out of the overcrowded hospital, called the Fergus Falls Regional Treatment Center, and hired her to do housework around their nearby farm. "To me," Mullen says, "she was another grandparent, and I loved her."
Cushman reconnected with her daughters, but her closest companion became Mullen, who sat at her bedside when Cushman died at the age of 98 in 2012.
"We can tear these places down and try to erase that part of our history," Mullen says, her voice breaking, "but it's wrong. It's wrong."
When her City Council announced plans 11 years ago to tear down the turreted, castle-like hospital where Cushman had been confined, Mullen was so outraged she paid for radio commercials to organize opposition. Joined initially by dozens of local residents, and more recently by PreservationWorks, Mullen's battle to save the hospital has so far been successful—but just barely. Still empty, its roof leaking, the property had its first big break in decades in 2015, when it was finally earmarked to receive $4.4 million in state funds to secure it from further decay.
Thanks to the unpaid efforts of volunteers like Mullen, VanAntwerpen and Kirkbride, the country's abandoned psychiatric hospitals are finally finding, well, asylum from the wrecking ball.
The latest news of reprieve comes from Ohio, where the former Athens Lunatic Asylum, built in 1864, has won the promise of a second life from Ohio University, which owns the property. The university's board of trustees voted on October 16 to approve what it calls the Ridges Framework Plan to preserve and redevelop the building and others surrounding it. As a first step, the university is fixing leaky roofs and shoring up the buildings' exteriors at a cost of $300,000.
Work also began last year on the former Buffalo State Asylum for the Insane, now known as the Richardson Olmsted Complex, to turn it into a hotel, restaurant, conference center and exhibit space. With $76.5 million in New York state funding, the project is expected to open this fall.
For Kirkbride, the second chance at life for the hospitals his ancestor designed is not just about remembering history and preserving architecture but also about overcoming the prejudice that still hinders the care of people with psychiatric illnesses—all while saving money.
"It's appalling that for essentially the same taxpayers' money that is restoring Buffalo's asylum, they tore down Greystone," he says. "People may have been ashamed of these buildings, but we have to get beyond that. Saving these buildings is part of getting beyond that."