Saving the Bees: Europe May Ban World's Most Common Pesticide
The European Union may completely ban the use of neonicotinoids, the world's most widely used pesticide, after new research confirmed how dangerous these chemicals are to numerous species of bees.
Neonicotinoids are already partially banned in the EU, and a 2013 ruling said the pesticide cannot be used on flowering crops that are most attractive to bees, The Guardian reported. However, a new report from the European Food Safety Authority, published Wednesday, surveyed 1,500 studies and found that neonicotinoid pesticides are still dangerous even with the current restrictions. This finding may push the EU's scientific risk assessors to favor a total ban on the chemical's use.
Neonicotinoids act as a type of nerve agent for bees and can damage their memory and compromise the number of queens in a hive, The Guardian reported.
The data show the scope of the problem. "Increasingly, there is evidence that when bees are exposed, [the pesticide] can affect their normal behavior, learning and memory, including their ability to choose flowers, how effective they are in pollinating and how effective they are in reproducing," Nigel Raine, a professor at Canada's University of Guelph who specializes in pollinator conservation, told Newsweek.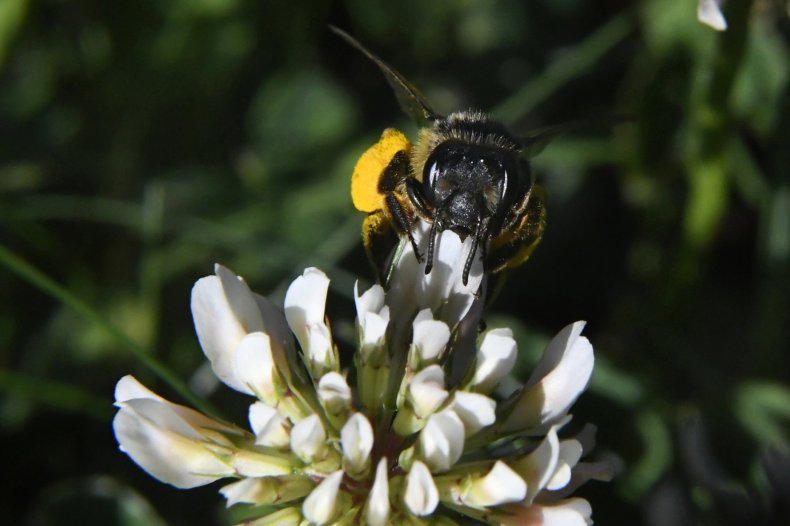 Raine, who was not involved in the recent report, explained that neonicotinoids are applied to the seed's coating to help prevent certain insects from feeding on the plants. After that application, the chemicals can spread into the environment in one of two ways. A mechanical planting device can strip off some of the coating, forming a chemical cloud that then spreads beyond the initial crop site. Or, once the seed is planted, the chemical can seep into the soil and surrounding water, soon reaching other crops.
These two routes mean that restricting pesticide use to nonflowering crops is not an effective way to prevent the chemicals from reaching pollinators.
A spokesperson for Syngenta, a neonicotinoid manufacturer, disagreed with the findings of the new report, calling them "overly conservative...extremely impractical," and suggesting that they may eventually lead to the ban of all insecticides, The Guardian said.
The EU vote on whether to widen the ban on neonicotinoids will take place as soon as this month, The Independent reported. A majority vote from all EU countries will be needed to implement the ban.