Findlay Prep: A Top High School Basketball Team, With No School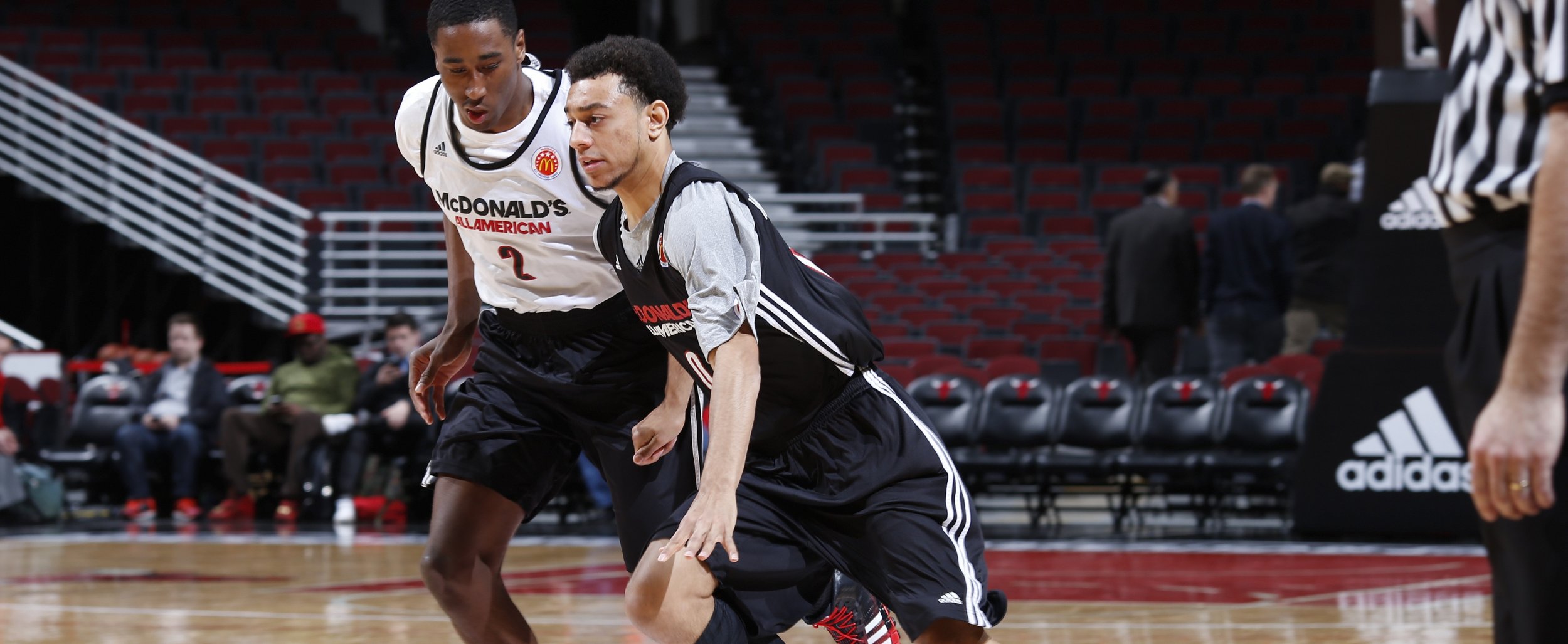 Late November augurs the start of the high school basketball season and with it, in our increasingly sports-obsessed ecosystem, national high school basketball rankings. USA Today provides a preseason Top 25, as do the prep-centric websites MaxPreps.com and Studentsports.com.
These three publications agree upon two things: (1) Findlay Prep, based in Henderson, Nev., is either the No. 1 or No. 2 high school boys basketball team in the nation and (2) Findlay Prep is not a high school.
"I understand what they are," says Ronnie Flores, who oversees the rankings at StudentSports.com and has the Findlay Prep Pilots at No. 2 in his preseason poll. "I understand that Findlay Prep is not a high school. But if another school agrees to play Findlay Prep, then I don't get into the morals of it."
Let's take a 20-second timeout.
Since Findlay Prep was founded in 2007, the Pilots have compiled an astounding 189–13 record. At some point in each of the past six high school basketball seasons it has been ranked No. 1 nationally.
In that same period, all of the lads who have played for the Pilots have qualified academically for college. In fact, 100 percent of Findlay Prep's basketball players have earned Division I basketball scholarships, which is no different from saying that 100 percent of the students who attend Findlay Prep have earned Division I basketball scholarships, which we could say without hesitation, if only there were a Findlay Prep to attend.
Confused? Good. That means you're paying attention.
To borrow a term from the digital retail age, Findlay Prep is not a "brick-and-mortar" high school. Oh, sure, Findlay Prep has students – 11 in all this season, hailing from four continents and seven sovereign nations. Two of the students happen to be seven-foot tall. And Findlay Prep has teachers, to a degree. The "school's" full name is Findlay Prep of the Henderson International School, the latter designation referring to a private school whose teachers instruct Findlay Prep's 11 ballers and whose campus provides a basketball gym (for a price, of course).
But here's something you should know about the Henderson International School: It accepts students for grades one through eight. The Findlay Prep students attend a high school that is bereft of high school peers, and all 11 of them reside in the same $425,000 home that is located less than a mile from the aforementioned school.
What is Findlay Prep, actually? It's Real World: Las Vegas meets the most daunting AAU basketball team you ever saw. It is, fittingly in this desert oasis to end all desert oases, a mirage.
"I call it a 'destination school,' " says ESPN college basketball analyst Seth Greenberg, a former college coach. "They're taking kids from all over the country, all over the world, and providing them with outstanding and specialized instruction, while also preparing them academically for college. But should they be ranked as a regular high school? No."
Findlay Prep is the progeny of its namesake, Cliff Findlay, a physically and figuratively larger-than-life character in Sin City. At six-foot-eight, Findlay stands out in a crowd, and even if he did not, billboards and signs around Las Vegas promoting one of his myriad car dealerships (Findlay Chevrolet, Findlay Honda, Findlay Kia, etc.) would guarantee that the 64-year-old's name rings a bell. A former UNLV basketball player whose father flew 63 missions in P-38s in World War II (hence, Pilots), Findlay appears to have a genuine desire to finance his own basketball Brigadoon minus all the bother and blather of high school athletic federations or the NCAA.
Hence, Findlay Prep's students, unlike foreign students who transfer in to traditional high schools, do not have to sit out one year before playing. Conversely (even though Findlay Prep is sponsored by Nike), Findlay Prep is ineligible to compete within the Nevada state high school system or to play for a state championship. Instead, this season the Pilots will fly missions to Los Angeles, where they will play in the Staples Center; Vancouver, British Columbia; Honolulu; Memphis, Tenn.; Dayton, Ohio; Springfield, Mass.; Lubbock, Texas; and Toronto.
All of which, considering the pedigree of student who matriculates at Findlay Prep, is no different from attending a prestigious high school for the performing arts. Already five of Findlay Prep's alumni have made their way to NBA rosters, including Anthony Bennett, whom the Cleveland Cavaliers made the No. 1 overall pick in last June's draft (Bennett has, thus far, played miserably).
The existence of academic institutions that at least appear to exist primarily to showcase prestigious athletics teams dates all the way back to Groucho Marx's Professor Wagstaff and Huxley College. But institutions such as Oak Hill Academy in Virginia and Huntington Prep in West Virginia, both of which are also perennially ranked in the Top 10, have been prep mainstays for decades. The difference between such institutions and Findlay Prep is that the former have a veneer of the tail wagging the dog. Findlay Prep is a tail with no dog.
So how come publications that know better continue to rank them?
"Clearly, what Findlay Prep is doing exists somewhere between high school and college basketball," says Jason Hickman, the national basketball writer at MaxPreps.com. "There's no question it's totally unfair when it comes to ranking them."
Hickman, 36, was raised in a small town in southwest Washington and attended "a tiny school of 100 kids." He made the basketball team, he says, because "they needed the bodies," and he understands that an organically grown high school champion can become the stuff of legend, of Norman Dale and Jimmy Chitwood. But he also understands that those days are over.
"To do something like Hickory High School on a national level, just to be ranked in the Top 25, that's a once-in-50-years prospect," says Hickman. "The Findlay Preps of the world are destroying all that."
Then again, you cannot return back past midcourt without committing a backcourt violation. And you can't unteach people how to dunk.
"It's the present and the future," says Flores. "Readers are more interested in who are the top high school players as opposed to the top high school teams, anyway, because they care more about recruiting. And coaches, well some of them, want to be able to say that they beat Findlay Prep or Montverde Academy," the current No. 1.
Not that they will.
And so the result is Findlay Prep, the nation's No. 1– or No. 2–ranked high school basketball team without a high school.
"I see myself as a writer who covers high school basketball," says Hickman. "I'm not the judge, jury, and executioner here. When high school teams stop playing Findlay Prep, we'll stop ranking them."