'Say Her Name' Used to Memorialize Ashli Babbitt Draws Backlash Online Over Phrase's Origin
Social media users who deployed the "say her name" hashtag on Thursday while memorializing Ashli Babbitt, the woman who was fatally shot during the violent protests at the U.S. Capitol Building on Wednesday, are facing backlash.
The hashtag's application in reference to Babbitt drew swift criticism from others online who argued the phrase was being misused.
Posts on Facebook, Twitter, Instagram and the conservative social networking site Parler showed the hashtag in use on Thursday. Some users posted photos of Babbitt, a former member of the U.S. Air Force, with the hashtag included in their captions; others simply typed out her name before employing the phrase.
Additional posts circulated conspiracy theories questioning the identity of the shooter, whom authorities have said was a law enforcement official, and alleged Babbitt was shot "in cold blood."
"Ashli Babbit, an UNARMED WOMAN and victim of POLICE BRUTALITY, was gunned down today by trigger-happy cops in DC," one Twitter user wrote.
"Ashli Babbitt was murdered in cold blood at the Capitol yesterday," a Facebook user wrote. "I do not even think it was a Police Officer who took the shot," the user continued.
"#sayhername Ashli Babbitt was an American who served her country, but her country did not serve her," a Parler user posted.
Babbitt's husband, who lived with Babbitt in San Diego, Calif., confirmed her identity with local media outlets before authorities released her name Thursday morning. Babbitt's ex-husband, Timothy McEntee, told The San Diego Union-Tribune that he recognized her in video clips that began circulating on national television following the shooting. In the video, a bleeding woman was seen being carried from the Capitol on a stretcher.
Babbitt's husband, Aaron Babbitt, told KSWB-TV she was a 14-year veteran who traveled to Washington, D.C. to participate in the protests.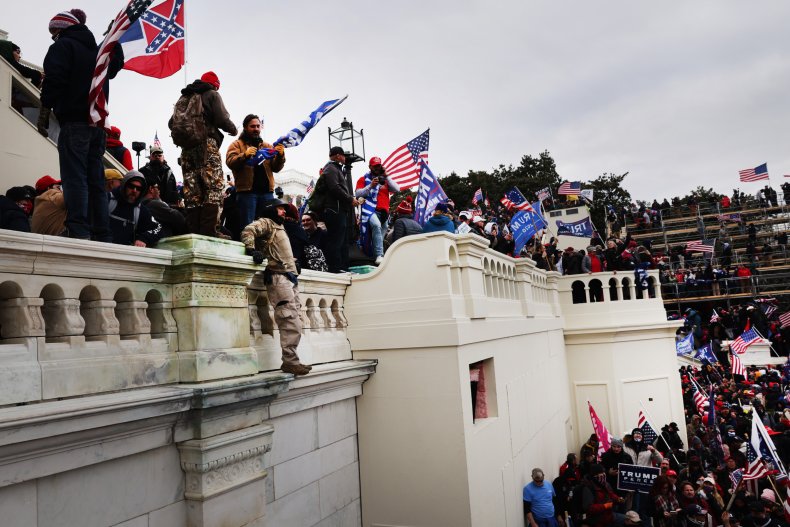 The backlash to social media users employing the "#sayhername" hashtag Thursday was swift. Several users pointed out that the phrase started as a collaboration between the African American Policy Forum (AAPF) and the Center for Intersectionality and Social Policy Studies and was used frequently in 2020 in reference to Breonna Taylor, a 26-year-old Black woman who was fatally shot by police inside her apartment in Louisville, Kentucky.
According to the AAPF's website, the #SayHerName campaign started in late 2014 to bring "awareness to the often invisible names and stories of Black women and girls who have been victimized by racist police violence, and provides support to their families." The campaign page goes on to encourage a "gender-inclusive narrative" and warns against overlooking incidents of violence against Black women.
"#SayHerName is a campaign to reverse the invisibility of Black women killed by the police, and the long legacy of state-sanctioned violence against Black women that has repeatedly been erased," tweeted Kimberlé Crenshaw, the executive director of the AAPF, in response to the use of the hashtag on Thursday. "The debauched right-wing use of #SayHerName is a continuation of that erasure."
Others criticizing the use of the hashtag accused Babbitt of participating in criminal behavior during the protests and referred to her as a "domestic terrorist."
"Breonna Taylor was sleeping in her bed. Ashli Babbit was committing and act of terrorism," one user tweeted. "There is nothing similar about their story other than they are both dead. #sayhername is reserved for unjust state sanctioned police murders of black women."
"#SayHerName is not for Ashli Babbit. And it never will be," another Twitter user posted. "#SayHerName is for Breonna Taylor #SayHerName is for Charleena Lyles #SayHerName is for Rem'mie Fells #SayHerName is for Riah Milton #SayHerName is for Sandra Bland."
Newsweek reached out to the AAPF for comment but did not receive a response in time for publication.